Do you know the ultimate hazelnut flour substitutes for baking and cooking? Come through this post for the leading nutrient-rich options with high levels of protein, fat, vitamins, and minerals similar to hazelnut flour!
Those who love baking will probably be familiar with hazelnut flour. This is an indispensable ingredient in muffins, cakes, or bread. This flour creates a signature hazelnut fragrance for your dishes.
However, there will be times when you run out of hazelnut flour in your kitchen cabinets. Or sometimes, you simply want to try a new flour for your recipe. Then let's find out what kind of flour can be used as a substitute in dishes that require hazelnut flour!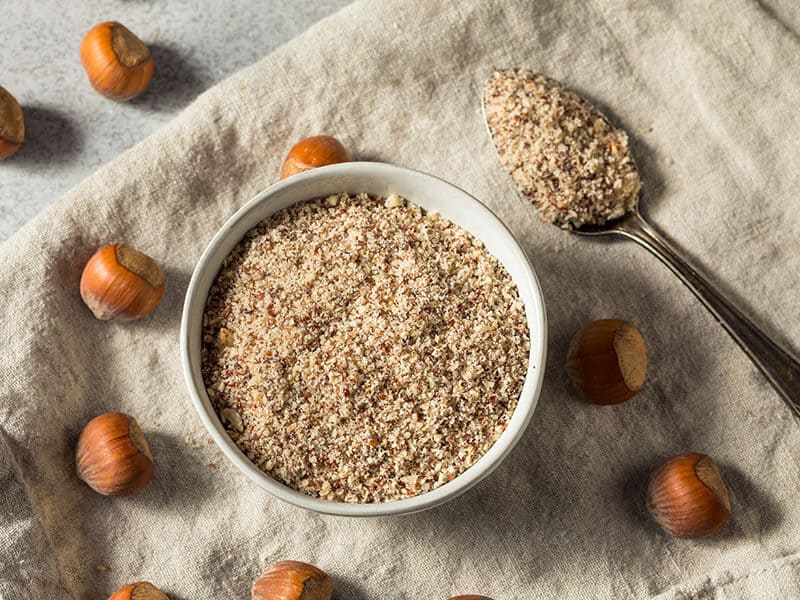 What Is Hazelnut Flour?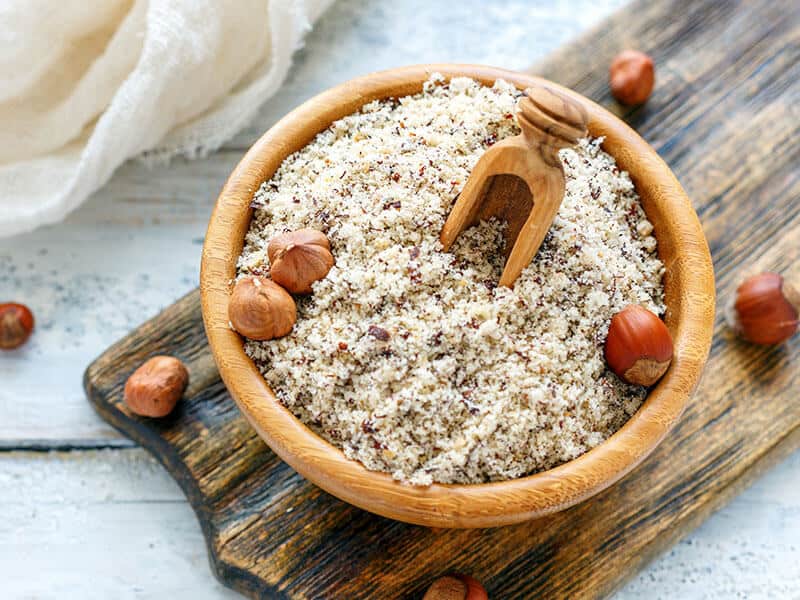 Hazelnut flour is made from hazelnut. Hazelnut is the nut of the hazel, belonging to the genus Corylus, with the botanical name Corylus avellana (1) . Hazelnut has a hard outer crust and a white inner core.
When processing hazelnuts to make flour, you need to remove the hard outer crust, leaving only the white inside for drying or baking.
The homeland of hazelnuts is mainly in Turkey, Greece, Italy, Georgia, Spain, the UK, and the USA. In which, the majority of hazelnuts supplied to the world come from Turkey, with 65% of the world production.
To find the proper flour substitute, you need to understand what hazelnut flour tastes like. Not only nutritious, but hazelnut flour also gives the dish a sweet, buttery, and rich flavor. It is also great for creating a thick and consistent texture for cakes and foods that many people enjoy.
What Is Hazelnut Flour Used For?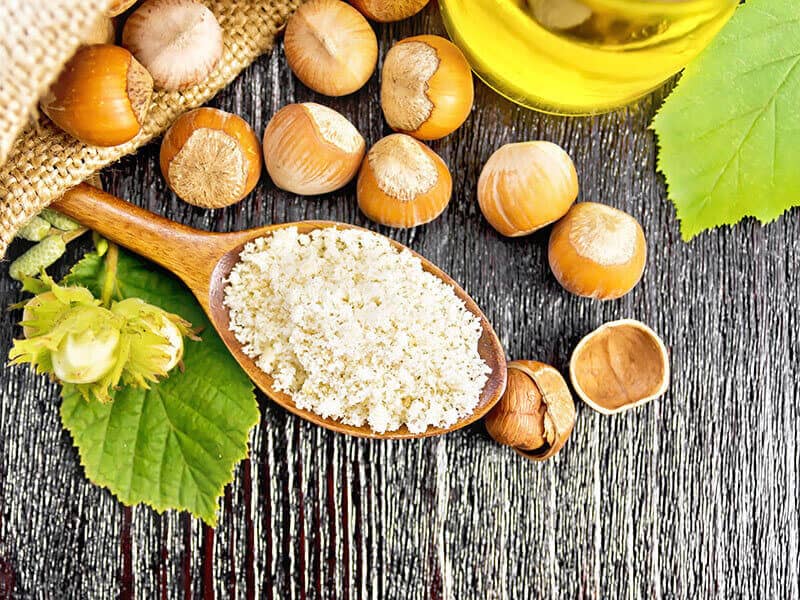 People often use hazelnut flour to enrich the flavor of both sweet and savory dishes. You can use this dough for cookies, pie crusts, pancakes, quick bread, cakes, pastries, etc.
Additionally, you can coat fish or chicken with a layer of hazelnut flour or add hazelnut flour to meatballs in place of breadcrumbs.
What hazelnut flour brings to your food is its distinctive aroma. However, because hazelnut flour is gluten-free, you can't make it whole. Instead, it would be best if you mixed it with other flours like flour in a ratio of 1:4, so the cake can rise and have a better texture.
Try this crispy and fluffy keto bread made with hazelnut flour! You can see this video to know more:
Hazelnut Flour Substitutes: A Comparison Chart
Let's take a quick look to see some general information about the hazelnut alternatives: the suitable ratio, some useful baking tips and the best recipe applications:
| Hazelnut Flour Substitutes | Ratio | Best Used For | Baking Tips |
| --- | --- | --- | --- |
| Almond Flour | 1 almond flour:1 hazelnut flour | Pie crusts and cookies | Mix with wheat, cassava flour, or quinoa flour |
| Chestnut Flour | Add slowly until you reach the desired texture | Any baking recipes | Mix with quinoa flour or wheat flour |
| Coconut flour | Depend on your taste | Mild and sweet baking goods as bread and brownies | Mask with banana, cocoa or coffee flavor Adding 1 egg for every 1/4 cup of flour |
| Quinoa Flour | Add slowly until you reach the desired texture | All recipes that require hazelnut flour | Balance the flavor by a quick toast |
5 Optimal Hazelnut Flour Substitutes In Baking And Cooking
And here's the part you've been waiting for the most: the ultimate hazelnut substitutes! There are some great options in taste, texture, and nutrition that you should try below.
Almond Flour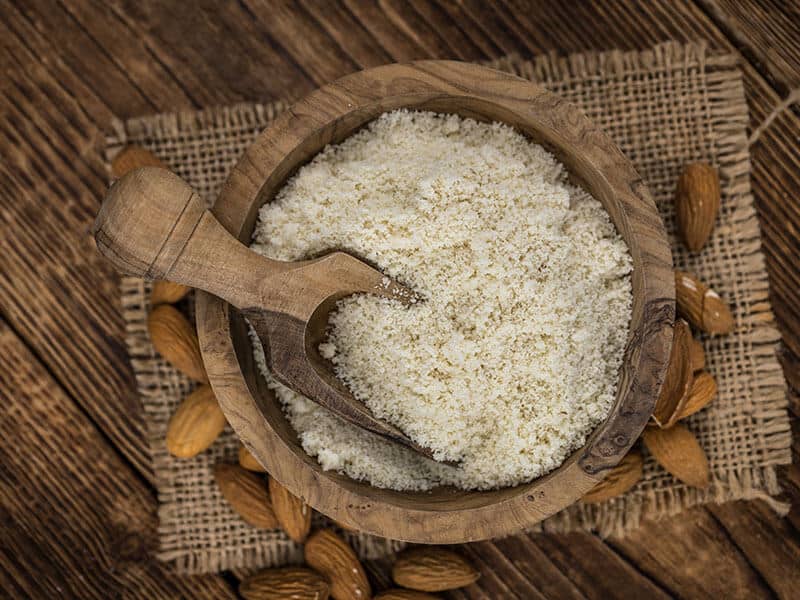 Almonds are nuts from the almond tree that mainly grows and develops in the Mediterranean region. Almonds are screened, the best ones are selected and soaked in water for 4 to 8 hours.
After that, people peel, only take the white filling inside and then grind it into delicious almond flour. People grind almonds into flour to preserve them longer and make them easier to use.
Almond flour has a strong and attractive aroma with a rich flavor that is not inferior to hazelnut flour. It gives the cake a fresh, sweet, and nutty flavor as a bonus.
In terms of color and texture, almond flour is white and smooth. When used for baking, this dough will not rise as much but create a denser and flatter texture. Almond flour will also add texture to baked goods.
To replace hazelnut flour, you need almond flour in a 1:1 ratio. You can use almond flour as a substitute for hazelnut flour in baking or similar recipes.
People often use almond flour in pie crusts and cookies for great texture. In the case of baking, you might consider mixing almond flour with wheat, cassava, or quinoa flour for a better texture.
Almond flour also offers many of the same health benefits as hazelnut flour. Almond flour is gluten-free, making it a better choice for celiac disease.
Like hazelnut flour, almond flour supplies a high fiber and vitamin E. Almond flour is also high in monounsaturated fats. Thanks to that, people who are worried about diabetes and heart disease can completely use macaroons.
The abundant antioxidant flavonoid active in almonds prevents diseases related to heart disease, aging skin, and musculoskeletal muscles inside the body. Almonds are rich in minerals that are beneficial for the development of the body.
Chestnut Flour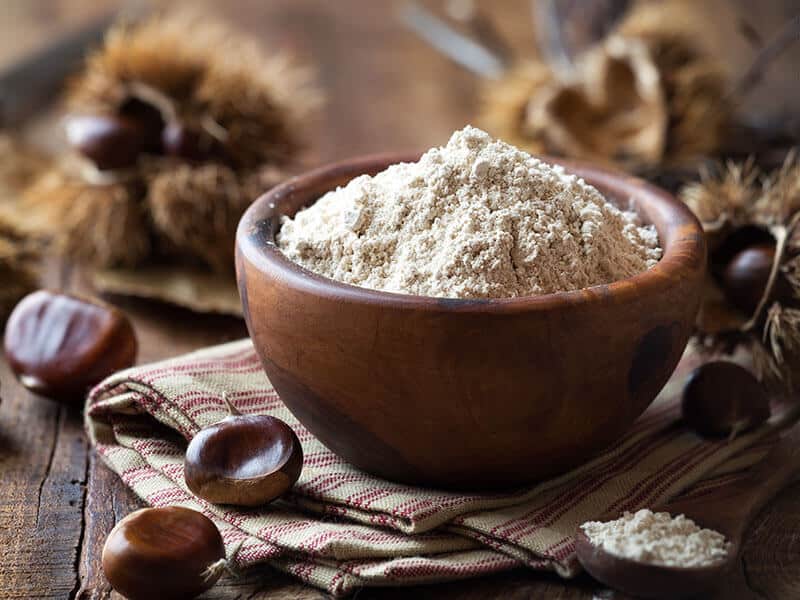 The taste of chestnut flour is relatively similar to that of hazelnut flour, characterized by sweetness and nuttiness. Your dishes will also get a rich flavor when using this flour. In Italy, chestnut flour is as widely used in baking as hazelnut flour.
Chestnut flour tastes nutty with a hint of earthy and smokey smell. In place of hazelnut flour, chestnut flour brings new flavor and texture to any of your favorite baked goods. You can add it to almost any recipe that calls for hazelnut flour.
Of all the nuts, only chestnuts contain vitamin C. Besides, chestnut flour is richer in carbohydrates than any other nut flour. Therefore, this flour can provide a lot of energy for the body.
Thanks to the high nutritional content, chestnuts bring a lot of good benefits to health. Studies have proven that chestnuts have a protective effect on the heart. The Omega-3 fatty acids found in chestnuts have anti-inflammatory and heart-protective effects.
Chestnuts can also be considered a weapon to help prevent diabetes. In addition to common vitamins, chestnuts also contain many minerals that are very useful in promoting health and preventing diseases.
Since chestnut flour is low in protein, it's a good idea to mix it with protein-rich flour like quinoa flour or wheat flour to increase the texture and prevent pies from falling apart. In addition, chestnuts are grown seasonally, and in small quantities, so prices can be high compared to hazelnut flour.
Coconut Flour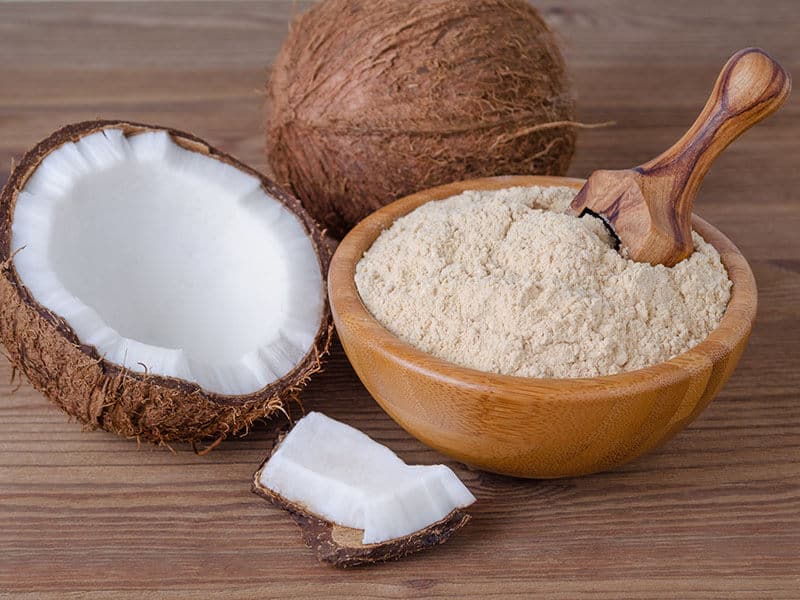 Coconut flour is a byproduct of coconut milk production. Like hazelnut flour, coconut flour is rich in fiber and goes well with baked goods. It is also a gluten-free option. Although coconut flour will not provide the flavor of hazelnuts, the distinct mild and sweet coconut flavor will not bother you.
You can choose coconut flour when you do not want to have too strong a flour flavor in the dish. In addition, you can easily mask the coconut taste with some other strong flavor like banana, cocoa or coffee. Bread or brownies will be great recipes to try.
Coconut flour works best when combined with other flours. In baking, coconut flour is usually used to replace all-purpose flour at a 1:4 ratio. Coconut flour can be slightly clumps than hazelnut flour. So it would help if you filtered it through a sieve to achieve the desired fineness.
It is important to note that coconut flour absorbs more liquid than hazelnut flour, so you should use a large amount of water and eggs when kneading the dough. When you use it to substitute hazelnut flour, remember adding 1 egg for 1/4 cup of coconut flour.
These coconut flour 3-way recipes will blow your mind! You can see this video to know more:
Quinoa Flour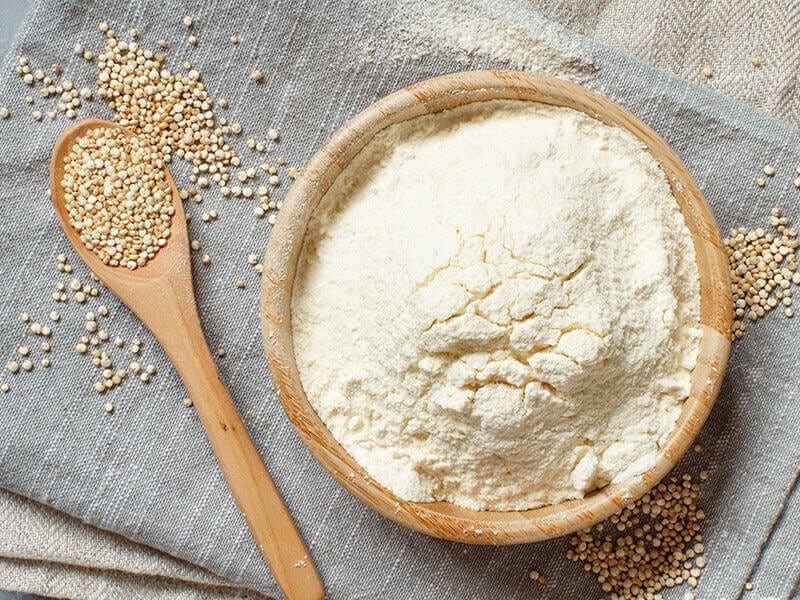 Quinoa is a whole grain that closely resembles amaranth, spinach, beetroot, and other pseudocereals. It brings nutritional value not inferior to other foods in the cereal group.
Therefore, quinoa is considered a superfood. With its highly versatile uses, quinoa can be substituted for most nut flour, including hazelnut flour. It is also an ultimate nut-free option for those with nut allergies.
Quinoa flour is made by using quinoa seeds that have been pre-washed to remove the natural coating of bitter saponins and then ground into a fine flour. It is high in fiber, protein, and gluten-free just like hazelnut flour.
Besides, quinoa contains a high amount of complete protein compared to hazelnut flour. In particular, this flour gives your baked goods a bold flavor.
You should notice that sometimes it can overpower your recipe with the significant slightly bitter and grass-like taste. To get rid of this issue, you can balance the flavor of quinoa flour by a quick toast.
Organic quinoa is great for vegetarian diets. It's a quick and convenient substitute for all things that require hazelnut flour. It may not be as fragrant, but the texture it produces is similar. Just be careful not to use more than a quarter of the quinoa flour in the mixed flour.
Quinoa has a low glycemic content, so it is amicable in obesity and some other diseases, especially diabetes. Like hazelnut flour, quinoa does not contain gluten ingredients, suitable for people with celiac disease.
The fiber content of quinoa is also higher than that of many other nuts, which can help lower blood sugar, lower cholesterol and increase satiety, thereby helping to lose weight and prevent disease effectively.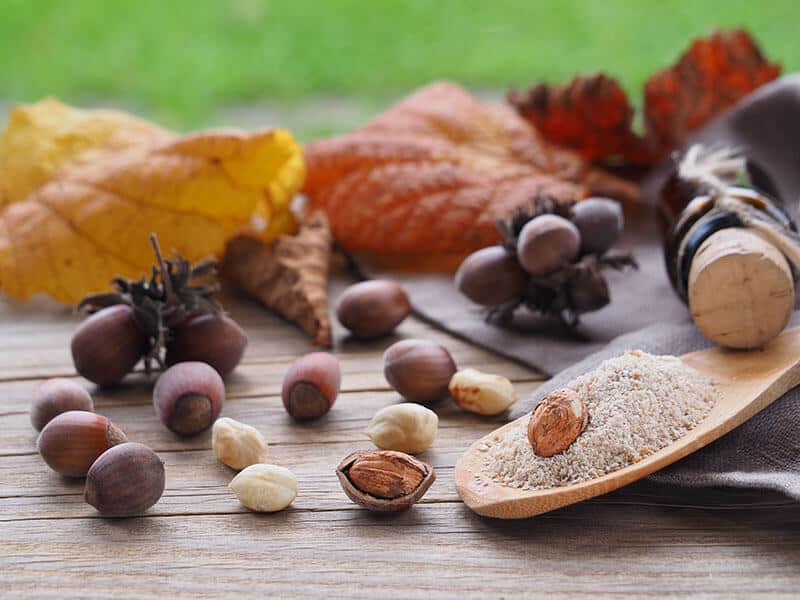 When not satisfied with any of the options, you can choose to make your own hazelnut flour at home. This not only helps you get the exact taste, but also ensures the freshness and safety of your baked goods.
With this easy homemade hazelnut flour recipe, you only need two ingredients and 10 minutes to have your fresh hazelnut flour ready for baking. Why not try now and see the result!
You can see this video to know more:
Benefits That Hazelnut Flour Brings To Your Health
Hazelnut flour belongs to the group of healthy nuts that help replenish nutrients for the body, so it can be used regularly. Hazelnut flour is a source of essential nutrients in your meals with content such as:
Unsaturated Fat: Hazelnut is one of the few nuts recognized by the USDA to reduce the risk of cardiovascular disease. Hazelnuts contain a lot of unsaturated fats that help users get enough nutrients without worrying about health risks.
Gluten-free: Hazelnut flour does not contain gluten, so it is better for people with celiac disease without causing any inconvenience or allergies.
Protein: Raw hazelnuts provide a moderate amount of protein to help the body maintain energy for a day. Therefore, if you have a plant-based diet, hazelnuts will be a great supplement.
Vitamin K: Vitamin K promotes the production of platelets that help heal wounds and absorb calcium better, preventing fractures and strengthening bone density (2) .
Omega 9: Hazelnuts contain an exceptionally high amount of omega 9. This substance plays a vital role in lowering blood pressure, balancing cholesterol in the body, and fighting coronary heart disease and diabetes.
Folate: Hazelnut has the highest folate content of all nuts. This substance reduces the risk of neural tube defects, types of cancer, depression, Alzheimer's and promotes heart health.
Proanthocyanidin: This is a flavonoid with an antioxidant effect. The antioxidant effect of proanthocyanidin in hazelnut is 50 times higher than vitamin E and 20 times higher than vitamin C.
In addition, this substance also contributes to preventing heart disease and lowers blood pressure, improves circulation, brain health, and reduces some allergy symptoms.
Discover all the benefits this super nut can bring to your health! You can see this video to know more:
Who Can Take Hazelnut Powder Safely And Healthily?
Because hazelnuts contain many essential nutrients that most are suitable for everyone to use, such as:
All people without tree-nut allergic
Especially good for people with cancer and diabetes
People who want to control weight
Pregnant women
Regular vegetarians
Workers need more calories
People with heart problems or blood pressure
FAQs
Do you still have many questions about hazelnut flour and its alternatives? Check out the questions and answers below to learn more about these nutritious nut flours!
Find Out Your Best Hazelnut Flour Substitute!
Well, that's it, you know many new nutritious nut flours to make the perfect substitute for hazelnut flour. These healthy nut flours always provide you with the nutrients you need and with a delicious, alluring taste.
Use these flours to make attractive and delicious dishes so that your family has nutritious and healthy dishes every day.
In addition, to know more about other nutritious nuts, follow me to get a valuable and accurate source of information for you. Hurry up to accumulate a lot of practical nutritional knowledge for yourself!
References
En.wikipedia.org. 2021. Hazelnut – Wikipedia.
Anon, Office of dietary supplements – vitamin K. NIH Office of Dietary Supplements.