Sun-dried tomato substitutes are essential if you can't handle the strong flavor of tomato, which is the most prominent feature of this type.
So, if you want to bring a powerful tomato kick to your recipe, feel free to go for this flavorful ingredient. The sun-drying method helps preserve the sweetness and nutrition of tomatoes and extends their storage time.
Sun-dried tomatoes might require more time to bring out their deliciousness compared to other tomato products, but it is worth waiting.
However, suppose it's tomato season; there's no reason you insist on making a bowl of salad with sun-dried tomatoes instead of fresh counterparts.
Below are some of my suggestions you can refer to when necessary. Let's discover now!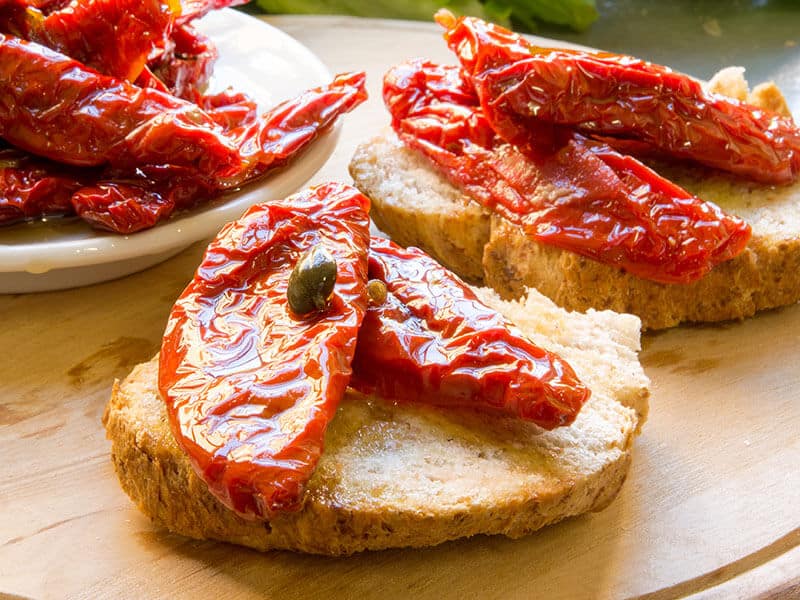 What Are Sun-Dried Tomatoes?
What are sun-dried tomatoes? As the name suggests, they are freshly harvested tomatoes that have been dried out under the sun.
The process of sun-drying seasonal fruits originates from the desire to preserve fresh produce so that it can be used all year round.
After 4-10 days under the sun, these tomatoes have lost up to 88-93% of their weight, and their skins have become thicker than before. (1) They feature a firm, chewy texture and sweet-tart, concentrated tomato flavor with a trace of tanginess.
Sun-dried tomatoes are often preserved in oil or sold as dry-packed products. This way, they can stay safe for up to 9 months in unopened packages.
These flavorsome tomatoes have become a tremendously popular ingredient in pasta, soups, salads, pizza, and more.
Dry Vs. Oil-Packed Sun-Dried Tomatoes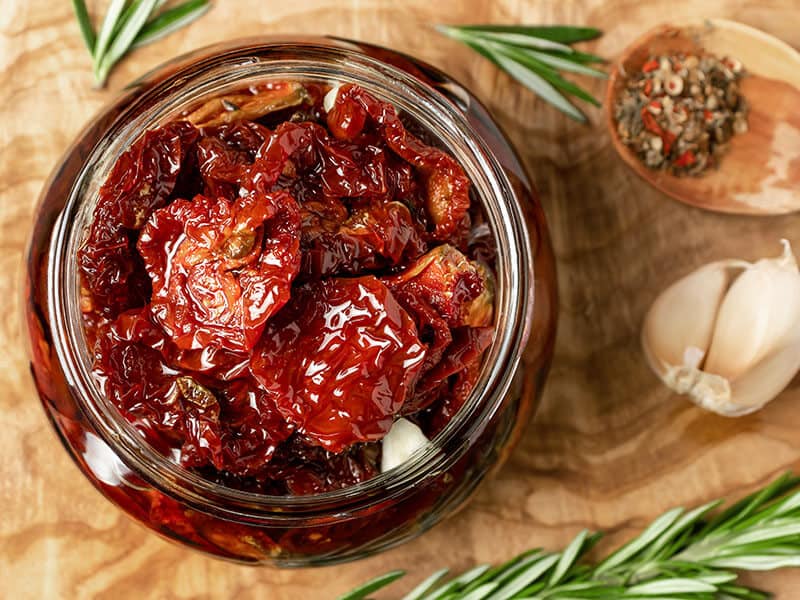 When shopping for sun-dried tomatoes, you might notice two forms of them: dry and oil-packed tomatoes.
Dry-packed tomatoes feature tougher skin and a chewier texture than the other. They look like other dried fruits you've bought. They're often sold in bulk and need to be reconstituted before use.
Oil-packed tomatoes mean dried tomatoes are submerged totally in a tremendous amount of oil, usually olive oil. They might contain some herbs and garlic to create more flavors.
Sun-Dried Tomatoes Substitutes Conversion Chart
Once you've found a list of sun-dried tomato substitutes, you might want to put them into practice. But what's the substitute ratio for each option? Let's have a quick look at the table to smooth out the process.
| Sun-Dried Tomato Substitutes | Best Use For | Ratio |
| --- | --- | --- |
| Semi-Dried tomatoes | Soups, sandwiches, sauces, dips, pasta | 1 cup of sun-dried tomatoes = 1 cup of semi-dried tomatoes |
| Fresh Tomatoes | Salads, sandwiches | 1/2 cup sun-dried tomatoes = 4-6 fresh (plum) tomatoes |
| Tomato Paste | Soups, curries, sauces | 5 sun-dried tomatoes = 1 tbsp of tomato paste |
| Tomato Puree | Soups, curries, sauces | 3-4 sun-dried tomatoes = 1 tbsp of tomato puree |
| Canned Tomatoes | Soups, sauces, stews | 1 cup of sundried tomatoes = 3 cups of canned tomatoes |
| Roasted Bell Pepper | Antipasto platters, bruschetta, sandwiches, sauces, salads | According to your taste. |
| Tomato Powder | Sauce, salsa, dry rubs, soups | Start with a small amount, then add more according to your taste |
| Tamarind Paste | Soups, stir-fries | Start with a small amount, then add more according to your taste |
| Homemade Sun-Dried Tomatoes | Soups, sandwiches, sauces, dips, pasta | 1 cup of sun-dried tomatoes = 1 cup of homemade sun-dried tomatoes |
Sun-Dried Tomatoes Substitutes That Will Make You Surprised
Feel free to pick one out of 9 alternatives in the list below and go back to your recipe as soon as possible. They're all yummy and packed with the flavors or textures you're looking for.
Semi-Dried Tomatoes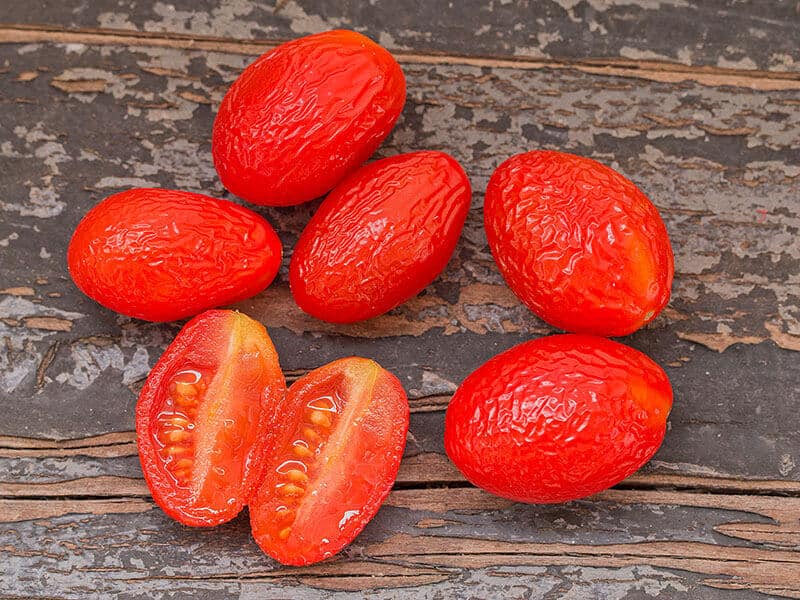 Semi-dried tomatoes are made using the sun-drying process but with half of the time compared to sun-dried tomatoes; therefore, they still retain moisture and have a milder taste.
Semi-dried tomatoes can be an excellent replacement for sun-dried counterparts in various recipes where eaters don't actually favor the heavy aroma of the sun-dried version.
When added to the food, semi-dried tomatoes can release more juice and make the dish mellow and rich. However, they can't offer a chewy texture as you expect from sun-dried ones.
There is no significant difference if you use the same amount of semi-dried tomatoes in any recipe containing sun-dried tomatoes, so go with it.
Fresh Tomatoes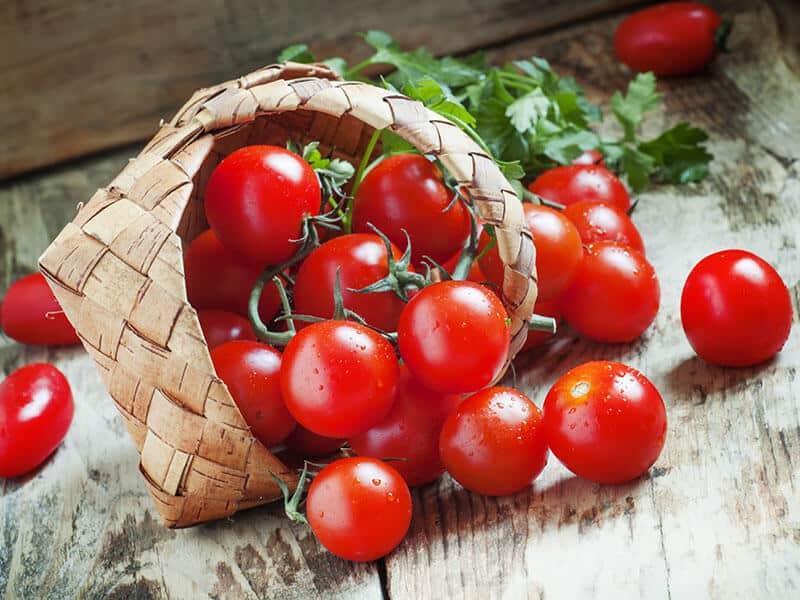 Fresh tomatoes are a suitable backup option for sun-dried tomatoes if you crave fresh aroma in your dish, especially when you plan to make sandwiches and salads. They come with a sweet-tart and tangy savor.
It's a fact that sun-dried tomatoes need to rehydrate properly before tossing into a salad bowl. If not they might be a bit too chewy for a palatable eating experience. For this reason, you might opt for fresh tomatoes first, especially if tomatoes are in season.
There might be one more reason why fresh tomatoes are a suitable replacement, in this case, is that they make your salad look more attractive. To round up, squeeze a drop of lime juice to achieve a perfect overall flavor.
Moreover, they can add juiciness to the food so that it can become more enjoyable to eat.
Luckily, you can use fresh tomatoes in any recipe that may require sun-dried tomatoes.
If the recipe calls for 1/2 cup sun-dried tomatoes, you might need to prepare 4-6 fresh plum tomatoes to achieve the same cooking effect.
Why not make this 4-minutes easy tomato and egg stir-fry for dinner today? You can see this video to know more:
Tomato Paste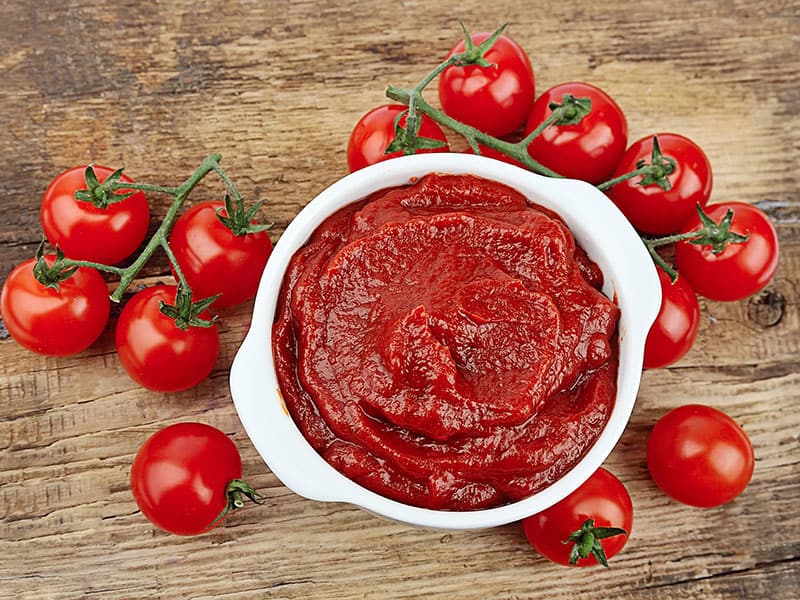 Tomato paste is a concentrated tomato puree that has been cooked for quite a long time until it becomes a thick paste with little water content. For this reason, it features an intense flavor that is quite similar to sun-dried tomatoes.
If you don't mind the texture, there's no problem when substituting tomato paste for sun-dried tomatoes. However, I highly recommend that you should use it for sauces and soups which require dense texture.
It's said to add a meaty flavor to slow-cooked recipes and help you thicken the sauce and more. You should use at least 1 tablespoon of tomato paste for every 5 sun-dried tomatoes to get the right taste.
Tomato Puree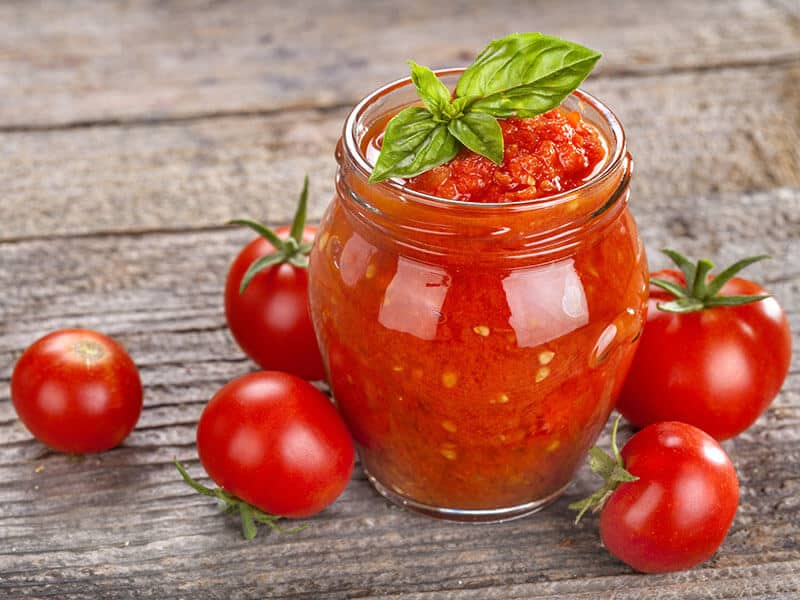 This is another excellent substitute for sun-dried tomatoes when it comes to cooking soups, sauces, or curries. Tomato puree is thinner than tomato paste and thicker than tomato sauce and made by cooking and straining fresh tomatoes.
Tomato puree has the intense aroma of sun-dried tomatoes, so it's always my go-to option when the recipe calls for liquid or stock. Moreover, it's sweet, fresh, mild and often used for sauces and dips.
In general, this option can be used in any recipe which doesn't require texture but asks for its concentrated tomato flavor. Let's add 1 tablespoon of tomato puree in place of 3-4 sun-dried tomatoes!
Canned Tomatoes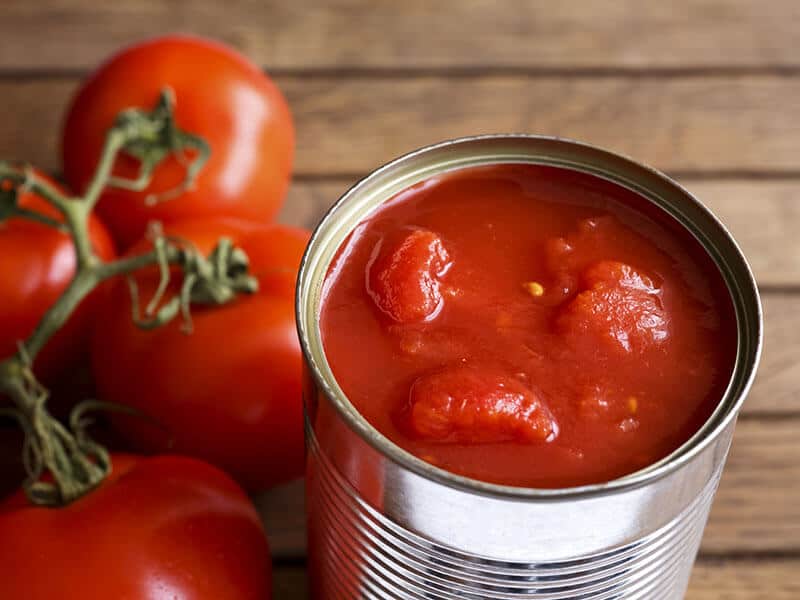 If you don't have any sun-dried tomatoes left in your home, canned tomatoes, especially whole peeled tomatoes, can be an ideal alternative. Although they might taste milder than sun-dried tomatoes, they perform well in numerous recipes.
Canned tomatoes are available year-round, easy to access, and have a long shelf life, so there's a high probability that you might stock them at the pantry.
At first glance, they taste sweet, slightly acidic with a touch of raw tomatoes. Bear in mind that they might taste a bit watery if you eat straight out of the can. Tossing them in salads or raw casseroles can be better.
If you cook them, you can easily bring out the sweetness. They are best for long-simmered recipes, including chicken stew, homemade tomato sauce, tomato soup, and more.
To substitute, it's highly recommended that for every cup of sun-dried tomatoes, you will add 3 cups of canned tomatoes which have been drained from the juice.
Roasted Bell Pepper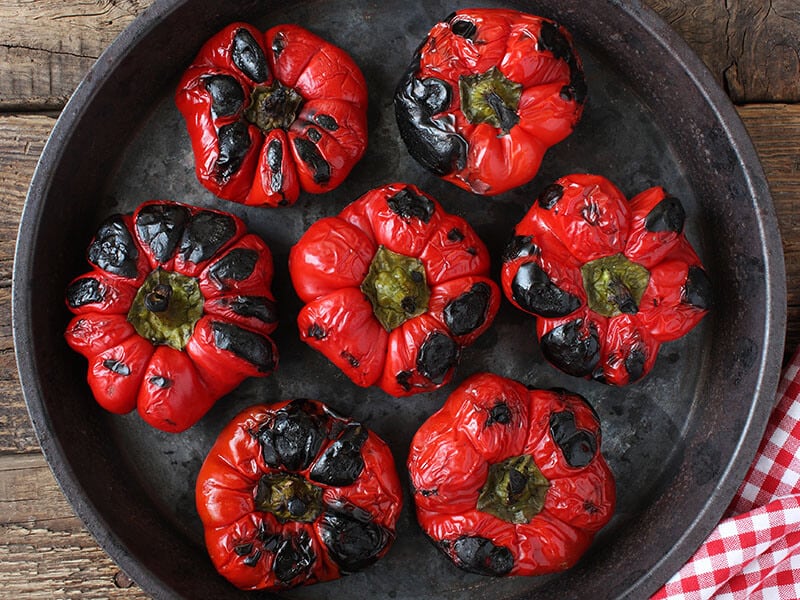 Do you know that roasting bell peppers can amplify their sweetness and make them more flavorsome? The answer is totally true. In addition, once roasted, their texture naturally switches from crisp to meat-like.
This ingredient is also an especially good sun-dried tomato substitute for antipasto platter and bruschetta. Although they appear milder than sun-dried tomatoes, they still add depth to the dish, including sandwiches, sauces, salads, and more.
If you fancy smoked flavor, you might love this replacement a lot. You might want to add many roasted bell peppers in the dish according to your taste.
Let's make a super tasty roasted bell pepper for sandwiches!
Tomato Powder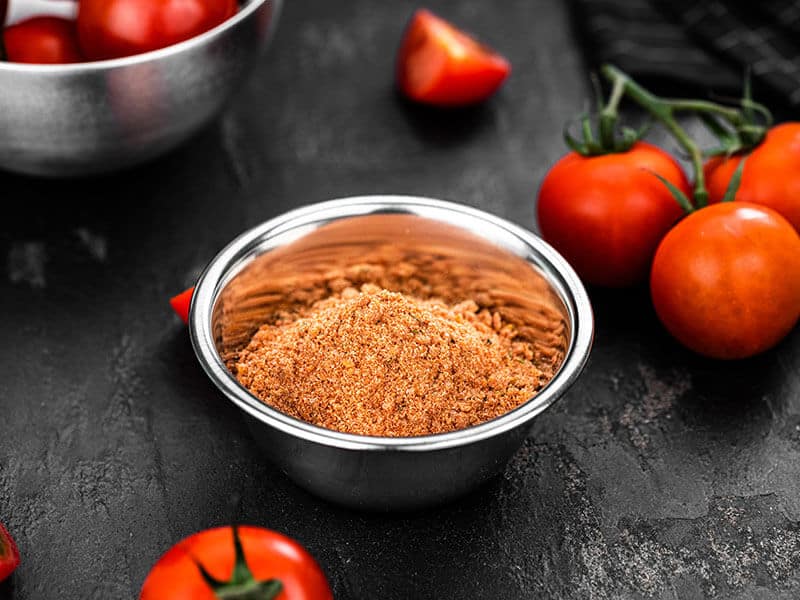 If a recipe calls for sun-dried tomatoes, you can easily replace them with tomato powder. As the name implies, this ingredient is made by grinding dried tomatoes into fine powder. It has a sweet and acidic aroma.
This way, you can easily incorporate a dash of tomato flavor into the dish without worrying that it will overpower other ingredients. You can start with a pinch of it, then add a little more until you get the exact tomato flavor you want.
Tomato powder is a star of soups, tomato-based barbecue sauces, summer salsa, chutney, stews, and dry rubs.
Tamarind Paste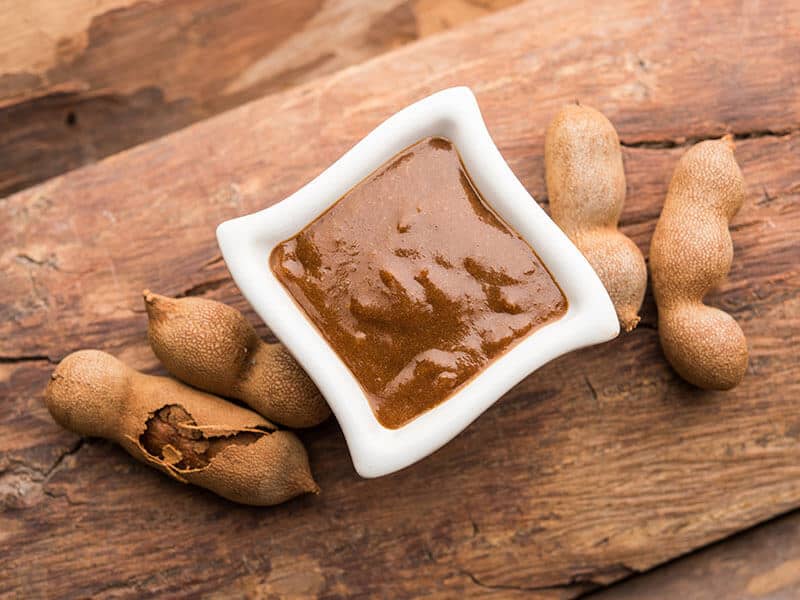 Tamarind paste can be used as an adequate substitute for sun-dried tomatoes because it can impart the sweet and sour flavor into food, just like sun-dried tomatoes do.
Of course, tamarind paste is a bit sourer than sweet, but you can completely balance the overall flavor by adding sugar or other spices.
It's highly recommended that you add tamarind paste in place of sun-dried tomatoes in soups and stir-fries. This way, you can make the most of it.
Let's start with a small amount and then add more according to your taste.
Have you ever thought about making sun-dried tomatoes in the comfort of your house? Instead of waiting for the sun to help dry the tomatoes, you can use the oven or a dehydrator to make this process faster.
The preparation might be a little bit complicated, but the result is worth the effort. All you need to do is cut fresh tomatoes in half, remove seeds, place them on a baking tray and turn on the oven.
If you have a dehydrator, cut them in two, then start drying them at 140 degrees F for about 6-8 hours. It would be helpful if you check them after 6 hours to make sure they're not over-drying.
For people who love the traditional sun-drying method, after cutting tomatoes the same way as the two options above, sprinkle some sea salt all over their surfaces, and place them directly under the sun.
This way, you can get a batch of sun-dried tomatoes to use for the following recipe and maintain the authentic flavor of the dish. Feel free to add the exact amount of sun-dried tomatoes that the recipe calls for.
Simple yet delicious sun-dried tomatoes are made with an oven!
Lip-Smacking Sun-Dried Tomatoes Recipes
If you're a big fan of sun-dried tomatoes, you might have numerous cooking ideas related to them. Below are some of my suggestions in case you need them.
You might have been familiar with green pesto made mainly from basil; how about red pesto? Let's try to make it this weekend and enjoy it the whole next week.
It's a safe bet that your family, even your kids, will fall in love with this sun-dried tomato-based condiment.
First and foremost, it's versatile so that you can smear it on anything, including veggies, fish, chicken, pizza, pasta, sandwich, and more.
This recipe is all about its ingredients. The reason I said so is that all you need to do is combine all of them in the food processor and wait until smooth.
The result will have a vibrant red color with concentrated tomato flavor from sun-dried tomatoes, sweetness from red pepper, creamy taste from cheese, and fresh aroma from herbs.
This sun-dried tomato pasta is beyond expectation. Let's try to make it!
Why "marry me" chicken? Maybe, it tastes so yummy that it makes your partner decide to propose to you immediately. There is also another theory that one bite of it can make you say "Yes!". I think both are good guesses!
It's pretty easy to cook, just sauteed boneless chicken breasts in a flavorful sun-dried tomato and Parmesan cheese cream sauce.
This hearty chicken will soon be your family favorite and suitable to serve with pasta, mashed potatoes, or rice. It has a creamy, tangy, savory flavor and tender, juicy texture that one bite is not enough.
Marry me chicken can be made ahead and kept in the fridge in an airtight container for up to 4 days.
I don't mind eating this comforting bowl of cream sun-dried tomato soup every day because it's hearty, savory, and super delicious.
To my surprise, it's made from a handful of simple ingredients, mainly tomato-related things, including sun-dried tomatoes, tomato paste, and tomato sauce.
In terms of flavors, it's warm, rich, creamy with a hint of tanginess as you expect from tomato soup. Also, it features a bright, vibrant color that reminds you of summer.
To round up, drizzle sour cream and sprinkle garlic croutons on the top of the soup.
It's gluten-free, diet-friendly, and can easily turn into a vegetarian bowl.
FAQs
Sun-dried tomatoes are not as popular as other tomato products, so there might be some questions about their culinary usage, storage, and more. Let's answer!
Sun-Dried Tomatoes Are A Great Way To Eat Tomatoes
I love tomatoes because they're versatile and always add a beautiful color to my dish. Among all tomato products, sun-dried tomatoes are my favorite.
I can use them in salads, sandwiches, soups, mix in scrambled eggs, or add them to baked goods and make stuffings. No one can deny their unique flavors, which they impart in whatever you put them in.
The best thing about sun-dried tomatoes is that you can make it at home with a few simple steps.
But, in some cases, if you don't have any in the pantry, you can check the above list for more information.
What about you? What are your experiences with sun-dried tomatoes and their substitutes? Tell me your story about them by leaving comments below.
Reference
En.wikipedia.org. 2021. Sun-dried tomato – Wikipedia
WebMD. 2021. Health Benefits of Sun Dried Tomatoes.