If you are searching for an ingredient as a substitute for water chestnuts, you have come to the right place. You have probably heard a lot about water chestnuts' crisp texture and unique taste. Regrettably, the ingredient is not widely available at nearby grocery stores.
In such a situation, questions about the suitable alternatives and where to find them would always pop up in your mind, causing a real headache. Due to water chestnuts' delicate taste and delectable crunch, your meal will not be the same without its flavor profile.
Don't worry! I have got you covered with my best choices of water chestnut replacements. While these substitutions are not identical to water chestnuts, they all have their signature mild taste and crisp texture.
Without further ado, let's scroll down my post to discover all these sublime water chestnut alternatives for your cooking.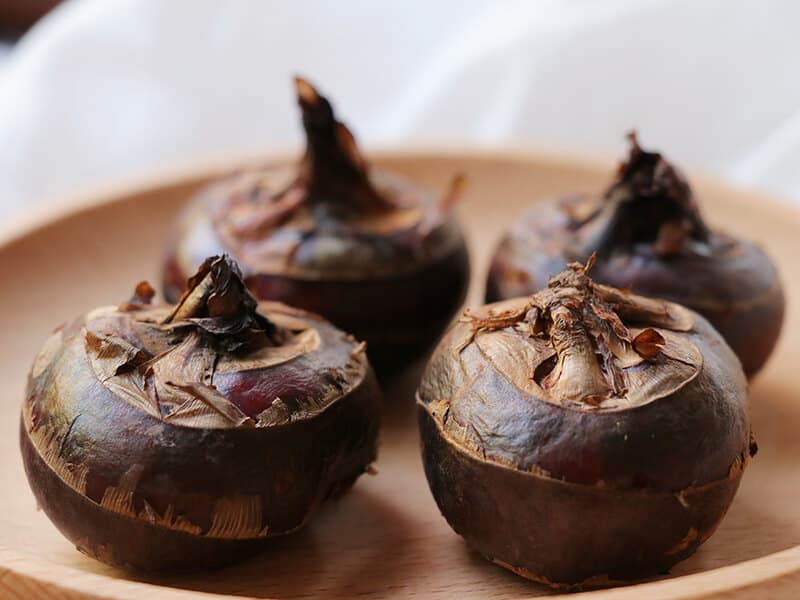 Quick Rundown On Water Chestnuts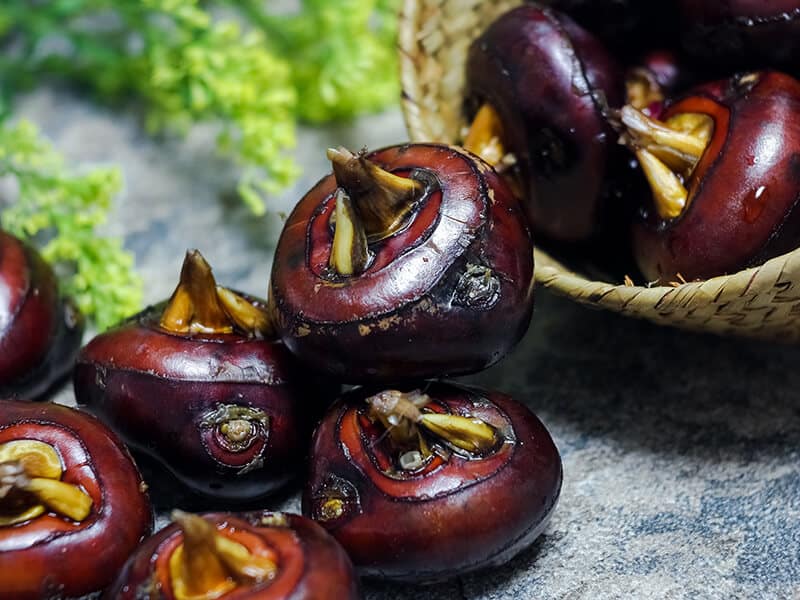 Despite the name including the word "nut", water chestnuts have nothing related to nuts. Their only resemblance is the look, consisting of papery brown skin on the exterior and white flesh inside.
Water chestnuts are aquatic tuber vegetables that colonize near bodies of water such as ponds, lakes, and slow-moving streams (1). The green is native to China and other places like Southeast Asia, Africa, Australia, and many Pacific Ocean islands.
All fans of Chinese cuisine will find water chestnuts so familiar, as the spice is ubiquitous there. This vegetable is well regarded for its crunchy texture and delicate taste, making it ideal for adding to virtually any meal.
You can enjoy water chestnuts raw, although this practice is not recommended due to the possibility of disease transmission from the water in which they grew. Instead, water chestnuts are excellent when fried or crushed to create water chestnut cake flour.
Water Chestnuts' Gentle Taste Profile
If you have tasted water chestnuts before, you will agree with me that they have a very delectable flavor. You can easily detect their sweetness mingling with the mild tartness. Besides, they also have a distinctly fruity and nutty flavor, just like a mix between an apple and a coconut.
Additionally, its crisp texture gives crunch to creamy spinach dips and infuses vegetable side dishes with an exotic taste. Typically, they are added towards the conclusion of the cooking process.
Not only are water chestnuts delectable, but they are also healthy. Raw water chestnuts are high in antioxidants and other chemicals that prevent age-related illnesses such as heart disease.
Full Guide On Substitute Ratio Between Water Chestnuts And Their Replacements
Before diving into all the details of these star anise replacements, it is wise to take a brief look at the exact ratios to use.
| Substitutes | Ratios (Water Chestnuts/Substitutes) |
| --- | --- |
| Canned Water Chestnuts | 1 gram of freshwater chestnut = 1 gram of canned water chestnut |
| Jicama Slices | 1 gram of water chestnut = 1 gram of jicama slices |
| Radish Slices | 1 gram of water chestnut = 1 gram of radish slices |
| Turnips | 1 gram of water chestnut ~ 1 gram of turnips |
| Jerusalem Artichokes | 1 gram of water chestnut = 1 gram of Jerusalem artichokes |
| Bamboo Shoots | 1 gram of water chestnut = 1 gram of bamboo shoots |
| Pecans | 1 gram of water chestnut = 1 gram of pecan |
| Daikons | 1 gram of water chestnut = 1 gram of daikons |
| Crosnes | 1 gram of water chestnut = 1 gram of crosnes |
| Celery | 1 gram of water chestnut = 2 grams of celery |
| Fresh Gingers | 1 gram of water chestnut = 1.5 grams of fresh gingers |
| Almond Flour | 1 gram of water chestnut = 1 gram of almond flour |
| Cassava Flour | 1 gram of water chestnut = 1 gram of cassava flour |
| Hazelnut Flour | 2 cups of ground water chestnut = 1 cup of hazelnut flour |
Best Substitute For Water Chestnuts: 14 Ideas To Try
If you understand what water chestnuts can do to your meal's flavor, you will find the journey of replicating their aroma is possible. Please continue reading to learn about my 13+ suggested replacements that taste nearly identical to water chestnuts!
1. Canned Water Chestnuts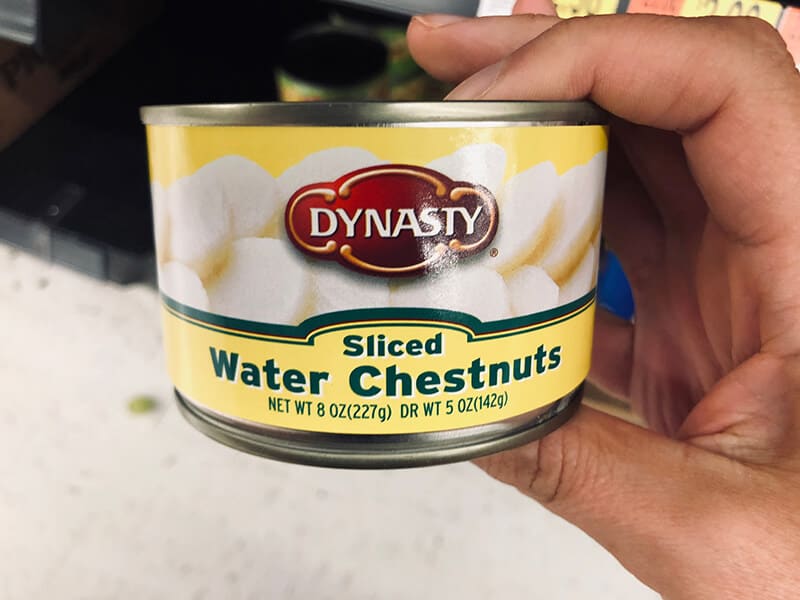 When it comes to freshwater chestnut substitutes, canned water chestnuts must be the first choice. They have a texture that is quite similar to fresh ones since they are all crisp. Due to their high concentration of ferulic acid, canned water chestnuts can retain their crispness.
However, these canned options have a rather bland taste in comparison to fresh ones. When preparing your dishes with these canned veggies, you will lose a bit of nutty flavor. But, the difference is not so drastic, so that you can use them in place of fresh water chestnuts freely.
For that reason, if you are using fresh water chestnuts only for their texture, the canned version is the best and most cost-effective option out there. Canned water chestnuts are available in two varieties: whole and sliced. I recommend using the whole version for a crunchier feel.
Another advantage of using canned water chestnuts is that they require no peeling effort, adding pleasure to your cooking process. Plus, these canned items are more widely available at supermarkets, compared to their fresh pals.
Once the can is opened, it is best to consume canned water chestnuts within a few days. Maintain a cool environment for storing them and replace the water every day if feasible.
Replace 1 gram of canned water chestnut for 1 gram of fresh water chestnut. This ratio is ideal in replicating the nutty taste of this vegetable. Plus, you can use these canned water chestnuts in whatever recipe you would use fresh ones, from cozy casseroles to fiery stir-fries.
2. Jicama Slices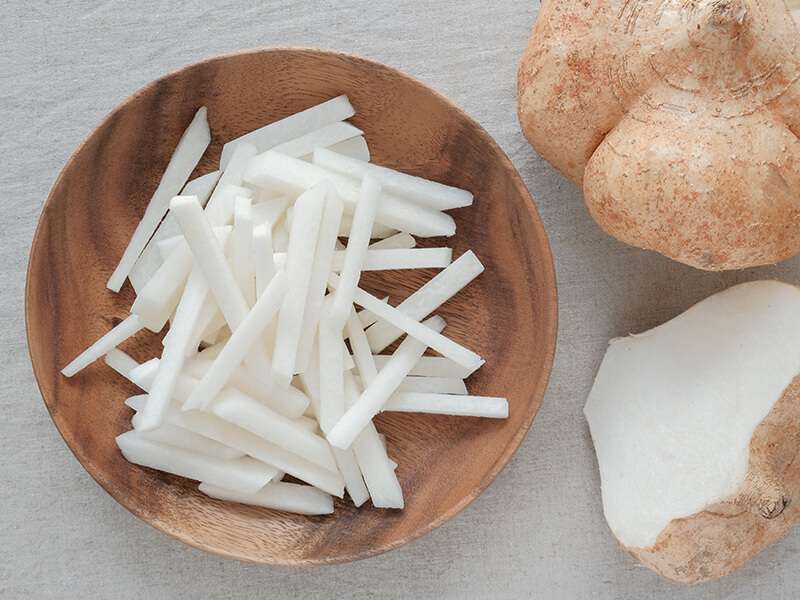 Of all the alternatives mentioned in this post, jicama is perhaps the most comparable to water chestnuts, thanks to its mildly sweet and nutty taste. Jicama slices are the ideal replacement if you want to highlight the delicate flavor of water chestnuts.
Besides flavor, this root vegetable closely resembles water chestnuts in texture and color as well. It has a golden-brown, papery skin and a very starchy white meat. Although raw jicama has a little sweetness, it is relatively low in sugar.
Yet, if you want to keep jicama's taste and crunchy texture, avoid cooking it for an extended period of time. Otherwise, your jicama slices become soft and sweeter as their natural sugars in the root caramelize.
When cooked, jicama slices allow sweetness and nuttiness to blend well with other ingredients in your recipe, producing complex tastes. As a result, people enjoy adding this Mexican spice to a plethora of cuisines, particularly Asian ones.
Make sure to use equal portions of jicama slices to the quantity of water chestnut called for in the recipe. Nevertheless, make sure to add jicama slices gradually and taste your meal as you go. This practice guarantees you won't overwhelm the final dish.
Incorporating jicama slices into the recipe will add a mildly sweet and nutty flavor to your meals.
3. Radish Slices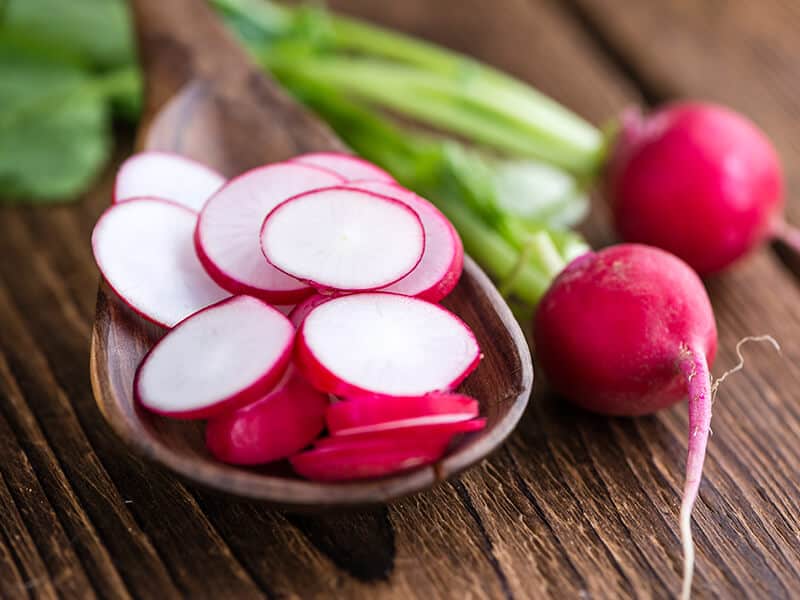 Radish is another member of the root vegetable family featuring a drab exterior covered with root hairs. Compared with water chestnuts, radishes are somewhat more sizable but possess an essentially similar flavor.
Simply mesh your radish slices and use them like you would have prepared water chestnuts in a recipe. Keep in mind that to get a greater sharpness degree, you must leave radish skin undamaged. Eliminating its skin or its root hair significantly reduces the heat intensity.
Utilize radish slices as a 1:1 substitute for water chestnuts to preserve the nutty taste you desire from the aquatic tuber. If you are creating a large batch, adjust the substance's consistency and flavor before adding more.
4. Turnips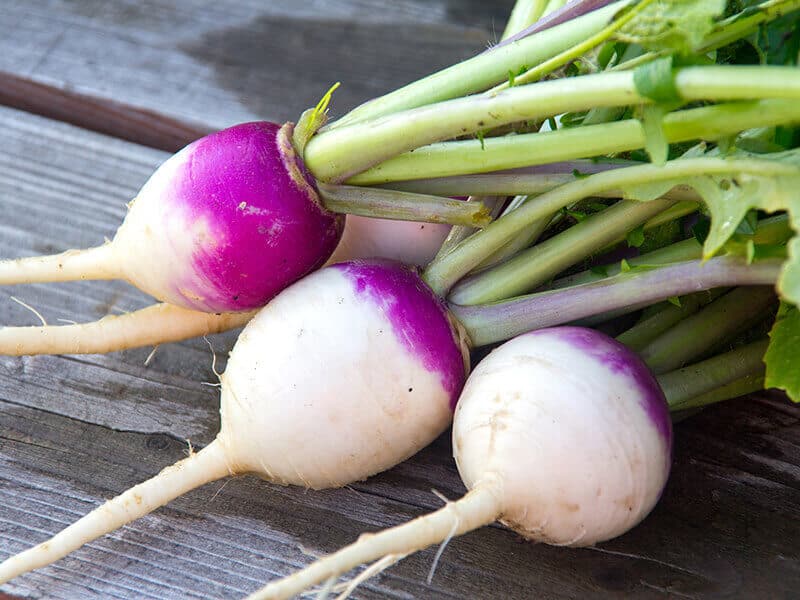 If you don't have access to water chestnuts, you may always substitute turnips. This root vegetable is readily accessible at stores all year round and surprisingly inexpensive. Yet, when using in lieu of water chestnuts, only utilize the big bulb. Remove any tiny connected roots.
Turnips have a moderate taste with peppery and sweet undertones that complement a variety of other flavors found in Asian cuisine. Besides, its crisp and crunchy texture is akin to that of water chestnuts. When cooked, turnips mellow down and become sweeter, just like jicamas.
To use as a replacement for water chestnuts, slice the turnips and combine them with oil, salt, and water. Cover with a lid and cook them until tender. You may include this option into various Eastern cuisines, especially recipes with beets and potatoes, or serve it as a side dish.
When subbing, always remember that 1 gram of fresh turnip equals slightly more than 1 gram of fresh water chestnut. However, avoid adding turnips to your diet if you are about to undergo a blood test. They are incompatible with some medicines and may affect medical test findings
5. Jerusalem Artichokes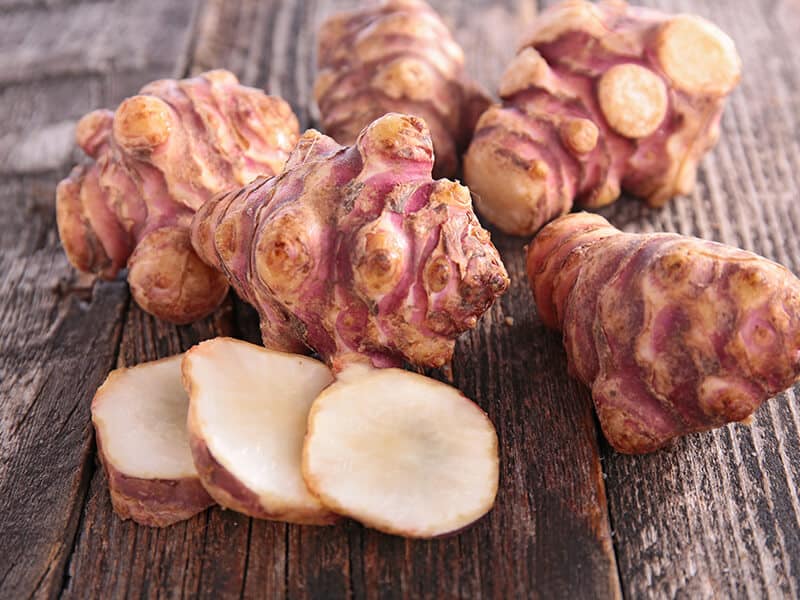 Often referred to as sunchokes, Jerusalem artichokes are not related to artichokes at all. In fact, they are lumpy, brown-skinned tuber from the sunflower family. When replacing water chestnuts, serve uncooked to retain their crunchy texture and mildly sweet taste.
Jerusalem artichokes are a go-to item for people on a diet due to their high fiber, water, carbohydrate, and protein content. Consuming them provides us with a sense of fullness owing to the inulin included in these tubers.
Cooks often add Jerusalem artichokes in creamy and other popular recipes like soups, pasta, and salads. Also, they are one of the best water chestnut replacements in cold-serving dishes.
Keep in mind that a gram of Jerusalem artichokes is equivalent to a gram of fresh water chestnuts. When choosing them at the shop, seek ones with a firmer texture and smooth skin. Skin wrinkles signal that the root is beginning to soften, similar to overripe fruit.
6. Bamboo Shoots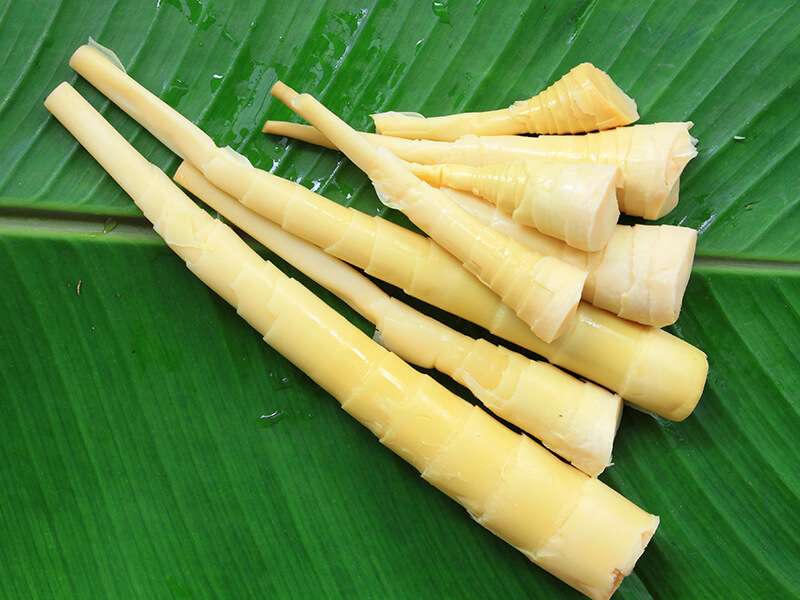 Bamboo shoots are the next best substitute for water chestnuts. Compared to water chestnuts, bamboo shoots have a similar crisp feel. Yet, their flavor is very distinct, with a fibrous and harsh taste. As a result, this option is only suitable for replicating the water chestnut's texture.
With that being said, you should only opt for fresh bamboo shoots to guarantee a better taste and texture, as the canned shoots are too delicate.
One crucial remark when using bamboo shoots is to boil them thoroughly before consuming them. This move helps remove toxins from uncooked shoots, which induces the production of cyanide in your stomach.
To incorporate bamboo shoots into the recipes, gradually add them while monitoring the flavor until it reaches your desired level. Typically, for every gram of water chestnut, using a gram of bamboo shoots.
Discover how to prepare Jerusalem artichokes with this quick and simple tutorial.
7. Pecans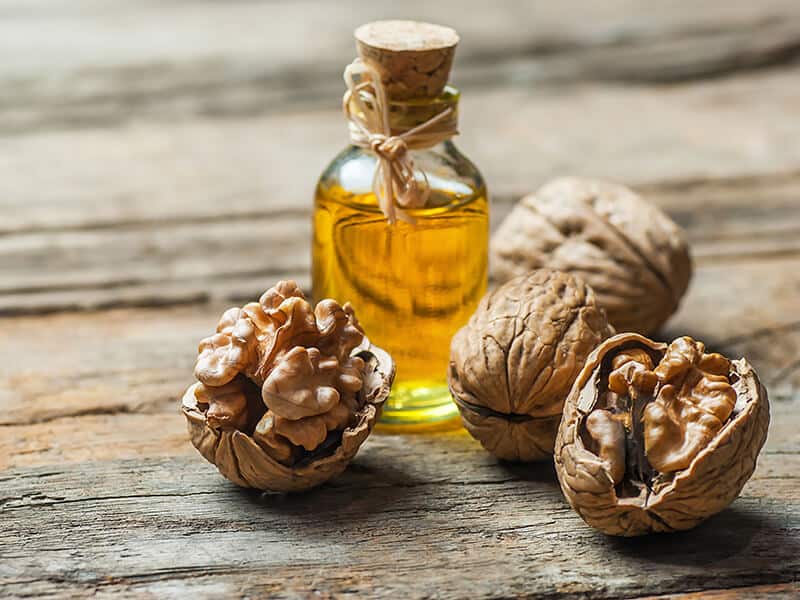 What if you follow a recipe calling for water chestnuts, and the ingredient is currently out of stock in your kitchen? In that circumstance, I recommend pecans as a potential alternative, owing to their incredibly nutty taste.
Pecans are very adaptable and compatible with other components like maple, vanilla, and caramel found in various sweet treats. Furthermore, they are also nutrient-dense, with high content of protein, healthy fats, and minerals, contributing to blood pressure reduction.
However, pecans have a more rigid texture than water chestnuts. It is the tradeoff when you switch water chestnuts for this nutty ingredient. A good tip is to toast pecans beforehand to both soften the material and enhance their aroma.
Use the same amount of pecans as per your recipe's requirement for water chestnuts. This ratio is suitable for preserving the authentic water chestnut taste.
8. Daikons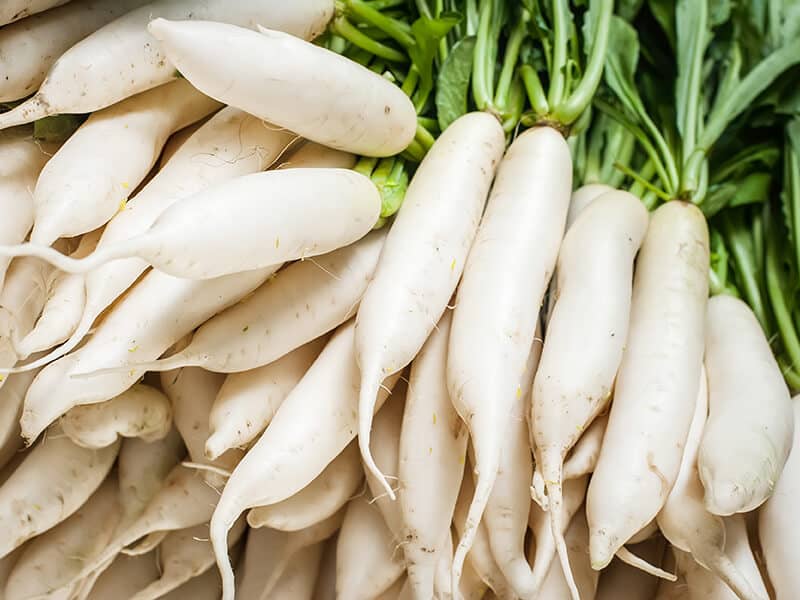 Daikon is the most frequently consumed winter radish in Japan and other Asian nations. The vegetable is the succulent choice for replacing water chestnuts in a variety of dishes, especially soups and stews. You can also serve it raw as a low-calorie side dish.
The veggie has a more moderate, tangy taste than any other radishes. Plus, its surface is soft and delectable, distinct from the crisp texture of water chestnuts.
To generate the equivalent taste profile, make sure to measure 1 gram of daikon for 1 gram of fresh water chestnut. For higher batches of water chestnuts, you can add a small number of turnips for a more accurate flavor.
9. Crosnes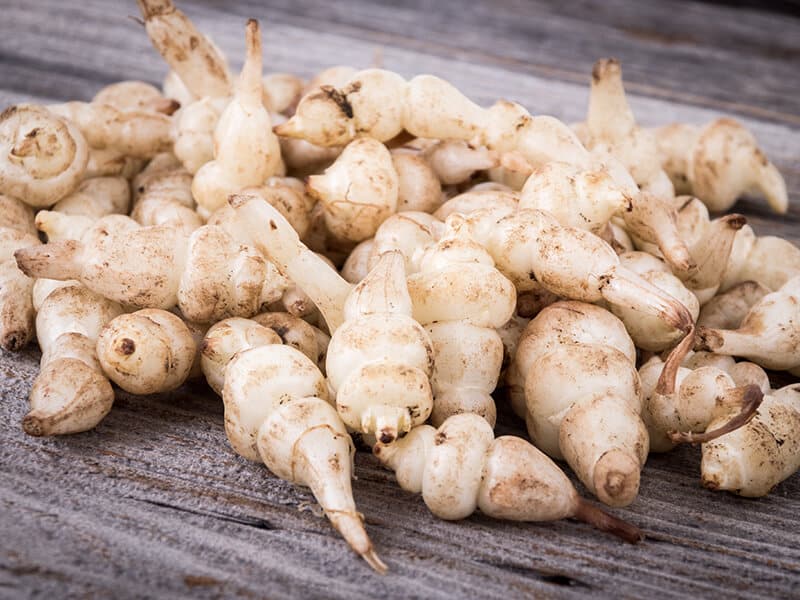 Crosnes are similar to water chestnuts in texture but have a deeper nutty taste. Their delicate flavor will remind you of Jerusalem artichokes and jicama slices. Thus, if you emphasize rendering the equivalent water chestnut's taste, crosnes are your go-to option.
This vegetable was formerly prevalent in European cuisine but fell out of favor in the 1920s. Yet, in recent years, crosnes have experienced a substantial rise in popularity. They are no longer as scarce in supermarkets as they were decades ago.
You can prepare crosnes in the same manner as you would do with water chestnuts. The vegetable pairs well as an accent to both cooked and raw foods, such as roasted chicken or pickled salad greens. Therefore, using them as an alternative is ideal.
Crosnes are also high in minerals and fiber, making them brilliant for headache treatment and bowel movement regulation. Unlike other over-the-counter pain relievers, crosnes will deal with your aches with no unpleasant side effects.
However, there is one tiny drawback when using crosnes. Their spiral form makes scraping and peeling almost impossible. Fortunately, the skin is fragile and readily peels off when rubbed vigorously under running water.
Employ the 1:1 ratio for substituting water chestnuts with crosnes. The taste of crosnes infused with your dish will not let you down.
10. Celery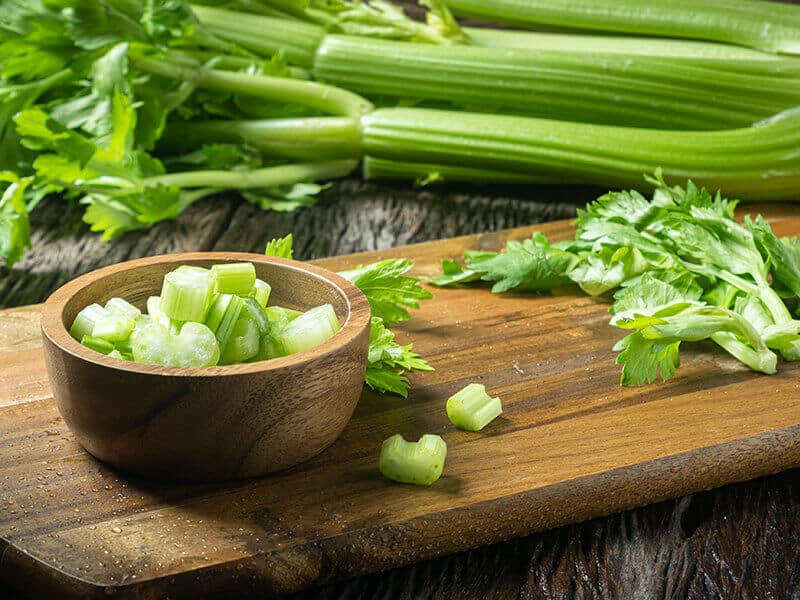 High accessibility is the biggest selling point of celery when used in lieu of water chestnuts, although its taste and color are not an exact match to the aquatic tuber. Celery enters the picture when your desired recipes call for a bit of crunch to the meal.
Celery is an Apiaceae family plant primarily found in marshes and has been used as a vegetable since ancient times.
When substituting celery for water chestnuts, it is vital to utilize the bottom parts of the stalk. Plus, you should cut celery diagonally and add it towards the end of the cooking time. Otherwise, celery may get soft when cooked for an extended period of time.
After slicing the celery beforehand, you can substitute it for water chestnuts with a 2:1 ratio, which means 2 grams of celery equals 1 gram of water chestnut. If there are still leftovers, feel free to freeze celery for later uses.
Learning a few cooking techniques like paring, washing, and cutting celery will boost your cooking time.
11. Fresh Gingers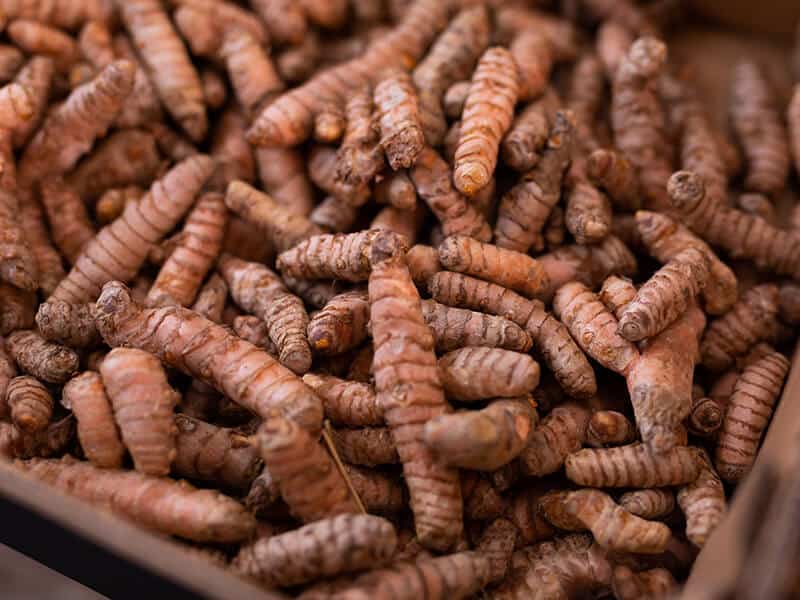 Since ginger is a rhizome, it does not fall into the same category as other water chestnut substitutes. Yet, the ingredient pairs nicely with a wide variety of components found in recipes that call for water chestnut, providing a bit of a kick to your meals.
The best practice in using fresh gingers is to add a moderate amount only. For each gram of water chestnut used in the recipe, you should go with 1.5 grams of finely chopped fresh ginger.
It should be noted that fresh gingers impart a somewhat sweeter taste to your dishes than water chestnuts and thus may not be suitable for all recipes. Also, when using it as an alternative, accept that the heat level will not be as high as the original dish.
Besides replacing water chestnuts, you can use the excess ingredient portion to make a cup of ginger tea. Sipping it while preparing food is the best feeling in the world!
Adding fresh gingers correctly to your recipes guarantee a close match to water chestnuts' taste profile.
12. Almond Flour
Among all alternatives of water chestnuts, almonds are the most costly option, yet the tastiest one as well. Although raw almonds work great as a backup plan for water chestnuts, grinding and mixing them to make almond flour is better to replicate the taste profile.
Almond flour infuses a savory-sweet flavor to your dish, which is identical to what water chestnuts do. However, the flour is less sweet and more granular than the tuber.
Also, it is high in protein and, more importantly, gluten-free, making it extremely healthy to consume. Therefore, whether you are following a gluten-free diet or just trying to improve your eating habits, almond flour is always a good choice.
Despite being a low-carb thickener, almond flour is popular in baked products and savory meals. It is also common in grain-free vegan sandwiches, alongside chickpea flour. Regardless of how you use it, almond flour always imparts a sense of luxury to your finished product.
Adhere to the 1:1 ratio for the closest taste render. Since almond flour has a greater fixation, a large quantity of it may overpower your whole meal. So, add a tiny amount at a time.
Watch this video to know more:
13. Cassava Flour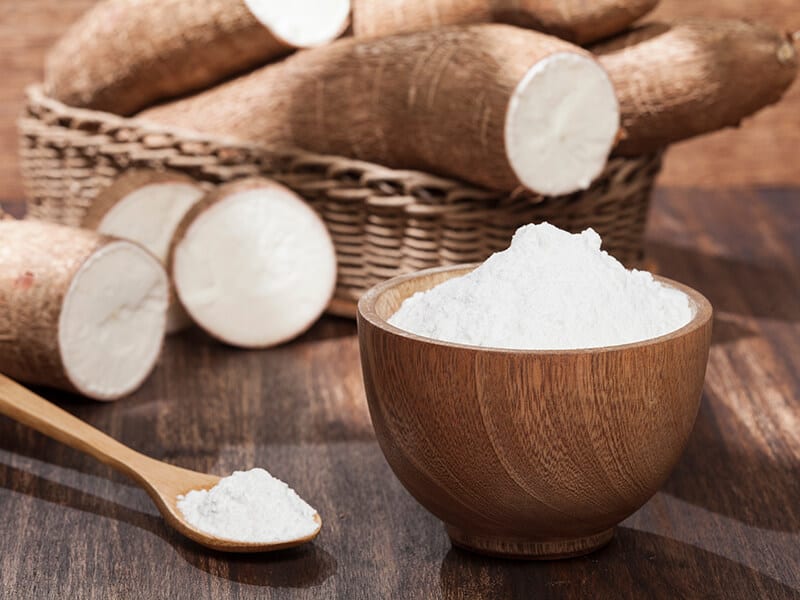 Derived from the root of cassava plants, cassava flour closely mimics potatoes, containing a good amount of protein and nutritional benefits. The flour is sublime in replacing water chestnuts, particularly in making gluten-free baked products.
However, I strongly recommend blending cassava flour with other flour types when creating bread. If not, cassava flour will not rise and result in a denser loaf. To further smooth your cooking experiences, sifting flour is essential to avoid lumps and make the mixture lighter.
Therefore, the optimal substitute amount for a gram of water chestnut flour is the mixture of 1 gram of cassava flour, half a gram of almond flour, and a trace of hazelnut flour. Ensure all stones and undesirable husk are removed before using.
14. Hazelnut Flour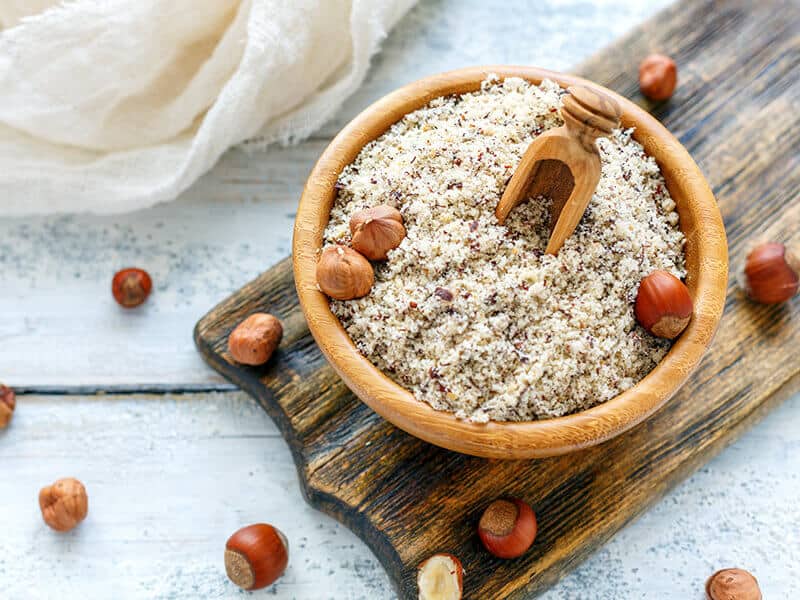 My final suggestion for replacing water chestnuts is hazelnut flour. Its softly sweet and nutty taste makes it a fairly accurate representation of water chestnut flour's flavor and texture. It is unquestionably the best substitute for dessert dishes or delicious sauces.
You can achieve hazelnut flour by crushing raw hazelnuts. It works very well as a replacement for water chestnut flour. However, this gluten-free flour has higher fat content but lacks a bit of gritty texture found in water chestnuts, imparting a thicker texture to your dishes.
To compensate for more than 2 cups of fine water chestnut flour, use a significant part of a cup of fine hazelnut flour. Hazelnut flour is very nutritious. Therefore adding an excessive amount will have no adverse effect on your health.
Generating hazelnut flour in your own home is possible with a few simple steps.
Creative Ways To Play Around With Water Chestnuts
There are tons of ways you can incorporate water chestnuts into your recipes. The spice complements a wide variety of vegetable stir-fries, particularly mushroom stir-fry. Plus, you can utilize the material to create delectable appetizers such as bacon wraps.
Thanks to their crunchy texture, water chestnuts are ideal for creating a creamy spinach dip or other dips with a similar taste profile.
Regardless of how you use water chestnuts, many cooks advise cutting the spices from top to bottom while still fresh. Then, peel their skin, slice them before any further processing.
FAQs
Now that you have discovered some of the finest water chestnut replacements. Let's further explore this topic via related questions below. I hope you can collect additional understanding regarding water chestnuts and their alternatives.
No More Headache When Water Chestnuts Run Out!
You have gone sublime substitutes for water chestnuts in this post. Hopefully, these suggestions will assist you in selecting the most appropriate replacement for your purposes.
Are you aware of any other items that might be utilized in lieu of water chestnuts? If so, please share your thoughts by leaving a comment below on your experiences. I am always interested in hearing from you.
Don't forget to share these alternatives with your relatives and friends in order to help them in times of need. Thank you for reading! Check out my other articles to widen your culinary knowledge.
References
New York State of Opportunity. 2021. Water Chestnut.