How many ingredients can you use to substitute cayenne pepper? Many, is my answer. And some of them might already be in your cupboard.
Cayenne pepper is a famous pepper that is usually sold in dried or grounded form. You can add them to several dishes to increase the heat. But there will be times that you might not find it anywhere, thus knowing cayenne pepper's substitution is critical.
So here I am, providing you a long list of potential replacements that will bring a comparable heat or taste to your meal without cayenne pepper. Follow me now!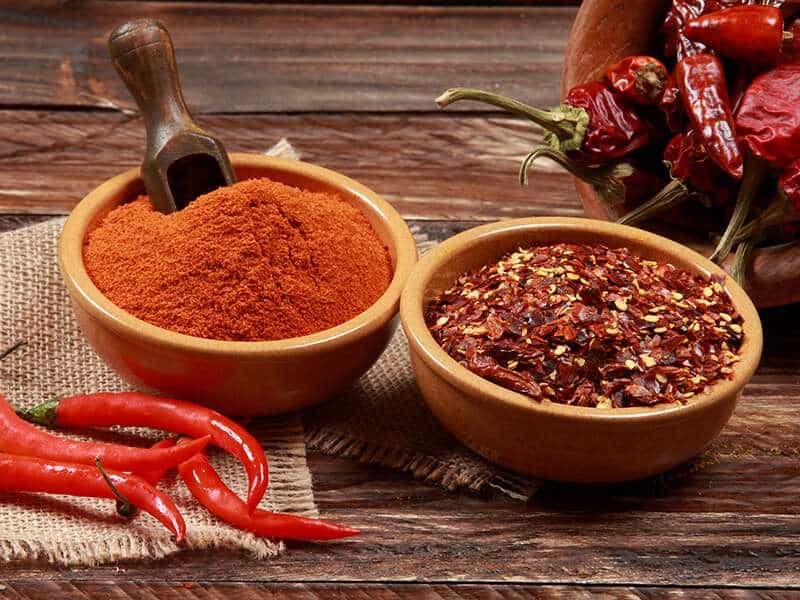 What Makes Cayenne Pepper So Well-liked?
Here are some general views about cayenne pepper that I believe everyone should know before learning their wonderful replacements.
The exact origin of cayenne pepper is still in question as some believe that they are from Cayenne of French Guiana. At the same time, many people claim this chili originated in South America.
This chili has various varieties with the Scoville Heat Unit (SHU) from 30,000 to 50,000. For your information, SHU is the level of food spiciness, so cayenne pepper can be considered a medium-hot chili.
The cayenne plant belongs to the Capsicum genus. Their fruit (peppers) length could be from 4 inches to 10 inches with a long, thin body and red, yellow, or purple skin (1).
The flavor of cayenne is hot, spicy, and peppery with a light aroma. You might find the dried and ground form of this chili easier than the fresh type. But whatever form they are, cayenne will provide a robust spicy to your meals.
20 Backup Plans For Cayenne Pepper That Will Satisfy You (And Your Stomach)
The possibilities to switch from cayenne peppers to other ingredients are diverse. That's why I can compose a list of 20 brilliant replacements for this chili pepper.
Ranging from super well-known options to less popular ones, from high heat to low heat level, now you do not have to fret what you should use when there is no cayenne. Let's check the table below for quick information about these alternatives.
Names
SHU (Scoville Heat Unit)
Estimated Substitute Ratio
Jalapeno Peppers
2,500 to 8,000
1 part of cayenne = 1 or 2 parts of jalapeno
Serrano Peppers
10,000 to 20,000
1 part of cayenne = 1/2 part of Thai peppers
Aji Peppers
30,000 to 50,000
1 part of cayenne = 1 part of aji
Tabasco Peppers
30,000 to 50,000
1 part of cayenne = 1 part of tabasco
Thai Peppers
50,000 to 100,000
1 part of cayenne = 1/2 part of Thai peppers
Ginger
Not Available
1 tablespoon of cayenne = 1 to 2 ginger slices
Paprika
250 to 1,000
1 parts of cayenne = 2 parts of paprika
Chili Powder
500 to 1,500
1 part of cayenne = 1 part of chili powder
Gochugaru (Korean Chili Pepper)
1,500 to 10,000
1 part of cayenne = 1 part of gochugaru
Dried Guajillo Pepper
2,500 to 5,000
1 part of cayenne = 1 part of dried guajillo pepper
Jalapeno Powder
2,500 to 8,000
1 part of cayenne = 2 part of jalapeno powder
Chipotle Powder
2,500 to 8,000
1 part of cayenne = 1 part of chipotle powder
Red Chili Flakes
15,000 to 30,000
1 part of cayenne = 1 or 1.5 parts of red chili flakes
Chile De Árbol
15,000 to 30,000
1 part of cayenne = 1 part of chile de árbol
Black Pepper
Not Available
1 part of cayenne = 1 or 1.5 parts of black pepper
Spice Mixture
Not Available
Add a little amount and taste as you go
Sriracha
1,000 to 2,500
Add a little amount and taste as you go
Frank's RedHot Sauce

Original: 450
Extra Hot: Almost 2,000

Option 1: 1 part of cayenne = 2 parts of hot sauce
Option 2: 1/2 part of cayenne = 8 drops of hot sauce

Tabasco Sauce
3,750
1 part of cayenne = 1/2 or 1 part of Tabasco sauce
Mustard
Not Available
1 part of cayenne = 2 parts of Dijon mustard
Top 6 Fresh Ingredients Work In Place Of Cayenne
First, I will begin my list with 6 relevant fresh ingredients to exchange cayenne pepper. Keep reading to find out what they are and why they can replace this pepper. For better choices, I also set them in order from the less spicy to the more spicy ones.
1. Jalapeno Peppers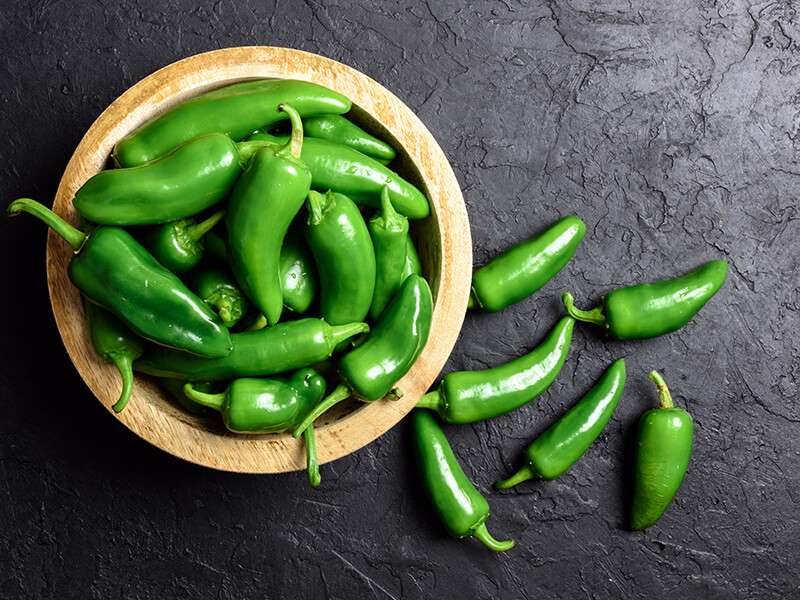 You might have seen green jalapeno peppers a lot because they are easy to buy. However, it would be more challenging to get fully-ripened red jalapenos unless you live in Texas. But either green or red peppers, this alternative is another suitable consideration.
Jalapeno SHU is only from 2,500 to 8,000, so their flavor is much less hot than cayenne. But it does not mean that you should not use this chili as a substitute.
You can either use a double or equal amount of jalapeno to replace cayenne. I know the heat will not be the same, but this chili can still ensure the relevant flavor of cayenne pepper.
2. Serrano Peppers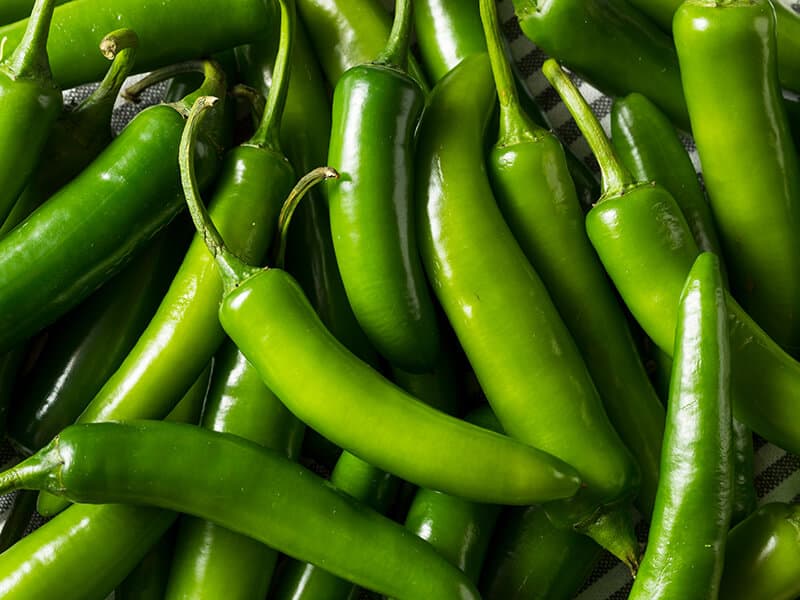 Serrano peppers can shine anywhere that requests cayenne pepper as they are an excellent choice to replicate cayenne's flavor.
The heating degree of serrano is quite close to cayenne's, which is from 10,000 to 20,000, while cayenne's SHU is from 30,000 to 50,000.
Therefore, the good ratio in this case is 1 or 2 portions of this chili pepper can be swapped for 1 part of cayenne. But cooking this chili is what you should be concerned about. Remember: the longer you cook this fresh chili, the stronger taste they will provide.
3. Aji Amarillo (Yellow Peppers)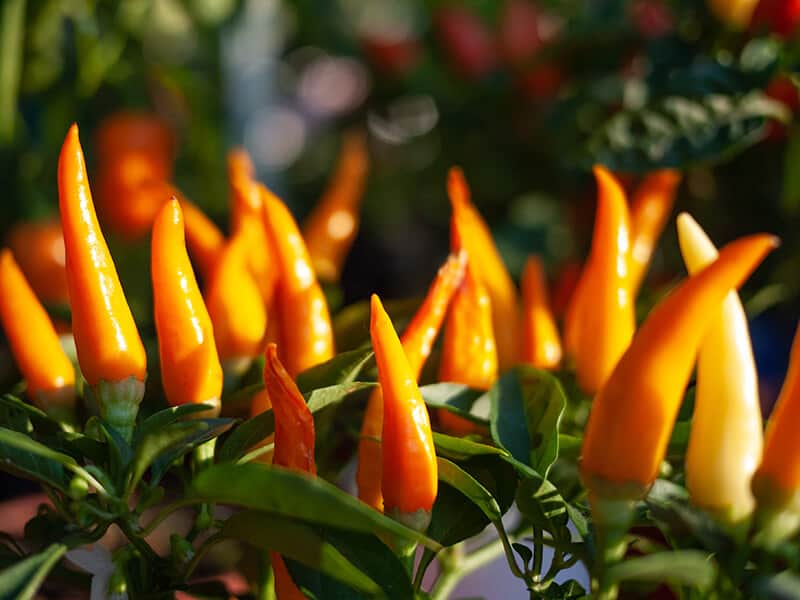 The reason that makes this orange-red chili become a good backup for cayenne is these 2 share the same level of heat, which is from 30,000 to 50,000.
Aji Amarillo is a South American chili that offers not only spiciness but also a fruity hint. This chili also has different color compared to regular red as normal chili. With the cover of orange-red or yellow-orange, I am sure your dish will look more attractive.
For exchanging ratio, try 1 part of aji Amarillo for 1 part of cayenne as they both have the same SHU.
4. Tabasco Peppers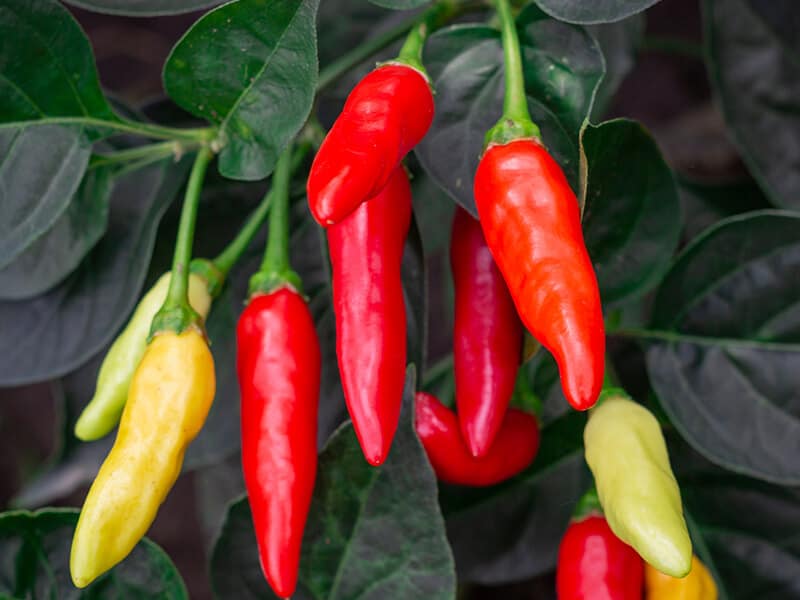 Tabasco pepper is another chili pepper with the same SHU as cayenne, which is 30,000 to 50,000. And they are the main ingredient to make a famous Tabasco sauce, which I also present at the below part as another replacement for cayenne.
Back to their fresh form, tabasco has a smoky flavor besides their spiciness. They also have juicy flesh, which makes them so unique.
For the best result, use an equal amount of tabasco pepper for substituting cayenne. So 1 portion of tabasco will be enough to exchange for 1 portion of cayenne.
5. Thai Peppers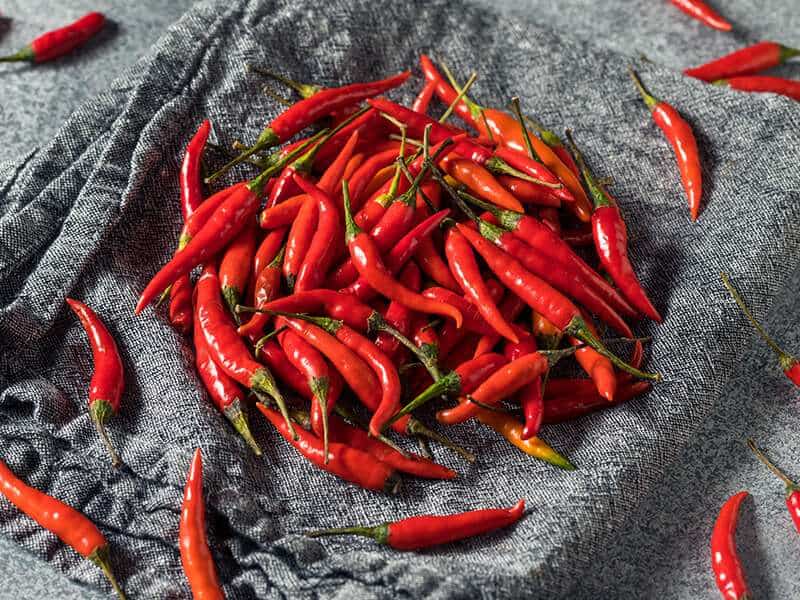 Opting for Thai peppers for substituting cayenne is another great solution. But as their origin is Thailand, you might find it not easy to find supermarkets sometimes.
Little heads-up about this chili is it is way spicier than cayenne (as their SHU is from 50,000 to 100,000). So if your stomach is willing to try this spiciness, just grab some and create a delicious dish at home.
For the closer heat as cayenne, you should reduce the amount of Thai pepper by half. It means 1/2 part of Thai pepper might equal 1 part of cayenne.
6. Ginger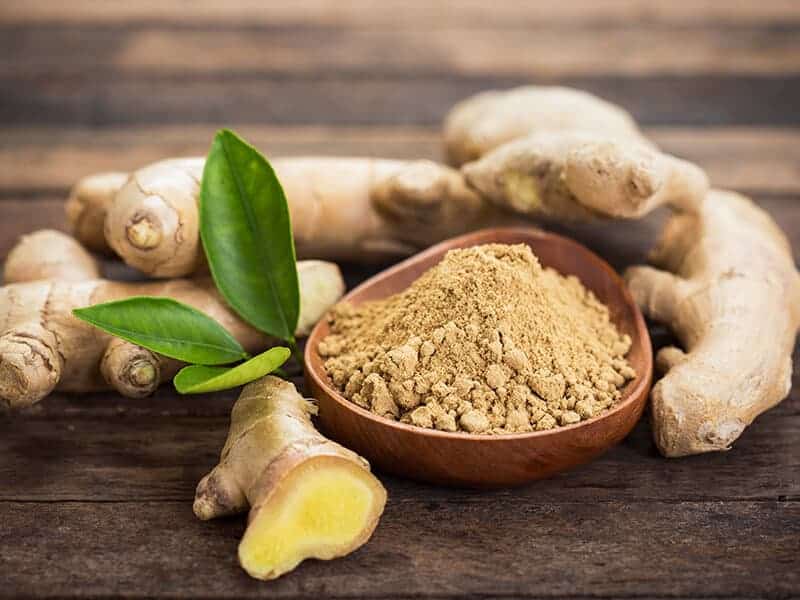 You might be asking why ginger appears in this list, right? Even though this component is not chili, ginger is totally acceptable to work in place of cayenne in a pinch.
Ginger's flavor is a mixture of spiciness and sweetness, making them go well in various meat-based dishes. You can enhance their flavor by combining garlic and ginger.
In general, this root vegetable can still bring warmth to your food as cayenne does. So if you want to use ginger instead of this chili, 1 to 2 ginger slices might be sufficient for 1 tablespoon of cayenne pepper.
Watch this video to know more:
Varied Cayenne Pepper Alternatives With 10 Dried/Powdered Spices
The good side about these alternatives is that their shelf life is pretty long if you take care of them well. So whenever the recipe needs cayenne pepper yet does not have it on hand, open your cabinet and grab a jar of these dried (or powdered) spices.
7. Paprika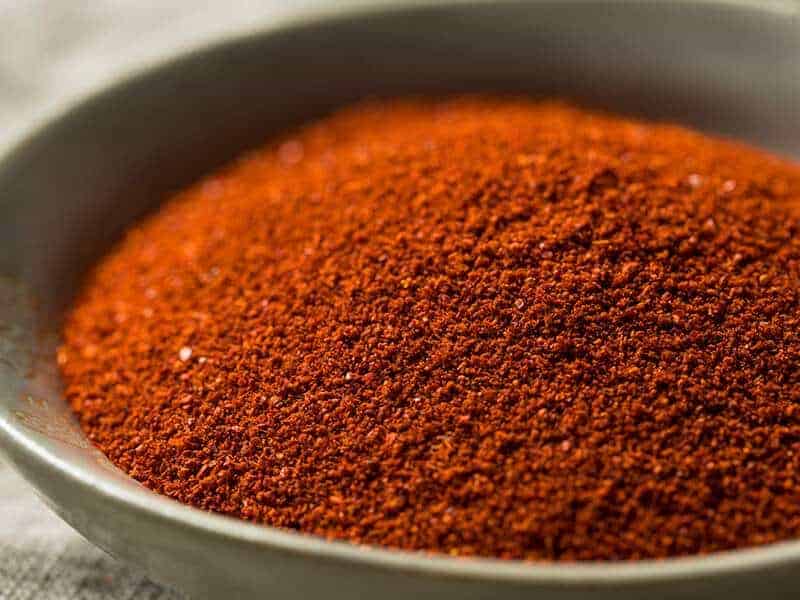 Paprika is a well-known spice used widely in European and Mexican cuisine, with the SHU from 250 to 1,000. And yes, paprika can be a good substitute for cayenne.
There are different varieties of paprika, so you should determine their type before substituting. Most of the paprika you find at stores are sweet paprika, usually made from sweet red chilies, making them less spicy with a fruity hint.
In contrast, hot paprika has a medium heat level as they are a combination of hot chilies (including dried cayenne pepper). So if you look for the closest hot level of paprika to cayenne, go with the hot variety.
Paprika also comes in a smoked type that will enhance the smoke flavor of your dish if you use this type to replicate cayenne.
As they are in dried form, it would be better to swap for cayenne powder with a 2:1 ratio (2 teaspoons of paprika for every teaspoon of cayenne). But of course, you still need to taste and adjust the level for the most expected outcome.
8. Chili Powder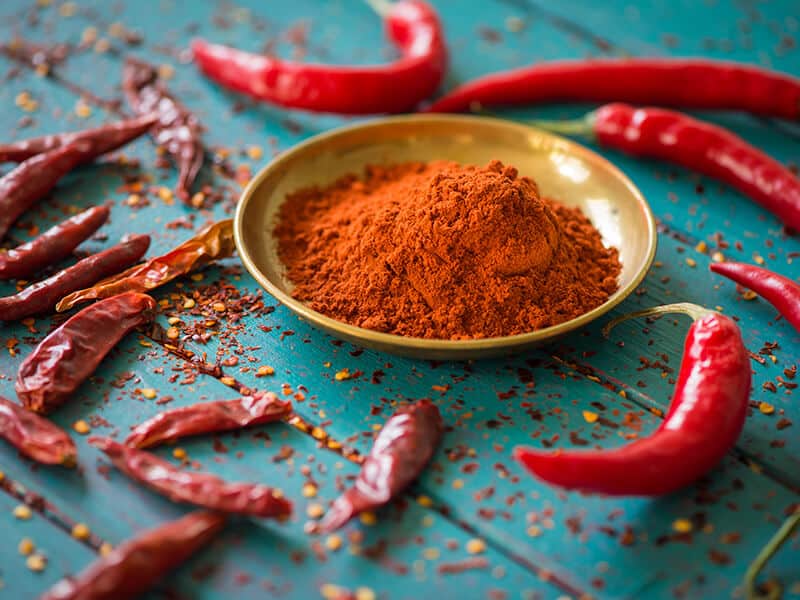 Chili powder is America's favorite spice. Thus, if you are out of cayenne pepper, do not hesitate to use chili powder instead. Your recipe will have the same color as when you use cayenne, but the flavor is much less spicy than this pepper.
Why? Because chili powder contains various spices, and dried cayenne pepper is one of them. However, this ingredient only accounts for 1 part of chili powder, while the remaining 7 parts are cumin, paprika, oregano, garlic powder, salt, etc.
That's why this replacement might not have the comparable heat (as this powder's SHU is only 500 to 1,500), but you can make your dish more flavorful. Try to swap 1:1 first, then adjust the level according to your taste buds.
Here is how you can learn how to make chili powder at home.
9. Gochugaru (Korean Chili Pepper)
Let me introduce an Asian hot spice that can work well in place of cayenne. It is Gochugaru, a Korean well-loved dried spice. You can spot them at any Korean-themed stores or global online websites.
Gochugaru (or called Korea-style red pepper) is made from Korean chilies. They have a rough texture but are not as coarse as red chili flakes. This spice also has a vibrant red color that will make your dish look so stunning.
Their heat ranges from mild to medium (1,500 to 10,000 SHU). In general, Gochugaru is not as spicy as cayenne, but it can offer other flavors like smokey and fruity.
So if you do not mind these flavors, this Korean spice can be an acceptable cayenne alternative with a 1:1 ratio, or reduce half the amount of this spice for every portion of cayenne if you do not like the smoky flavor. And do not forget to taste and regulate until your gut says yes.
10. Dried Guajillo Pepper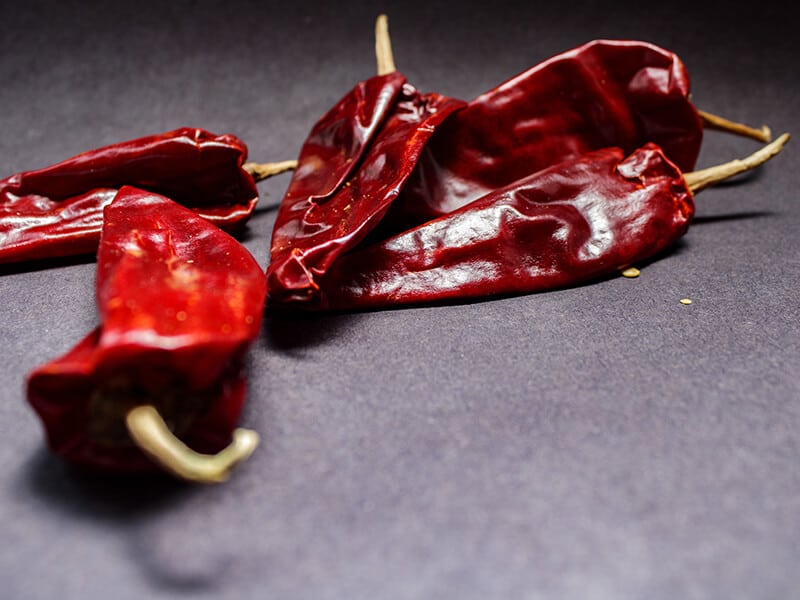 Mexico is the origin of many famous chilies. And guajillo chilies are one of these. They are popular dried chilies that can range from 2,500 to 5,000 SHU, making them a milder version for substituting cayenne.
There are other flavor profiles that you can find in guajillo chilies, as they have a fruity, smoky, and sweet taste with a touch of berries, tomatoes, and tea.
But if your soup or chili recipes call for cayenne, guajillo still works fine. The equivalent ratio for this swap is 1:1 and tastes as you go.
11. Jalapeno Powder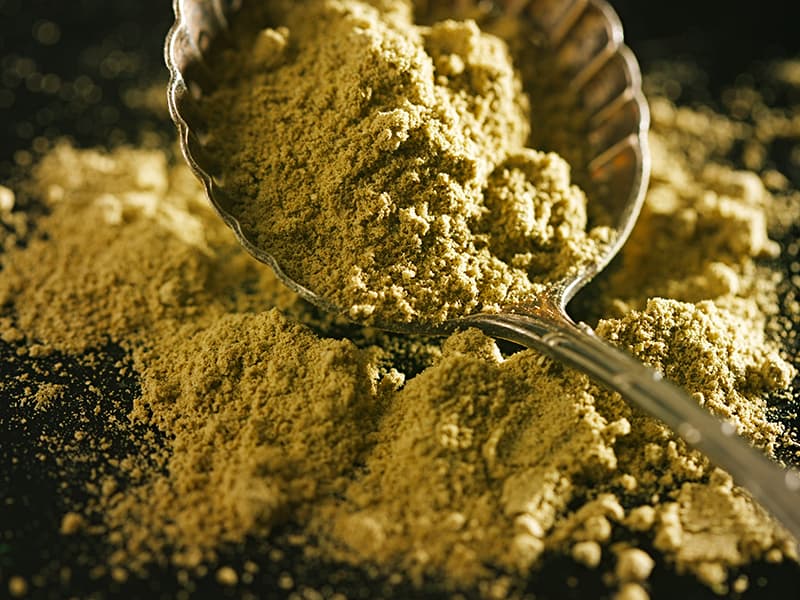 Besides the fresh form, jalapeno powder is an excellent choice to substitute cayenne. Similar to the fresh type, this ingredient can only provide light hot (as their SHU only ranges from 2,500 to 8,000) and sweetness in flavor, but overall, you can still use them in a pinch.
This exchange suits well in any recipe that requires fresh cayenne, especially Latin American, Tex-Mex, or Cajun dishes. The acceptable substitution ratio is 2:1, as 2 teaspoons of jalapeno powder equal 1 teaspoon of cayenne peppers.
You can make this powder at home from the fresh chili for longer storage with no effort, but it will take a little bit of your time.
12. Chipotle Powder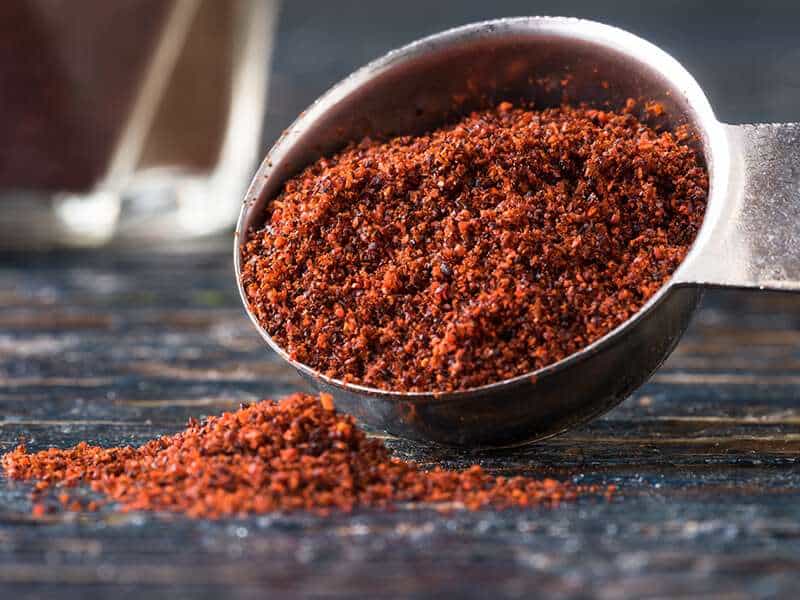 Chipotle powder, in fact, is made from dried and smoked jalapeno. So substituting this chili powder for cayenne indicates you will increase the smoky flavor in your dish.
There are varied chipotle powder versions, and their heat degrees are from 2,500 to 8,000 as they share the same heat with jalapeno peppers. Plus, with its earthy flavor, the chipotle powder is truly a heaven-send spice in grilled dishes. They also play an important role in Mexican recipes.
1:1 is the appropriate ratio for this replacement. But another thing you should note is chipotle powder has a brown color which is different from cayenne powder color. Therefore, if you are not too picky about the final appearance of your dish, this alternative is still a safe choice.
13. Red Chili Flakes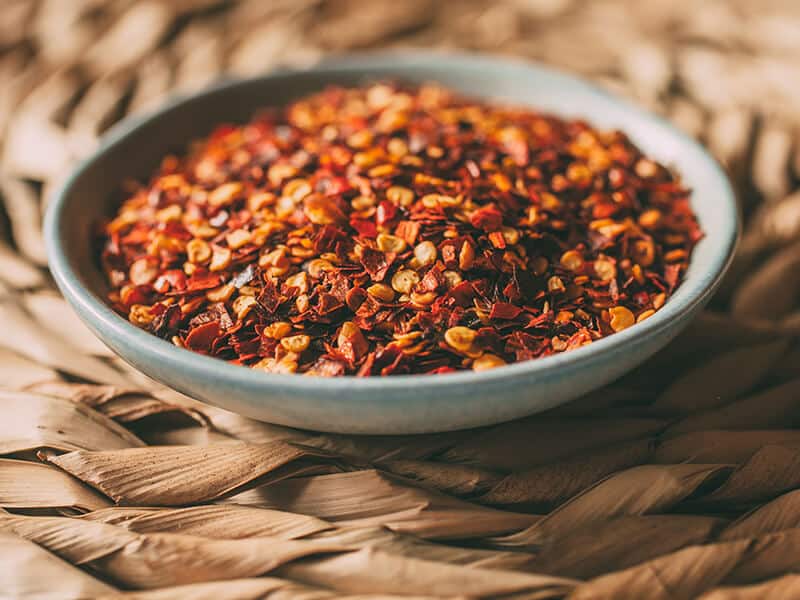 Red chili flakes (or crushed red pepper) is another dried alternative that you might choose. This ingredient is perfect for pizza, soups, pasta, stir-fried dishes, etc. You can add them during the cooking process or use them to season your food.
They also have several types, but red chili flakes are mainly sold in dried and crushed form so that they might change the texture of your dish. If you want your chili flakes to look flawless in the recipes that call for cayenne, you should grind them first.
Their spiciness is also milder than cayenne. You can use an equal amount or up to 1.5 times for exchanging as red chili flakes have a lower heat degree (from 15,000 to 30,000 SHU).
14. Chile De Árbol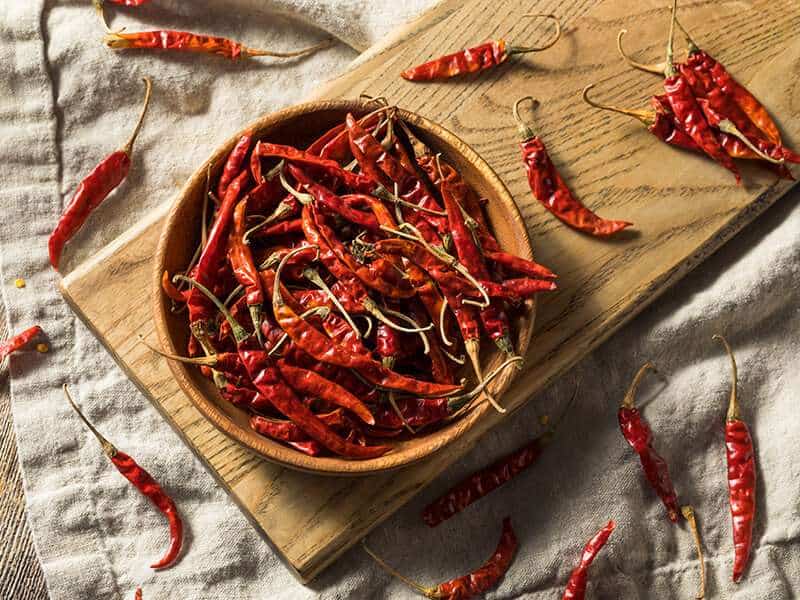 Chile de árbol (or bird's beak or rat tail chilies) are another Mexican-originated dried chili. They come in a small size but do not underestimate them as their SHU is from 15,000 to 30,000, which is pretty spicy.
Compared to cayenne, this chili has milder heat, but what will surprise you is its other flavors. You might sense some nutty, smoky, grassy, and even acidic heat in the chile árbol flavor profile. Sounds terrific, doesn't it?
Therefore, in case you search for a less-heat yet more-flavor alternative, chile de árbol deserves a try. You can apply a 1:1 ratio to exchange one for another as well.
15. Black Pepper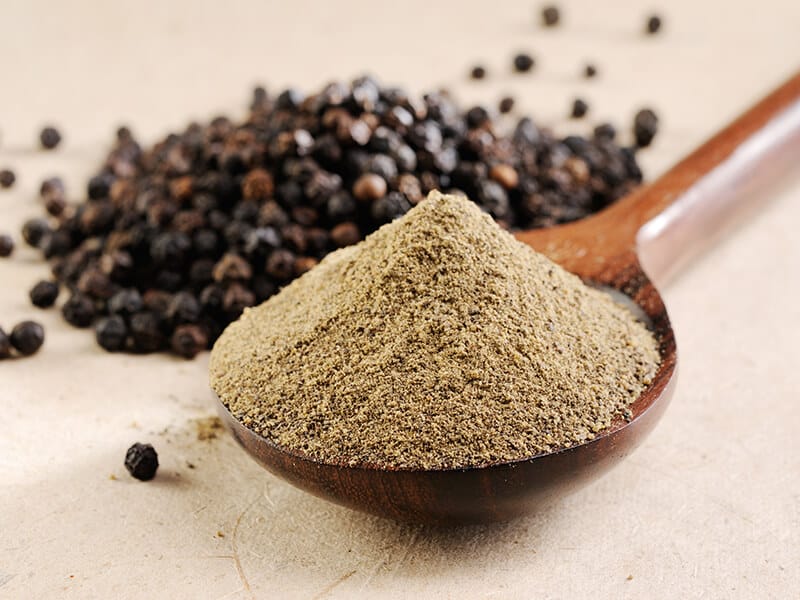 If you don't really mind the heat of your meal, black pepper could be another option to replace cayenne. So suppose that you are in a rush to find a cayenne substitute; why don't you give this spice a shot?
I believe most of you own a jar of black pepper at home, so there is no reason that you should not use them in place of cayenne.
Black pepper is usually sold in dried types that are either ground or still in a whole pepper. But regardless of which type of black pepper you use, try 1 or 1.5 parts of them for exchanging with 1 part of cayenne. You can add more based on your preference.
Overall, though black pepper does not have the same heat as cayenne pepper, they still offer a sharp flavor and make your stomach warm.
16. Spice Mixture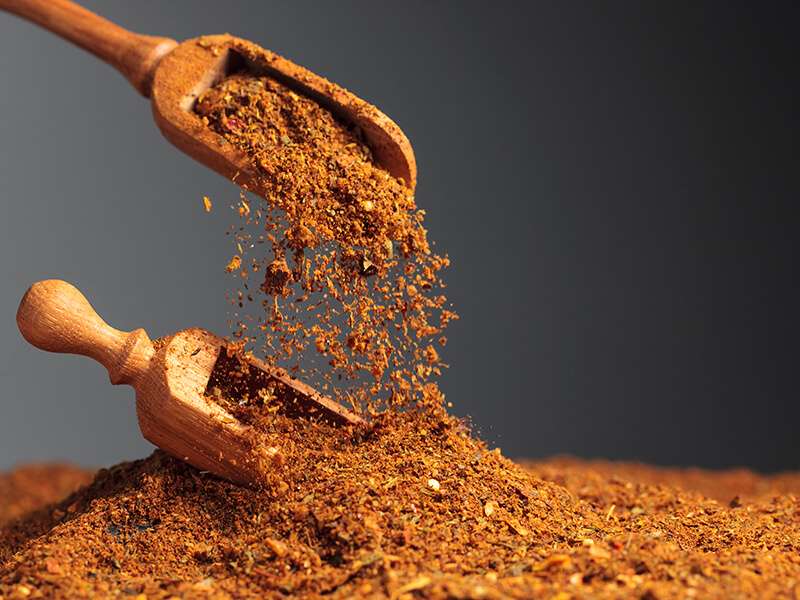 As its name suggests, this alternative is a combination of many aromatic spices. They also come in different versions with different ingredients, so the simple rule is choosing the one that includes cayenne pepper in its components.
That's why you should check the label first before making a purchase decision. Plus, as they are blended from many spices, you will add more flavors to your dish when you use a spice mixture in place of cayenne alone.
So remember to add a little amount to your recipe slowly and taste it. Do not rush with a big spoon of the spice mixture; you might ruin your dinner.
And 4 Sauce-based Substitutions For Cayenne Peppers
Lastly, here are 4 types of sauce that can work in place of cayenne. The best thing about the following ingredients is their convenience since you can get them from any market or grocery store.
17. Sriracha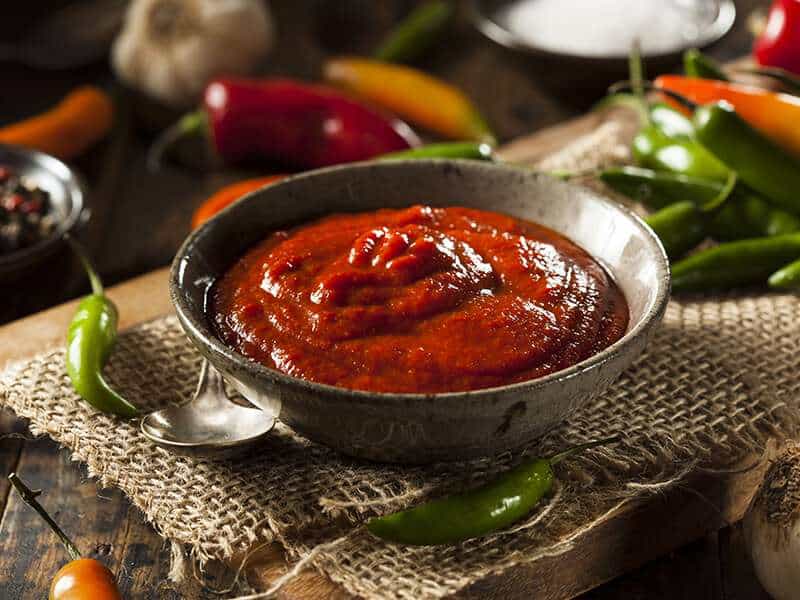 Sriracha – one of the most accessible sauces you can get from anywhere, can add a little heat to your dish. Though their heat level is low, from 1,000 to 2,500 SHU, this sauce still can be considered to swap for cayenne pepper efficiently.
Their heat is milder, but Sriracha can still work in a pinch. Their price is also affordable. So just try it one day to see how you would love it.
18. Frank's RedHot Sauce
There are several hot sauce brands on the market, but I am sure you can find 1 option for swapping with this pepper. You can use any hot sauce, as long as you find cayenne pepper in the ingredient list of this sauce.
So Frank's RedHot would be your best bet as aged cayenne pepper is the main ingredient to make this hot sauce. However, hot sauce is not really suitable to swap for powdered cayenne peppers, but I think they still work fine in another way.
The ideal amount for this replacement is 2:1, so you have to double the amount of hot sauce to substitute 1 portion of cayenne pepper. Or you can apply the measurement as 8 drops of sauce to exchange for 1/2 teaspoon of this chili pepper.
You can drizzle it on pizza, salad, or any meaty dish. But overall, you still have to taste and control the level until the final flavor meets your expectations.
19. Tabasco Sauce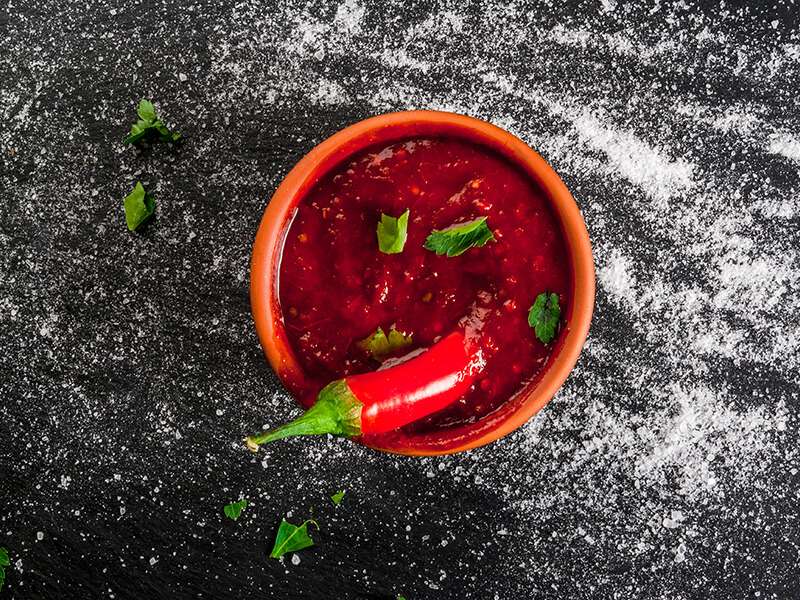 Tabasco sauce is another sauce-based substitution for this pepper. I use this sauce because they are made from tabasco peppers, which have the relevant heat units to cayenne pepper.
Moreover, the convenience of this ingredient is higher as you can find them at most stores. Compared to Frank's RedHot sauce, Tabasco sauce is spicier with a hint of vinegar.
There are 2 options for substituting ratio; you can use 1/2 or 1 part of this sauce for 1 part of cayenne in various dishes, from appetizer to desserts. This substitute is especially used in wet dishes.
20. Mustard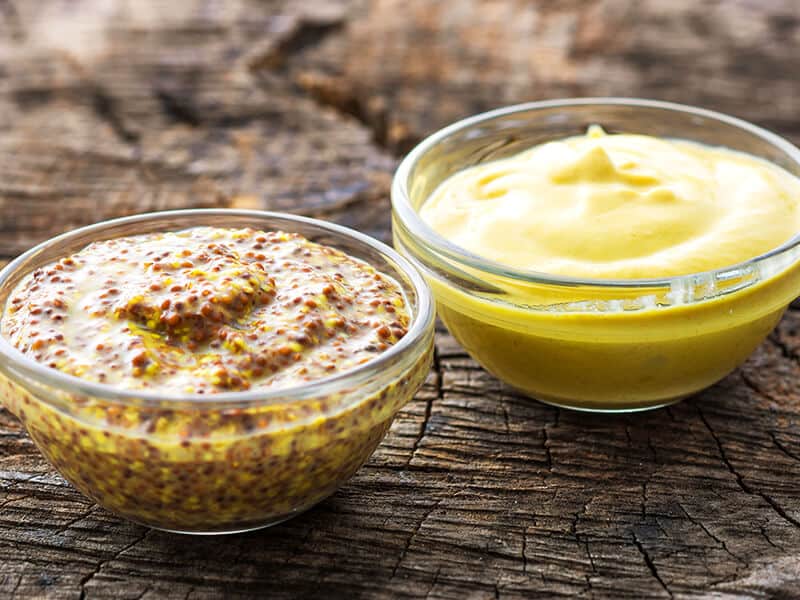 The final option is a famous sauce that is often paired with ketchup in hamburgers or hot dogs. Yes, it is mustard. But do you know that you can also use it in place of cayenne pepper?
This yellow-to-brown sauce is made from mustard seeds with varying flavors from mild to bold and spicy flavor. Therefore, the best cayenne pepper replacement by mustard should be the Dijon mustard.
The ideal ratio is 2:1 in this case. So 2 parts of Dijon mustard swap for 1 part of cayenne pepper. But if you think the mustard is not spicy enough, feel free to add more slowly to avoid its taste overpowering other ingredients' flavors.
Nothing better than homemade products. So let's see how they make mustard here.
Cayenne Pepper – A Good Companion To Your Health
Besides its famous uses in culinary, cayenne pepper can be seen as an excellent medicinal ingredient thanks to its capsaicin, a compound that decides the hotness of this chili pepper.
They also contain several nutrients that bring many benefits to human health. Following are 6 advantages of consuming this chili.
Good For Metabolism: And capsaicin will be in charge of doing it. This active agent will raise the heat inside your body and make you burn more calories.
Ideal Solution To Lose Weight: This chili pepper should be on your diet menu. By eating them, your hunger is gone, and you will feel full longer.
The Master Cleanse – the best detoxifying diet drink which includes cayenne pepper, lemon juice, syrup, and water will help you lose weight.
Can Reduce Risks Of High Blood Pressure: The capsaicin compound, once again, plays a critical role in lowering your blood pressure, making blood vessels work better and more efficiently.
Can Improve Your Digestion: The capsaicin and other beneficial components might aid digestion, prevent stomach infections like ulcers (2).
Can Fight Against Pain: People use capsaicin as a pain-killer agent. Therefore, you will see many skin creams contain this compound to reduce the pain. But remember, do not apply these creams on serious opened wounds.
Psoriasis Treatment: Using a skin cream that contains capsaicin is a good way to treat psoriasis and minimize the redness, scaling, and patchiness of this disease.
This helpful instruction gives an in-depth view of boosting metabolism and reducing pain by eating cayenne.
FAQs
Now you have just prepared for yourself a list for replacing cayenne. It is time to improve your general knowledge about this chili and its substitutions with 5 short related questions and answers here.
Find Your Favorite Cayenne Pepper Solution And Try!
What I just introduced here is every possibility that you can apply for cayenne alternatives. Some are so convenient and friendly-budget that they make your dishes tasty and spicy without cayenne pepper.
So, what is your go-to ingredient in this case? Can you share with me your experience? And if you find this post helpful, please rate and share it with your beloved persons. Thank you for reading.
References
En.wikipedia.org. 2021. Cayenne Pepper – Wikipedia.
Maji, A.K., Banerji, P., 2016, 'Phytochemistry and Gastrointestinal Benefits of The Medicinal Spice, Capsicum annuum L. (Chilli): A Review', Journal of Complementary and Integrative Medicine, vol.13(2), pp:97-122.