Is there any angostura bitters substitute out there? Well, of course! Although Angostura bitters seem to be an indispensable ingredient in almost all the bar cabinets you check-in, it does not mean that you cannot replace this bitter when you cannot find it.
Since now the bitter market is no longer only limited to Angostura bitters production like the past few decades, you can easily alternate this item with other ones. If you are finding an Angostura bitters substitute for the new cocktail you are interested in, I'm here to help you!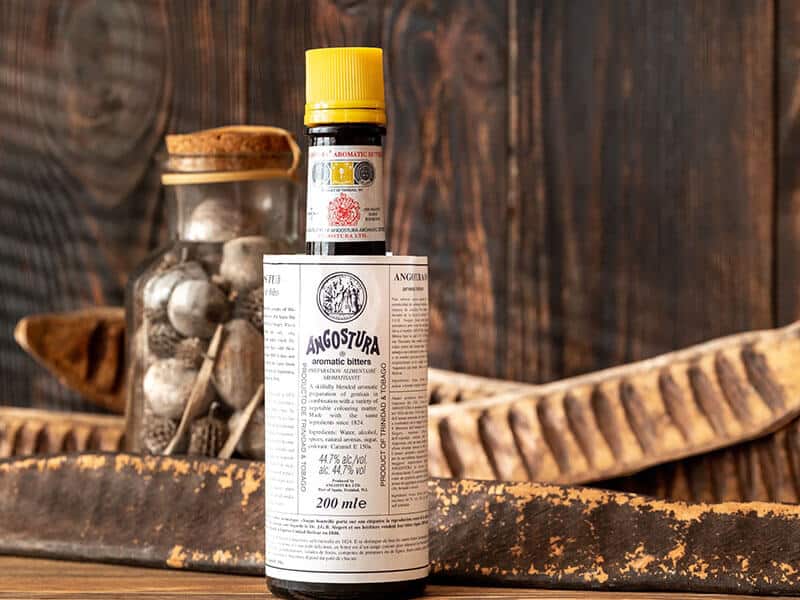 Angostura Bitters – The Shiny Gem In Cocktail World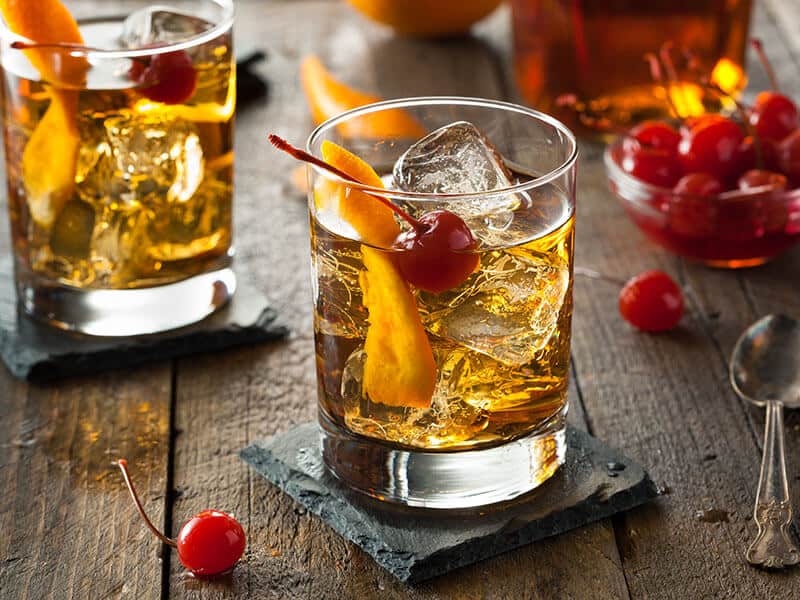 Are you sure that you know all the basic information about angostura bitters? In this section below, I will tell you all about this famous aromatic brown bottle!
1. What Is Angostura Bitters?
Angostura bitters is classified as a kind of concentrated bitter produced by the House of Angostura in Trinidad and Tobago, the Caribbean region. This bitter was invented by a German surgeon named Johann Gottlieb Benjamin Siegert.
The name "Angostura" comes from the name of the Angostura town, the place where Siegert was working in. It contains up to 40 ingredients, including various kinds of herbs, spices, and fruits (but without angostura bark), resulting in a dark orange-red liquid.
Since Angostura bitters currently shows its face up in over 160 countries worldwide, you can find it in almost all the bars you visit. You can easily recognize it by the noticeable oversized label and classic yellow plastic cap.
Not only is Angostura bitters popular around the world, but it also gained the reputation with a medal in 1873 and Kosher verification. When it comes to alcohol volume, it contains about 44.7%, but the alcohol content won't overpower your recipes when you just use some dash.
Learn more to know how Angostura bitters is important in the cocktail world.
2. What Does Angostura Bitters Taste Like?
When it comes to the taste of Angostura bitters, the first thing you will obviously notice is the concentrated bitterness it offers. In the next level, you will experience spiciness. That spicy note is very clear, sharp, and strong as the bitter note.
Moreover, the sweet flavor makes Angostura bitters in its home as well. However, you will find the sweetness comes after the signature bitter and spicy taste. And according to some gourmets, the taste of Angostura bitters reminds you of clove and cinnamon too.
By giving off a deep flavor, Angostura bitters add more complexity to all the recipes calling for its appearance.
What Angostura Bitters Can Do Beyond The Cocktail Applications
What is Angostura bitters used for? For drinking? No, absolutely wrong! Although some of you may mistake it with wine with the presence of alcohol content, Angostura bitters is actually used as an ingredient instead of consumed directly.
So, here is the truth about this well-known bitter's uses!
As A Flavoring Ingredient In Alcoholic Beverages
Flavoring is the most popular treat of Angostura bitters in alcoholic beverages. More particularly, this bitter is used mostly in many cocktail recipes as a flavor-pushing ingredient, especially for those that call for a slightly bitter taste.
In the late 1800s in London, Angostura bitters were a must-have item in various gin-based cocktails. But back to the modern world, the most prominent cocktail recipes requiring Angostura bitters are Manhattan and Old Fashioned.
You can also find it in the other cocktail formulas like Pisco sour, Trinidad Sour, Prince of Wales, etc. Furthermore, if you want some alcohol notes in coffee, you can add some drops of it. Angostura bitters is an excellent option that helps you balance your coffee's sweetness.
As a Flavorful Ingredient In Various Savory Dishes
Cocktail lovers know thoroughly about Angostura bitters' uses in their favorite cocktails, but they might not know that it also plays an essential role in cooking recipes.
Angostura bitters work incredibly well in sweet recipes, including raspberry jam, candy, fruits, and glazed popcorn. Not only that, but this bitter also shows its face up in whipped cream, vanilla ice cream, cakes, and many delicious baked goods.
Also, some chefs will use Angostura bitters to add the acidity to their salads by making mouth-watering salad dressings. And what's more? Well, this bitter also can help you to make tasty sauces such as barbecue sauce and cocktail sauce.
In case you are going to cook meat, Angostura bitters can be used for marinating too. And yes, shepherd's pie and bean soup will also need this aromatic ingredient.
As A Medicine In Traditional Treatment
When Johann Gottlieb Benjamin Siegert invented Angostura bitters, it was used as a patent medicine to improve the health of soldiers. In addition, this liquid is also treated as a medicine for digestive problems by Trinidadians as it contains gentian. (1)
You can see this video to know more:
Equivalent Volumes Between Angostura Bitters And Its 11 Substitutes
This section below is the summary of the equivalent ratios between Angostura bitters and its 11 replacements. The remaining 12th replacement will be revealed shortly after detailed descriptions of those 11 replacements.
| | |
| --- | --- |
| Substitutes | Ratios (Angostura Bitters/Substitutes) |
| Peychaud's Bitters | Same amount |
| Angostura Orange Bitters | Same amount |
| Free Brother Bitters | Smaller amount |
| Bitter Truth Aromatic Bitters | Self-adjusted |
| Bitters Club Aromatic Bitters | Self-adjusted |
| Bittercube Aromatic Bitters | Self-adjusted |
| Campari | 4 dashes of Angostura bitters = 1/4 teaspoon of Campari |
| Absinthe | 4 dashes of Angostura bitters = 1/4 teaspoon of Campari |
| Fernet Or Other Amaro | 4 dashes of Angostura bitters = 2 drops Fernet-Branca or ¼ teaspoon of other Italian amaro |
| Muddle Fruits | Self-adjusted |
| Mix Of Spices | Self-adjusted |
11 Outstanding Ideas For Good Angostura Bitters Substitutes
In this main part, I will introduce you to the ideal replacements for Angostura bitters that can work well in many of your favorite recipes. Take some minutes to read them and get the most detailed recommendations.
1. Peychaud's Bitters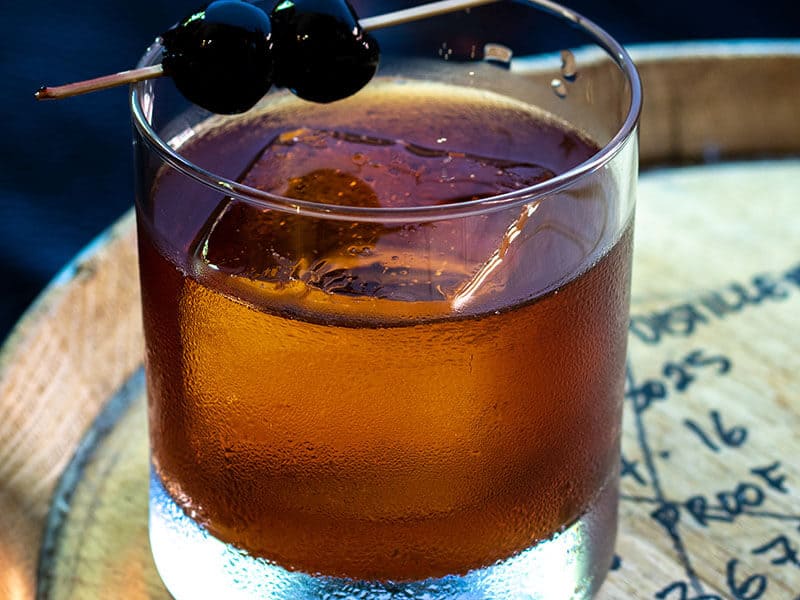 If you have no Angostura bitters on hand now, the best replacement you should pick is Peychaud's Bitter. This is a gentian-based bitter that gives off a similar powerful taste to Angostura bitters. Nevertheless, most of the time, it tastes quite lighter and milder.
In this alternative, the flavor of nutmeg, clove, and cherry with a bitter aftertaste are offered. Additionally, due to the presence of some caramel, anise, and licorice notes, Peychaud's Bitter is much sweeter than Angostura bitters. And you also recognize a floral hint.
You can use this alternative in almost all recipes requiring Angostura bitters, especially Manhattan. For a similar flavor, just use the same amount as you do with Angostura bitters. Another factor you should remember is the alcohol content of both of them.
While Angostura bitters have a higher alcohol concentration level with 44.7%, Peychaud's Bitter possesses only 35% alcohol content. As a result, if you want more alcohol, it is necessary to slightly adjust the volume as you expected.
2. Angostura Orange Bitters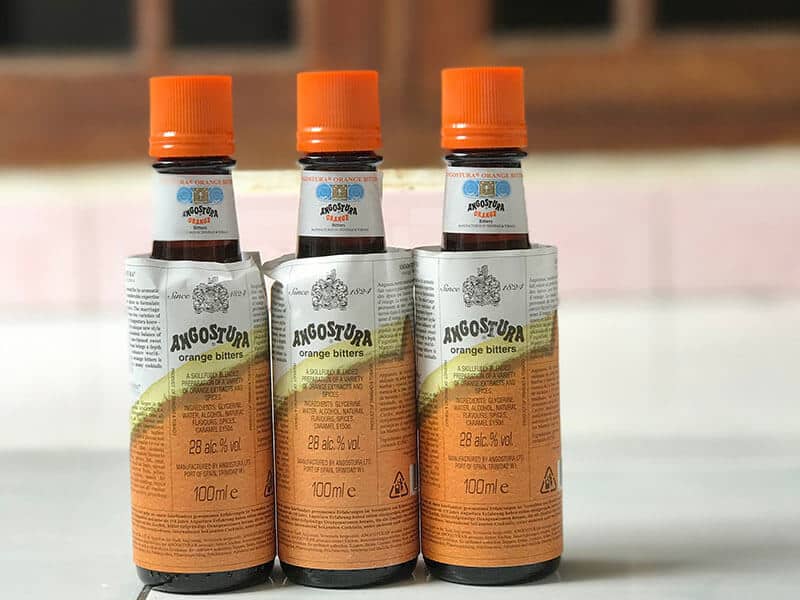 In case you cannot find the classic version of Angostura Aromatic Bitters, you can go for the Angostura Orange Bitters. This will be a great alternative for those who want to add a kick of citrus flavor into the recipes.
Excluding the classic sharp and deep bitter and spicy fragrant taste, Angostura Orange Bitters version allows you to have an extra complex blend of tropical oranges. Just use the equal ratio like the version of Angostura Orange Bitters.
You should combine it with drinks containing vodka, gin, whisky, or white rum to have the best result.
3. Fee Brothers Bitters
Like Angostura bitters, Free Brother Bitters was born in the same 19th century. It is one of the rare brands of bitter that have been lasting for five generations. Established in 1864, Free Brother Bitters are exported to many countries around the world.
Free Brother Bitters formula contains multiple botanicals made with various herbs, plant roots, and barks, resulting in a unique taste and scent. Especially, the bitter product includes a diverse series classified by distinctive flavors.
From plum, peach, mint to celery, cherry, cranberry, lemon; there are up to 19 flavors for you to choose.
Nonetheless, to get the closest flavor of Angostura bitter, pick the Free Brother Old Fashioned Aromatic Bitters since this one is said to have a light tone of cinnamon and clove.
The bitter flavor at the end of tasting also makes it a perfect replacement. Furthermore, a citrusy hint will be on your reach too.
You can try the Free Brother Whiskey Barrel-Aged version because this one brings you a classic taste as well. Keep in mind: this replacement works its best in Old Fashioned and Manhattan. Use the smaller amount first, then increase if needed.
So, what are the differences between the Angostura Aromatic Bitters version and Free Brother Old Fashioned Aromatic Bitters?
4. Bitter Truth Aromatic Bitters
Bitter Truth Bitters advertised itself as a specialized bitter for cocktails, the modern kinds specifically. Even though being the younger brother compared to Free Brother Bitters and Angostura bitters, Bitter Truth Aromatic Bitters is still welcomed by many cocktail gourmets.
When purchasing, you will see the Bitter Truth Bitters also offer many flavors. But it will not be the case like Free Brother Bitters. Just go for the Bitter Truth Aromatic Bitters for having the traditional taste, which is well-resemble the flavor you find in Angostura bitters.
The cloves, cardamom, and anise flavor are the dominant flavor you can expect from this substitute. And certainly, bitterness is a required thing!
By adding to many kinds of cocktails that Angostura bitters presents in (Queen's park swizzle, old Cuban, etc.), you will get the complex blend as wanted. And don't forget to use the Bitter Truth Aromatic Bitters with wood-aged spirits like Whiskey!
In terms of a decent ratio, you will need to adjust according to your preferences.
5. Bitters Club Aromatic Bitters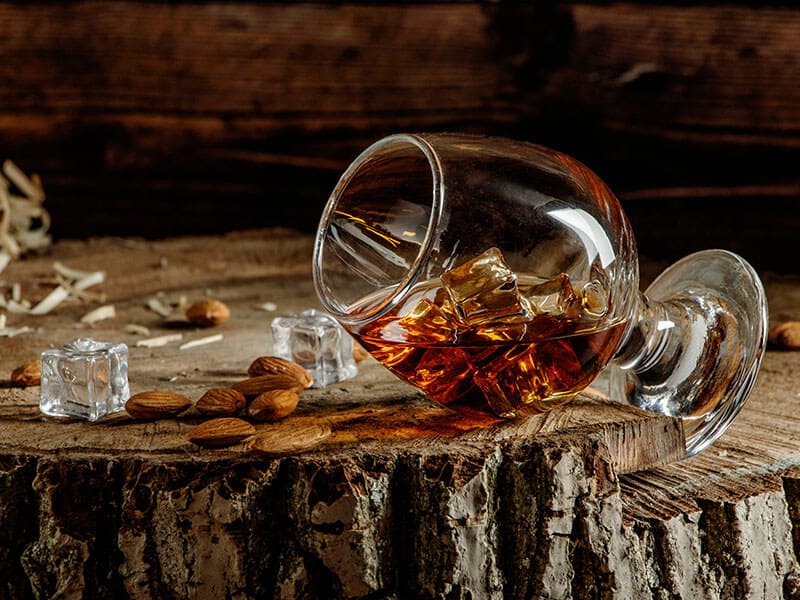 When I suggested Bitters Club Aromatic Bitters to my friends as a substitute for Angostura bitters, they told me that it is not the same. But you know what? They still love it and happily have it in their beloved cocktail.
The Bitters Club Aromatic Bitters use Angostura bitters as the benchmark. Therefore, despite the slight difference in flavor, it still can give you the "Angostura feeling" as wanted.
With the combination of over 26 extracts from herbs, spices, and flowers and fruits, including both sweet anise and cardamom, you will never be disappointed if you decide to use this one in your cocktails (Manhattan for instance), Bourbon, Brandy, All Grain Spirit, or Gin.
Bitters Club Aromatic Bitters will help to add a characteristic spicy flavor to your drink. And its sweetness is also very delightful. However, because of the significant difference in the alcohol percentage (44.7% vs. 60%), you have to adjust carefully before using it.
6. Bittercube Aromatic Bitters
There are more than one variety of the Bittercube Aromatic Bitters. In other words, Bittercube Aromatic Bitters is the name of a bitter series consisting of many flavors produced by two bartenders in 2009.
It can be said as one of the youngest brands of bitter, but you can be sure about the quality as Bittercube Aromatic Bitters has appeared in many food websites and prestigious magazines like New York Times, Bon Appétit, and Bloomberg BusinessWeek.
By adding an exciting and exotic flavor, every type of Bittercube Aromatic Bitters can be well-blended with almost all cocktails.
Personally, I love the Bittercube Orange Bitters version since this option allows me to have a sweet and fragrant citrus flavor in my favorite cocktails. If you are not a fan of orange, then Cherry Bark Vanilla Bitters may be your love. It will add a kick of vanilla into your drinks.
Bittercube Bolivar Bitters and Bittercube Blackstrap Bitters can help to mimic the taste of Angostura bitters as well. Plus, Bittercube Aromatic Bitters are paired incredibly well with Manhattan and Old-Fashioned cocktails. It plays an excellent role in enhancing their flavor.
Note: Adjust the volume yourself based on the version you choose.
7. Campari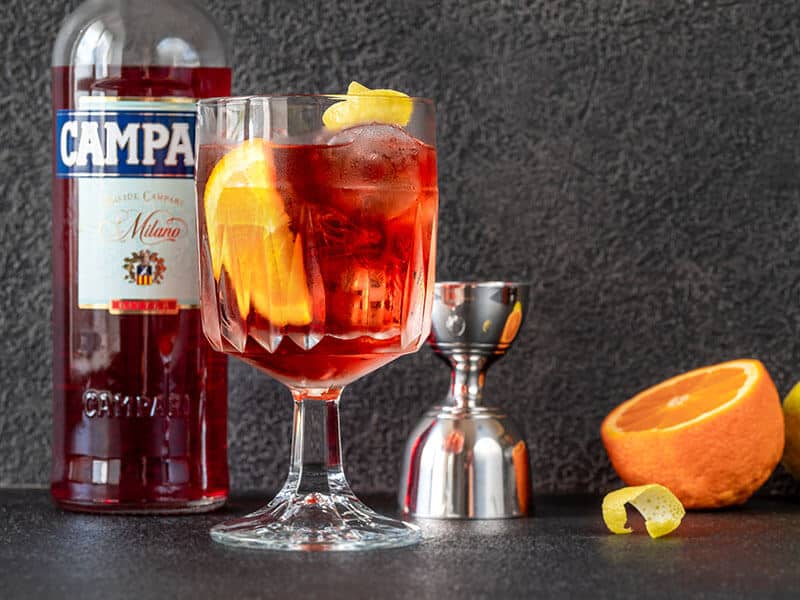 If your city has a lot of Italian Americans, you can ask them for the place to buy the best Campari. This is an eye-catching Italian alcoholic red liqueur that offers a bittersweet taste with the noticeable flavor coming from clove and cinnamon.
And that isn't the end; cherry and orange peel will add a more citrusy and sweet flavor to your recipes. Hence, using Campari means you have to accept a sweeter taste. Don't worry; that extra sweetness is acceptable enough that will not ruin your recipes.
Except for the famous Negroni, Campari is best used in classic cocktails like Old Fashioned and Manhattan and other sweeter cocktails such as Boulevardier, Siesta, and Negroni sbagliato.
When using, replace 4 dashes of Angostura bitters with 1/4 teaspoon of Campari.
You can see this video to know more:
8. Absinthe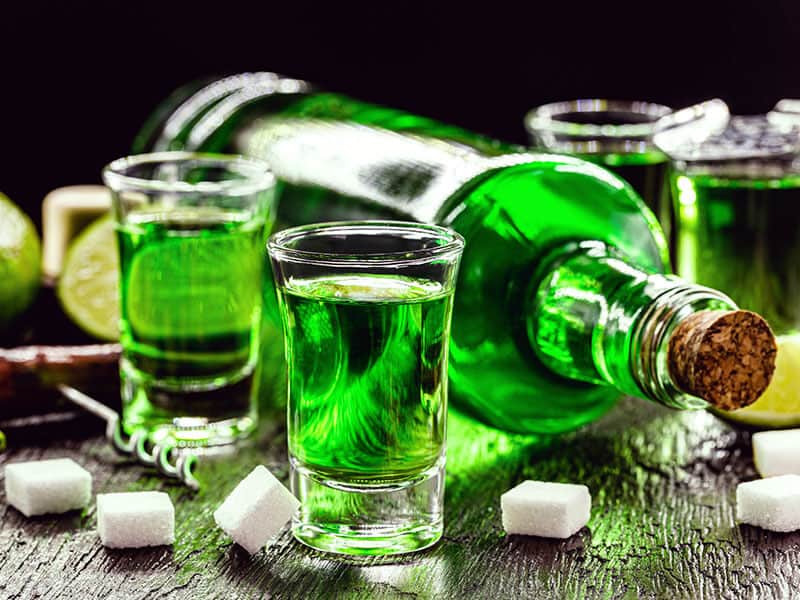 It is a fact that I know Absinthe through the historical literature "The green fairy" (la fée verte) instead of seeing it up in a bar cabinet.
Absinthe has a long history in Switzerland. Invented in the late 18th century, it is the favored drink of many celebrities like Ernest Hemingway, Vincent van Gogh, Oscar Wilde. (2) This item is a kind of spirit with a strong flavor originating from anise, fennel, and other herbs.
Also, you will engage licorice and minty notes into your recipes. It might sound strange, but after tasting, you will find Absinthe is not a bad choice. It almost duplicates the typical bitter, sweet, and spicy flavor you get in Angostura bitters.
Use 1/4 teaspoon of Absinthe to substitute for 4 dashes of Angostura bitters in popular cocktails requiring Angostura bitter or the other ones such as Sazerac and Corpse Reviver No 2.
9. Fernet Or Other Amaro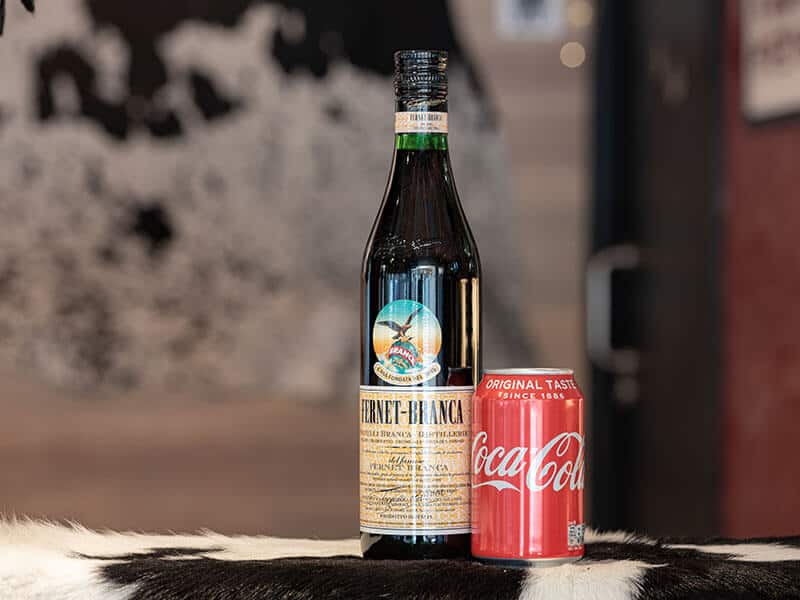 Fernet or any other kind of amaro can meet your need in alternating your run-out Angostura bitters. Fernet is categorized as a kind of spirit or liquor that tastes bitter. It is composed of a number of herbs and spices that are a little bit different based on the brands.
Fernet possesses a very intense bitter flavor (similar to the bitter taste of black licorice) with an herbaceous and slightly sweet finish. The super-bitter Fernet-Branca should be considered first.
In spite of the overbitter and strong taste, it can partly copy a flavor profile of Angostura bitters. But because of that, you also need to be extremely careful in considering a proper portion when using. You surely need a smaller amount than Angostura bitters.
To not overpower your recipes, replace 4 dashes of Angostura bitters with 2 drops of Fernet-Branca or ¼ teaspoon of other Italian amaro.
10. Muddle Fruit
Initially, it might sound weird when using muddle fruits as an alternative for Angostura bitters. But you know, muddle fruits are an important part of many cocktails such as Old Fashioned (which also calls for Angostura bitters) or Gin Smash.
Muddle fruits will function as your "bitter" and help to bring your drinks together. Unlike muddle herbs, once you muddle the fruits, remember to press hard to release the oils or extracts inside the fruits, particularly those with thick skin like lemons or limes.
Before muddling, mix them with simple syrup. Next, pour them into your cocktails in a cocktail shaker for the best flavor. With this option, you also need to adjust the volume yourself to have a comfortable drink.
11. Mix Of Spices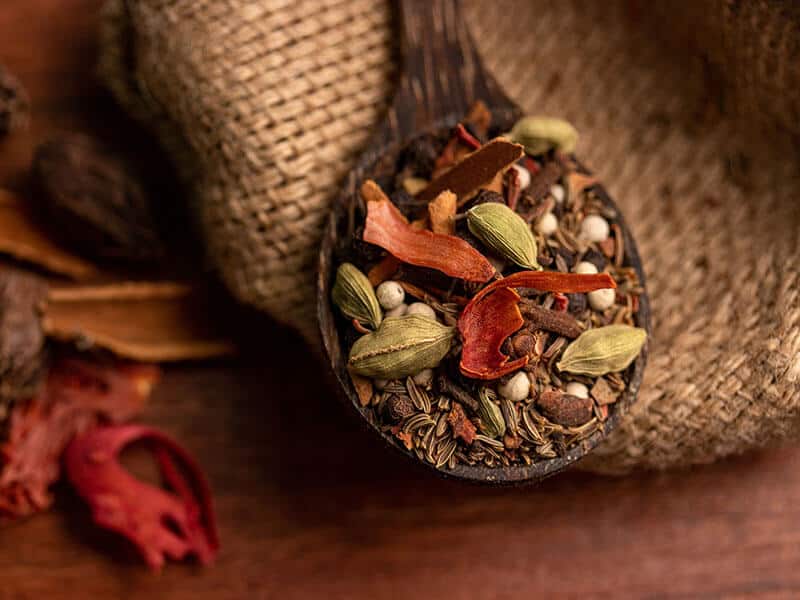 As I mentioned above, spices (like cardamom and cloves) are the key ingredients in the Angostura Bitter formula. By the same token, there is nothing wrong with using the mix of spices in place of Angostura Bitters.
A mix of spices will be an outstanding choice for those who don't want an alcoholic alternative. The only limitation of this choice is it is only used in savory dishes. Let's put it into your soups, broths, and other liquid recipes.
So, how to make the best spice mix? Well, of course, you will need cardamom and cloves first. Next, add mace and nutmeg together and blend them well. All of these spices will bring you an alike bitter taste of Angostura bitters.
And as for the sweet aftertaste, you can add more molasses or sugar into the mixture. Moreover, the orange peel will add a note of citrus flavor to your dish, making your recipes become more flavorful.
Note: Adjust the ratio of each ingredient yourself.
Make Your Homemade Bitter Or A Quickly-Infused Bitter
Angostura bitters is too complex to be copied exactly but if you want to save some money, then go for a homemade bitter version or a quickly infused bitter. Do the following step to get the perfect homemade replacement!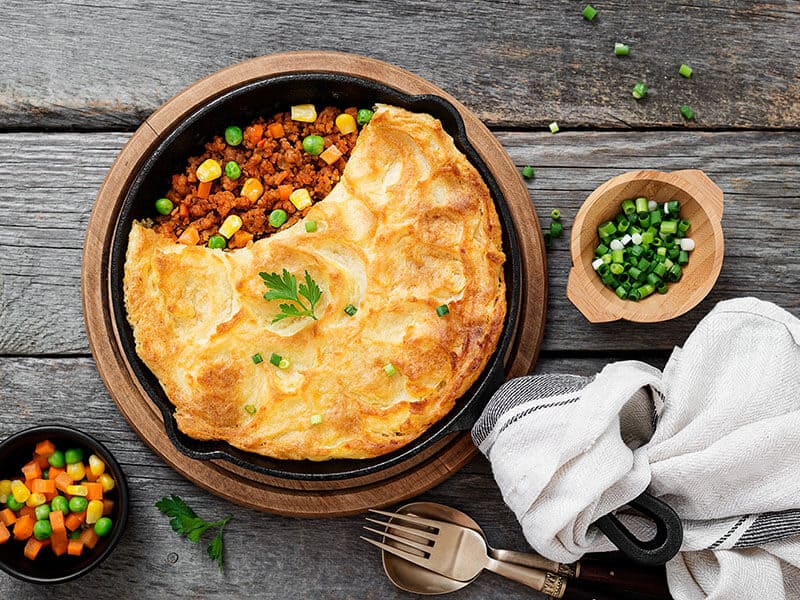 What You Need To Prepare:
Take each pinch of these ingredients below:
Cinnamon
Cloves
Gentian
Allspice
Nutmeg
Coriander
Everclear/vodka/or rum (1-2 tablespoons)
What You Need To Do:
Step 1: Grind up all the spices, including cinnamon, cloves, gentian, allspice, nutmeg, and coriander together.
Step 2: Pour your favorite everclear/vodka/or rum into the mixture.
Step 3: Let the final mixture sit for about 5-10 minutes and strain out the solids.
Step 4: Use it in your drinks.
In case you want a more complex homemade bitter recipe, this video is here for you!
FAQs
Wait! I still have something to tell you in this part. And for those who still have some other questions relating to Angostura bitters and its substitutes, take a quick look at these frequently asked questions below for more information!
Whether What Substitute You Use, Consider Wisely!
Substituting other things for Angostura bitters is easy, but only applying them in the right recipes makes sense. Furthermore, considering or adjusting a suitable portion will affect the deliciousness level of your drinks and dishes too.
In general, if you perform well on both of these tastes, you still can have an Angostura bitters-like twist in spite of losing some complex notes. Afraid of missing out on the classic taste? Well, why are you not giving these options a chance?
You might love them as the authentic Angostura bitters! Now, please share my post with the people that need it. I would be very happy if the post I write today could help a lot of people in the future!
References
Angostura bitters – Wikipedia. En.wikipedia.org. 2021.
Absinthe – Wikipedia. En.wikipedia.org. 2021.