Are chervil substitutes essential? Well, you can never know when your chervil will run out. And learning some alternatives in advance won't deal you any harm, especially if chervil isn't a common sight in your local markets.
Moreover, no option can replace chervil in all recipes. So, it's better for you to know about each kind and how you should use them instead of chervil.
All this knowledge is already available in this article. Scroll down now to learn about it!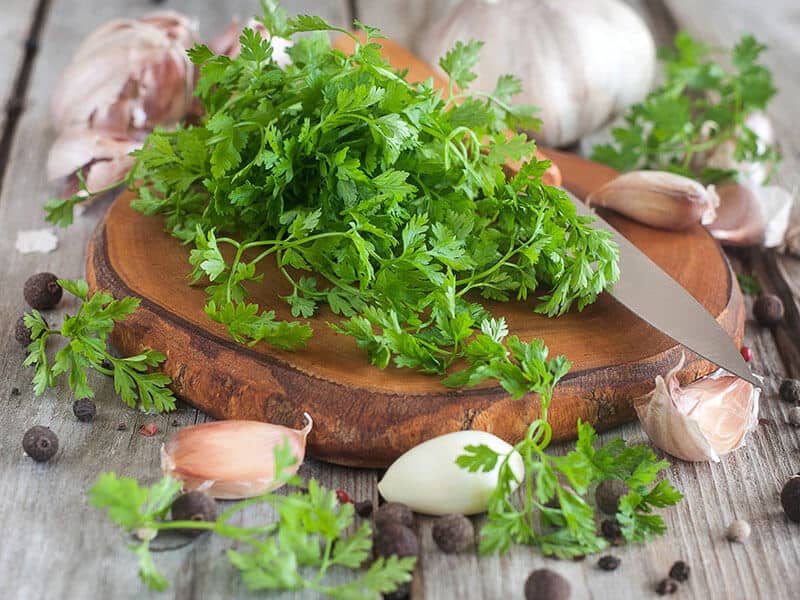 Chervil – A Familiar Face Among Chefs
Nowadays, almost everyone uses chervil to enhance their meal's flavor and aroma. However, are you sure you know it well enough to make good use of it? This part will enlighten you with various fascinating information about chervil.
Basic Knowledge About Chervil
Along with parsley and tarragon, chervil belongs to the fines herbs in French cuisine. You may wonder, what are fines herbs? Simply put, they are the basic blend of herbs for numerous French dishes.
While chervil is the most familiar with France, you can now see it in various countries. However, self-growing chervil takes some time and effort as it prefers cool areas with lots of moisture. (1)
Chervil's Appearance And Flavor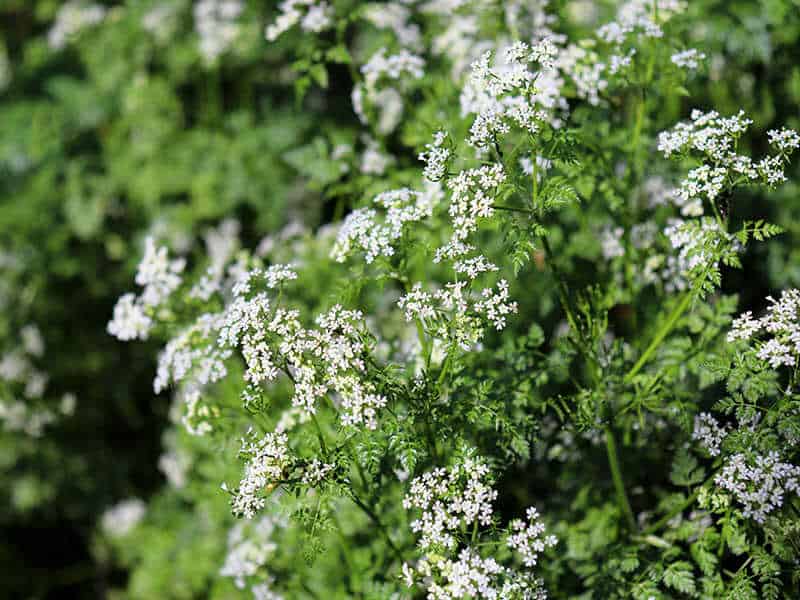 Many people compare chervil with parsley with their resemblances. But do you know that chervil is a part of the carrot family? That makes its leaves also look like carrot leaves: delicate and curly, though they are paler and more ruffled.
As for the taste, chervil is similar to parsley as well, but more subtle. This herb is also famous for its delicate anise undertone. Some that have tried chervil claim that eating it may get your body warmer.
Chervil can blossom, but you'd better stay away from those with flowers as they've already turned bitter and inedible.
Find Out How Chefs Use Chervil
As you've known, chervil is an indispensable part of cooking. But what exactly do chefs use this herb? Here is your answer!
Seasoning: Since chervil is a herb, this is obviously its job. Whether you only use it or mix it with others, chervil pairs well with various dishes, from soups to fish or eggs.
Garnishing: Chervil's flavor can go away quickly when exposed to heat. So, it's more suitable to use it raw in the last step for more aroma.
Making sauces: Aside from those, chervil is also an excellent accompaniment for your light sauces, mild cheese, or herb butter.
Rubbings: This usage is less common than the other three, but in some restaurants, people use chervil in both dried and fresh forms as a dry rub for poultry and many more. (2)
For this authentic Bearnaise sauce, you can't go without chervil. see video to know more:
Save Your Meal With These Chervil Substitutes
Here comes the part you're longing for: Top 7 most toothsome chervil alternatives. With these options, your family won't even realize their dishes are lacking chervil.
| | |
| --- | --- |
| Chervil Substitutes | Proportion |
| Tarragon | 1 tablespoon chervil = 1/2 tablespoon tarragon |
| Fennel | 1 tablespoon chervil = 1 tablespoon fennel |
| Parsley | 1 tablespoon chervil = 1 tablespoon parsley |
| Dill | 1 tablespoon chervil = 1/2 tablespoon dill |
| Cicely | 1 tablespoon chervil = 1/4 tablespoon cicely |
| Chives | 1 tablespoon chervil = 1/3 tablespoon chives + 1/3 tablespoon hyssop + 1/3 tablespoon thyme |
| Dried Chervil | 1 tablespoon chervil = 2 tablespoons dried chervil |
Tarragon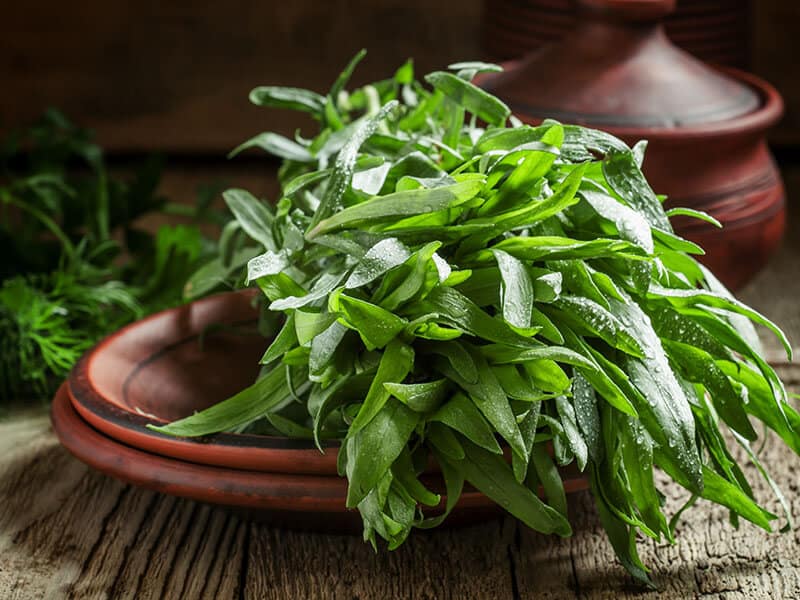 When it comes to enhancing flavor for fish and poultry dishes, tarragon is the best substitute for chervil. These two herbs share the same anise undertone, a signature feature of French herbs. You can try Russian tarragon as well, but it'll taste harsher than the French.
Despite these similarities, you should pay close attention to the amount of tarragon when using it instead of chervil. Tarragon is more robust, so you should cut down half the required quantity. Then, if you want, you can increase it by little until you're satisfied.
Also, refrain from adding tarragon in delicate-flavored recipes as its pungent aroma can overpower the whole dish.
Fennel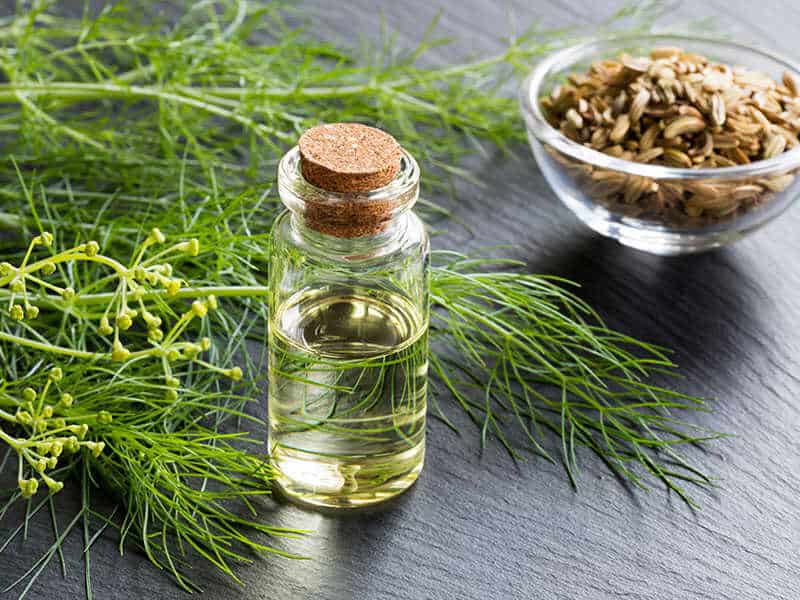 Anyone familiar with European cuisine must know about fennel. This herb has repeatedly appeared in French and Italian recipes, especially sausages and pork. The English also favor it with their seafood dishes.
As for replacing chervil, you can choose from various types of this herb: fresh leaves, dried leaves, or seeds. No matter what kind, fennel is the most suitable to substitute chervil in salads as they have the same flavor so that no one will realize the difference.
Since the fennel's flavor isn't too overwhelming, you can use it with the same amount of chervil.
All the information you need to know about the fennel is right here.
Parsley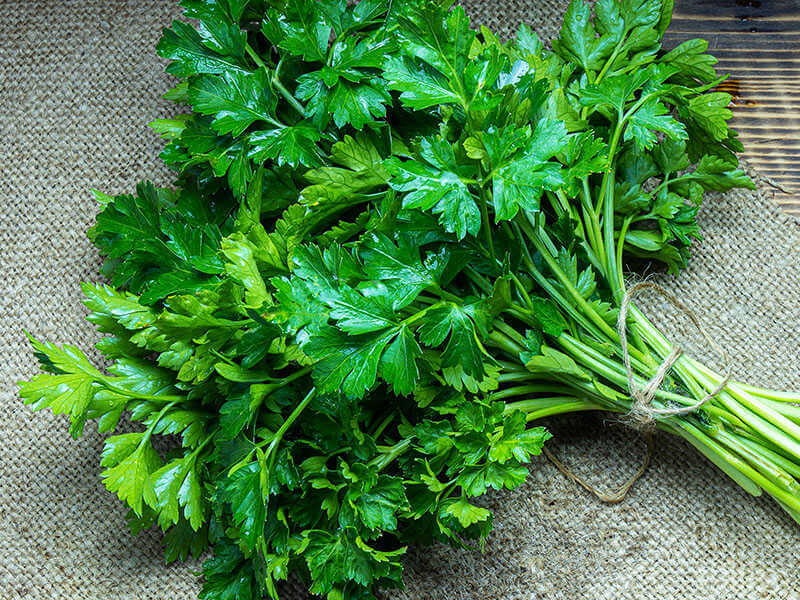 If you are looking for something resembling chervil's appearance, don't skip parsley. Use it for garnishing your dishes, and everyone would think that's chervil.
However, parsley's flavor is relatively mild and lacks anise taste compared to the original. Mix it with other seasonings to create the flavor you want.
Also, as parsley can't handle the heat for a long time, you should add it by the end of your cooking. Or else its delicate flavor will be ruined completely. You can use parsley with the 1:1 ratio or a bit more.
Dill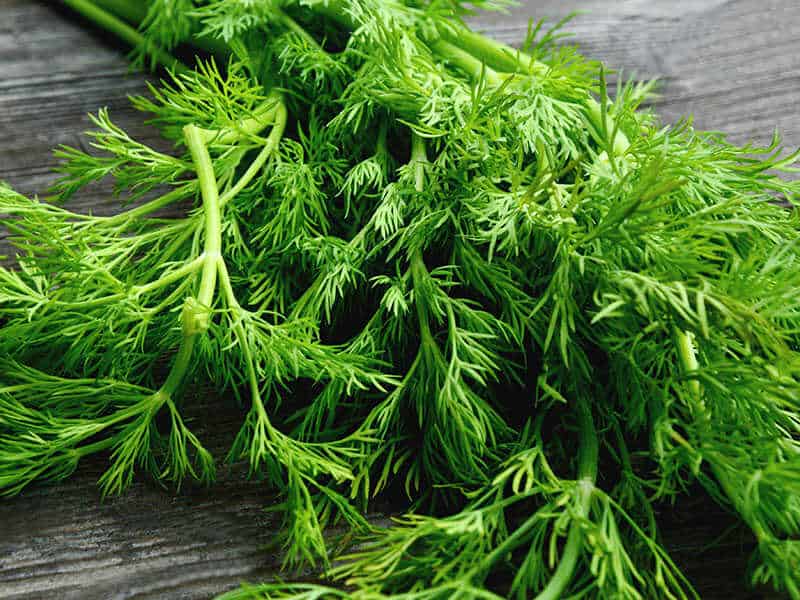 Here is another chervil's relative besides parsley. As dill comes from the same family as chervil, it also provides you with the identical anise aroma and flavor. However, dill is more robust than chervil, so you only need half of the amount.
Besides, the dill's flavor will disappear with cooking time. That means the longer you cook, the blander it becomes. So, choose the right timing to add this herb, depending on how strong you want it to taste.
It's also because of this reason that many chefs only use dill for garnishing. But you can still use it for seasoning various dishes like sauces or soups.
Cicely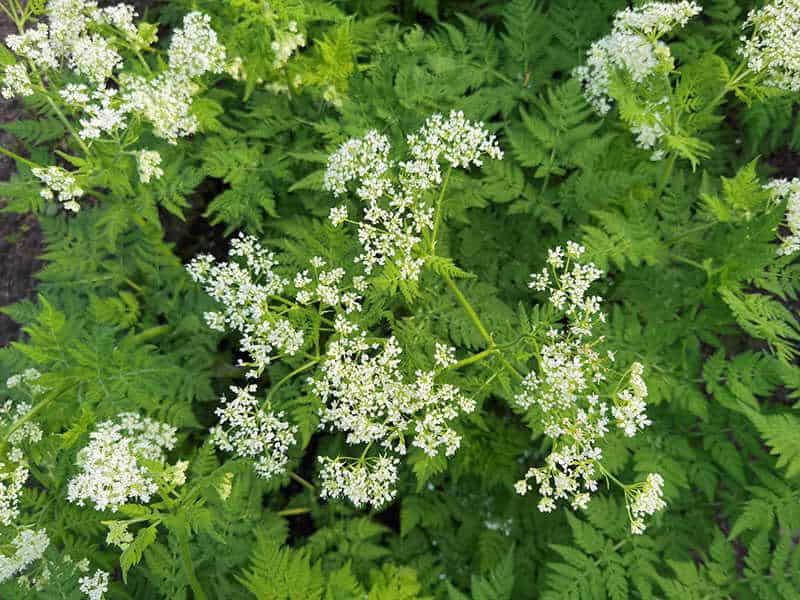 For those who don't know about cicely, you can consider it a sweet version of chervil since this herb comes from the same family. Just like its nickname indicates, cicely tastes almost similar to chervil, save for its sweetness.
That's the reason you'll mostly find this herb in desserts or candies instead of savory dishes. You can also combine it with rhubarb for a nice mixture between sweetness and sourness.
For one tablespoon of chervil, I suggest you only use about 1/4 teaspoon of cicely. After that, you can increase the amount if you find this amount is still lacking. If there's any drawback about cicely, it's that you'll have a hard time finding it in your local supermarket.
Chives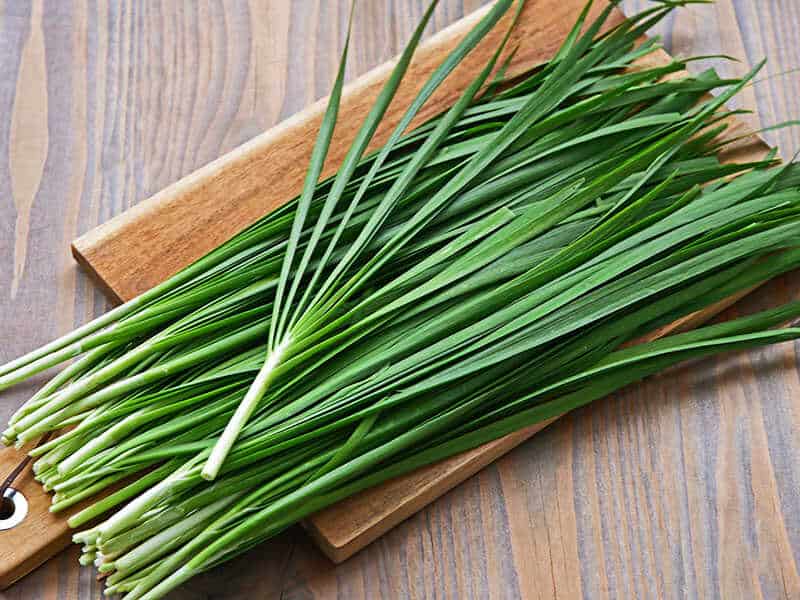 Different from the previous choice, you can easily find chives almost anywhere. So, if you are in a crisis of lacking chervil, just run to your nearest grocery store and grab some chives instead.
However, to completely replicate the flavor of chervil, chives alone aren't enough. You'll need some other herbs, and my recommendation is hyssop and thyme. Mixing three of them with the same amount will produce a chervil-like flavor for you.
This combination is a perfect match with soups, where appearance doesn't matter. It'll take you more time than other alternatives, but the result is worth your effort.
Learn this lesson for your beautifully cut chives! video below should be able to help you:
Dried Chervil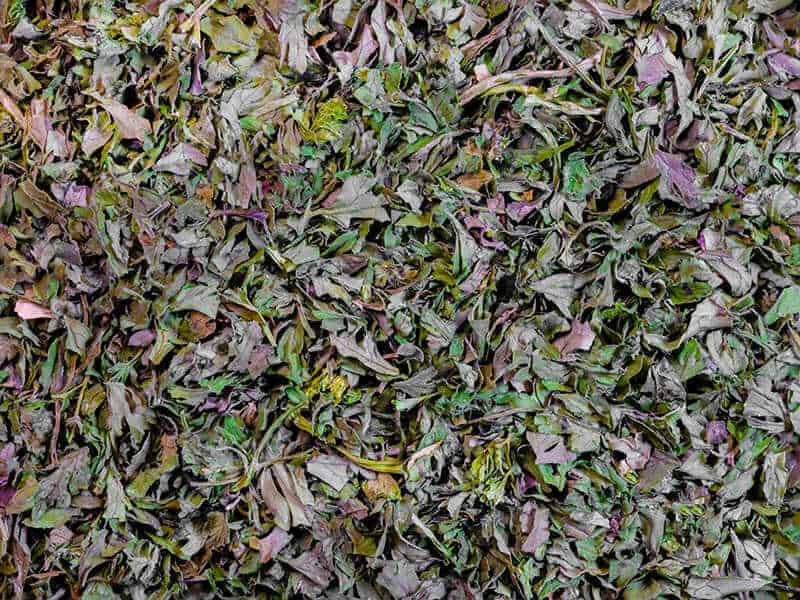 Since they are both chervil, there's no reason not to substitute one with another. However, remember that most of the chervil flavor has evaporated during the drying process. So, the dried version will taste much blander.
If you go with this choice, make sure to double the necessary amount. And only use dried chervil in slow-cooked recipes. Then, this spice will have enough time to infuse its flavor through the dish.
FAQs
Do you have any questions about chervil and its substitutes? If yes, stay tuned as in this part, I'll list all the most common troubles and solve them all for you.
Have You Tried These Substitutes Above?
Even with just some herbs, your dish's quality will increase by a mile. However, don't overuse these herbs unless you want to end up with a mess of smell and flavor. Following the ratio as much as you can is a great way to enhance your meal.
So, has any option in this list caught your eyes? Or do you have other choices in your head? Please share them with other readers in the comment section. And introduce this article to anyone who is in need of some chervil replacements.
References
En.wikipedia.org. 2021. Chervil – Wikipedia.
MasterClass. 2021. Learn About Chervil: Culinary Uses, Substitutes, and Recipes.