"What does acai taste like?" Since acai has become famous in recent years, this is probably the most common question that many people ask. This blueberry-like fruit is currently very sought after and highly appreciated for its health values.
And many people will think acai tastes like blueberry, but the original taste is much more complicated. Once you try acai, you will be surprised because they are completely different from what you have expected before.
For those who are curious, just scroll down for more information. Excluding the taste, I also have many things relating to this food that needs to be discovered!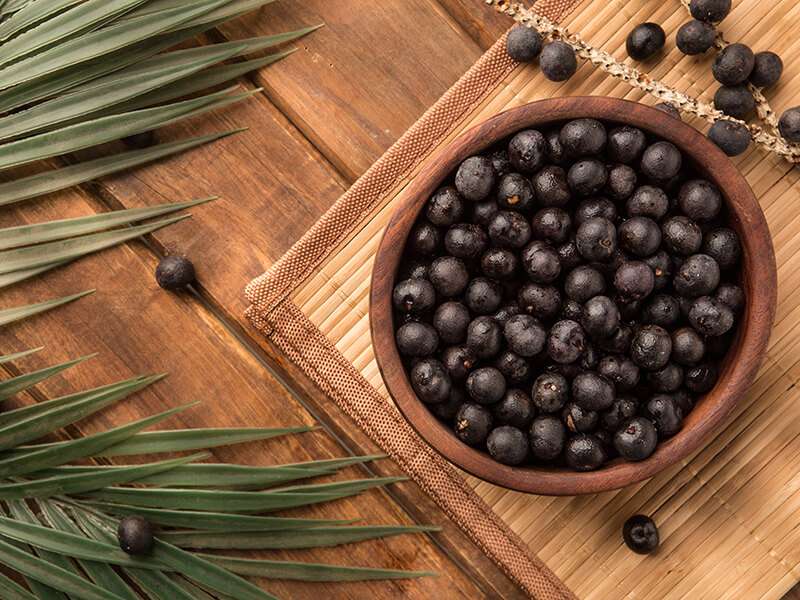 What Is The Taste Of Acai?
From the look, everyone will immediately think about blueberries. But believe me, they are not the same. Acai taste is the mixture of blueberry, raspberry with a note of dark chocolate. Moreover, it is said to have a nutty and earthy taste too.
When you eat acai, you can feel the soft and granular texture with a little bit of ice-cream consistency. Acai's texture, on the other hand, is unique and can not be specifically described as any other fruit. And each individual also may have distinctive experiences with this fruit.
I will give you the most precise description of acai in this post below. Follow my steps to figure out useful knowledge about it!
Acai – The Amazon River Delta's Super Berry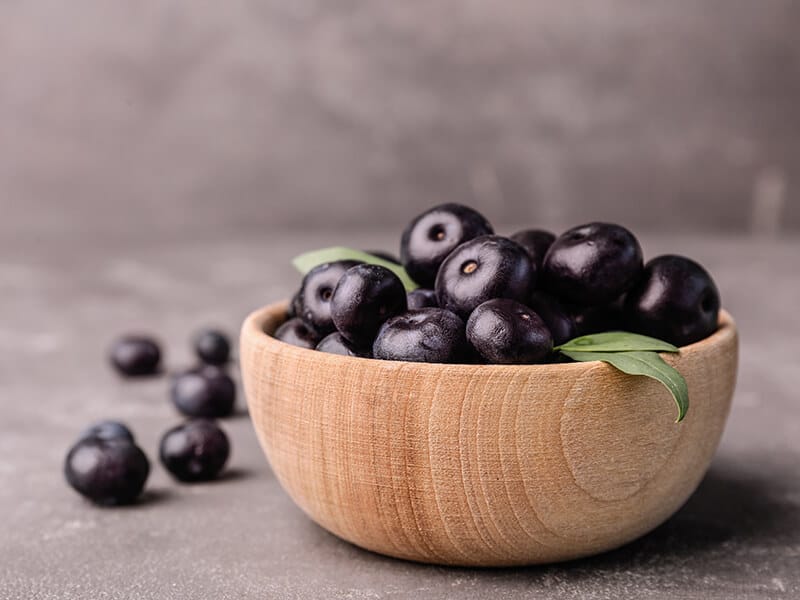 Acai might sound strange to some of you. Jump into this part right away to get to know more about this healthy super berry from the Amazon River Delta!
1. Acai: Is It A Kind Of Berry?
Acai is a fruit harvested from the acai palm, which is a member of palm tree species. Acai palm trees can reach the height of 82 feet with many large pinnate-like leaves. It's most commonly found in tropical areas such as Brazil, Peru, and the Amazon River Delta.
During the harvest season, not only do natives take the Acai fruit, but also hearts, leaves, and trunk wood. Although coming from different species, acai was named as Acai berry because of its similar look to some kinds of berry.
In fact, during the 18th century, Acai used to be considered and treated as a significant staple food in floodplain areas. In the middle of the 19th century, acai was officially recognized as a healthy food for humans.
2. Acai Berry With A Plenty Uses In Cooking
Acai is mostly known as an eaten fruit. But they are also present in many other things. You will be amazed at these fascinating uses of acai through this section.
Used In Making Delicious Food
As mentioned above, Acai has been associated with the diet of the people of the Amazon region for centuries. Its famous treat as food is acai bowl – a combination of frozen acai powder (or acai puree) with various kinds of fruits, grains, nuts, oatmeal, and sugar.
Nowadays, acai bowl is consumed not only in its homeland countries but also in many Western nations as well. Moreover, acai is used as an ingredient to add to other food and drink, such as alcohol and smoothies.
The Main Ingredient In Producing Acai Oil
The native citizens have devised a method to take advantage of acai by making them into the oil form. Acai oil has a characteristic green color, with a light, sweet and pleasant aroma. It has also been packaged and sold in several parts of the world.
Acai oil is diverse in uses. It can be added to salads, sauce to boost up the flavor. However, the most popular treats of this invention are manufacturing soaps, shampoos, or skin moisturizers.
Other Prominent Uses Of Acai
All parts of acai are used. In other words, even their seeds are an excellent material source used for a variety of purposes.
As acai seeds account for 80% of the acai fruit, they can be ground to make into livestock food.The nutrients contained in acai seeds are really good for animals.
Not only that, but acai seeds are also used to produce organic soil for plants. They can be an ideal component for the brick industry in their native countries as well.
3. Interesting Facts About Acai
If you want to know more about acai facts, read the information below. I'm sure you can gain something useful from it.
Harvesting acai is extremely hard because the harvesting process is totally manual. Acai palm trees are very high (up to 82 feet) that can put the harvesters in danger.
Acai spoils very quickly after harvest. Therefore, it is usually frozen or freeze-dried to export. You will rarely find fresh acai unless you visit its homeland.
If you want to get acai in the supermarket, don't go to the produce section. Instead, find them in the frozen section. This fruit is usually made into frozen form for extending longevity.
The United States is the nation with the highest imported acai in the world. All forms of acai treats can be found in the US, such as frozen acai, acai smoothies, acai juice, etc.
After being harvested, acai needs to be transported to the market, supermarkets or processed factories within 24 hours. Since this fruit cannot stay fresh after that period, they need to be processed as soon as possible.
Are you curious about the acai harvesting process?
Real Tasting: What Does Acai Taste Like?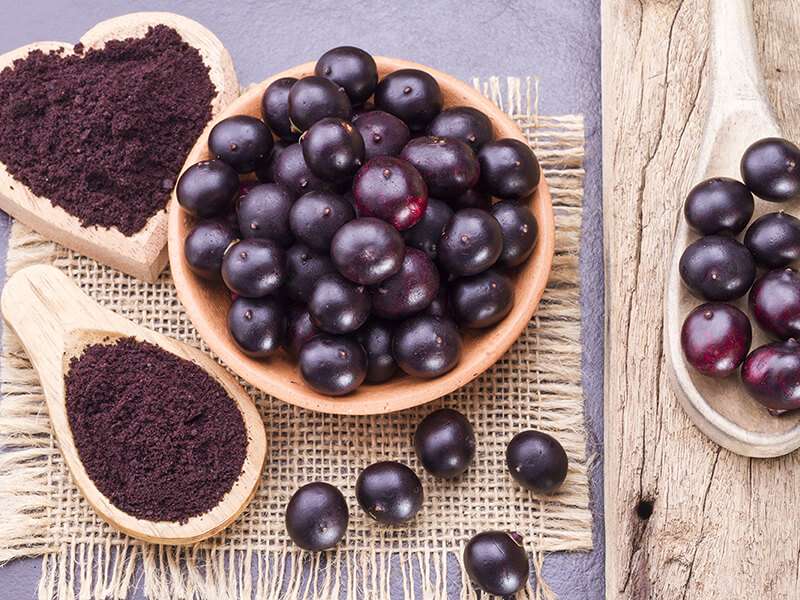 Although acai is quite popular in some parts of the world, not everyone has tried this fruit. Below is a detailed description of the taste of this super fruit.
1. Acai Flavor Is The Mixture Of Various Notes
When it comes to acai flavor, the first thing you will notice is a hint of blueberry.
Then, the pomegranate and raspberry flavor also show their faces. In other words, acai has a light tart taste accompanying the mixture flavor among blueberry, pomegranate, and raspberry at the first bite.
After a few seconds of tasting, if you're careful enough, you will realize a very mild note of dark chocolate with a little bit of bitterness inside. Why is there a chocolate-like taste? Well, because Polyphenols – a compound present in cocoa beans, also make acai its home too.
On the other hand, acai has a low sugar content as well. Some foodies have described acai flavor as tropical, earthy, nutty, and refreshing at the same time.
2. Acai Texture – Unique And Exotic
Acai has a hard but thin and smooth shell. Inside, the flesh has a soft and semi-granular texture. Furthermore, acai flesh is thin since the seeds account for 80% of the whole fruit. When pureed or made into a smoothie, acai will have a very smooth and creamy texture.
Pureed acai also has a thick, semi-watery texture, which is similar to sorbet or ice cream. This brings you a pleasant and satisfying feeling when tasting. As a result, I recommend that you should consume acai under smoothie form to have the best experience.
Real acai tasting experience – How is it?
3. What Does An Acai Bowl Taste Like?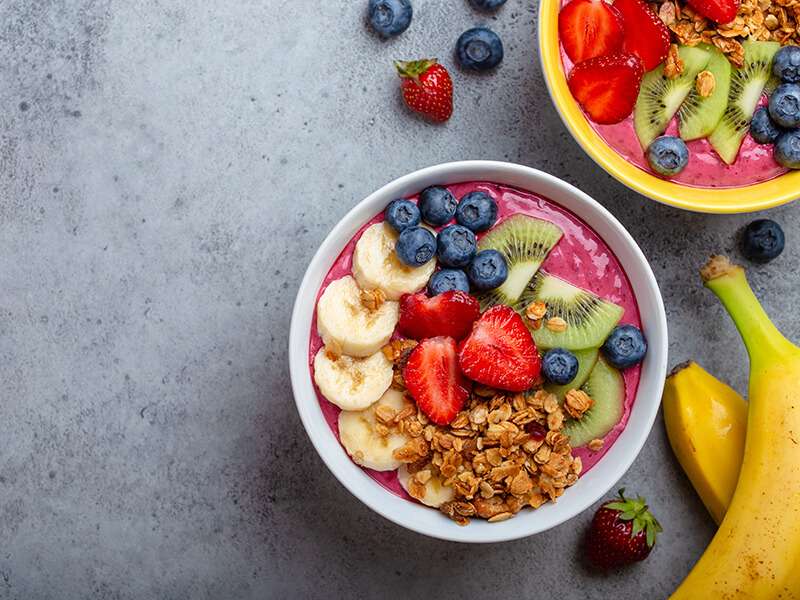 Known as the world's most healthy breakfast, acai bowl is just a flavorful smoothie form of acai with the mixture from different healthy ingredients topped with fruits, nuts, and oatmeals.
Acai bowls' taste is very fresh and rich. An acai bowl not only contains acai but also includes other tropical ingredients, like passion fruit, banana, grated coconut, orange, mango, etc. With their creamy texture, you will find them like ice cream.
This will be the most sought-after item in your family breakfast. It is healthier and more craving than the boring oatmeal.
Health Benefits: What You Can Gain From Acai
Initially, it is a fact that acai is praised for the huge package of nutrition they bring to humans. Until now, many studies have been conducted and confirmed this fruit's influence on human health.
1. It Is Packed With Full Of Nutrients
On the contrary, with the high-fat content, it's surprising that acai is very low in sugar. Not only that, but it also contains a lot of minerals such as iron, potassium, zinc, etc. (1) and anthocyanins – a plant compound that plays an essential role as your body's antioxidants.
2. Acai Is Home To An Impressive Source Of Antioxidants
For a long time, acai has been famous for its antioxidant properties.
Compared to blueberries, the antioxidant level of acai can reach more than three times. Antioxidants in acai help to neutralize the damages on cells caused by free radicals – one of the reasons leading to heart disease, cancer and diabetes. (2)
3. Improving Human Brain Function
A study has shown that the plant compounds in acai help to prevent your brain damage when you get older (3). Besides, the antioxidants in acai also protect your brain cells from oxidation. (4)
4. Regulating Cholesterol Level
According to a research in 2011, 10 overweight participants were assigned to eat acai in a certain amount during one month (twice/day). The results showed that the body's cholesterol amount of the participants decreased significantly. (5)
Watch this video to know more:
Choosing And Storing: Smart Tips To Keep Acai
Choosing and storing acai is challenging, but all the problems are solved if you know the right technique. Below, I will give you some tips to choose good acai and store them properly.
1. Choosing: High-Quality Acai Should Be Your Priority
Acai is always an ideal option for those who are on diets. However, it's hard for you to distinguish the good quality acai in the market because most of them are processed in frozen or freeze-dried form. Don't worry; this part can help you!
The Intense Color Is The Key
"Choose the darkest ones" – That's what I heard from my friend, who grows in the land where acai is abundant. Since acai contains a lot of antioxidants, which gives them their signature purple skin. The more intense purple they are, the more antioxidants they have.
So, don't pick the pale purple ones.
Oily Sign Within The Package
A distinctive characteristic of acai is the high healthy fat content (omegas 3/6/9) they hold. When you pour acai out, you can see a bit of yellowish substance sticking to the package. That's the fat content. It may look like a spoiled product, but that's what good acai should be.
Take A Note On Acai Smell
You have a chance to have fresh acai? Well, notice their smell. Fresh acai have a light berry aroma with a hint of earthy and chocolatey smell. Sometimes it is reminiscent of Hawthorn – very unique and pleasant.
Pure Unsweetened Acai Vs. Sweetened Acai
There are two versions of processed acai: unsweetened and sweetened. The sweetened acai are often seasoned with guarana extract – a plant that is very high in caffeine. As a result, it's better to pick unsweetened acai if you are concerned about the caffeine level.
2. Storing: 3 Useful Tricks To Keep You Acai Last Long
Acai are extremely quick to be spoiled after harvest. Therefore, after buying them (both fresh and frozen), you have to know how to store them properly or see them in your trash. Here are 3 storing tricks for you.
Sunlight Is Not Good For Your Acai
Fresh acai is naturally moist. Because the hot temperature from sunlight can take away all of your fresh acai moisture, you need to keep them far away from the sunlight for more extended longevity.
Storing Acai With The Fridge
The best way to keep your fresh acai is by putting them into the fridge. Your acai can last about one week. Remember not to rinse your acai before storing. The moisture will make them easier to be spoiled before one week.
Store Pureed and Powdered Acai In The Freezer
It's necessary to end up with your pureed and powdered acai in the freezer. You can keep them in your cabinet, but the spoiling risk will be higher. Put acai in an airtight bag, store in the freezer for a few months. It will help to keep the acai texture as good as it can be.
Note: You can do the same with fresh acai as well.
4 Fascinating Ways To Eat Acai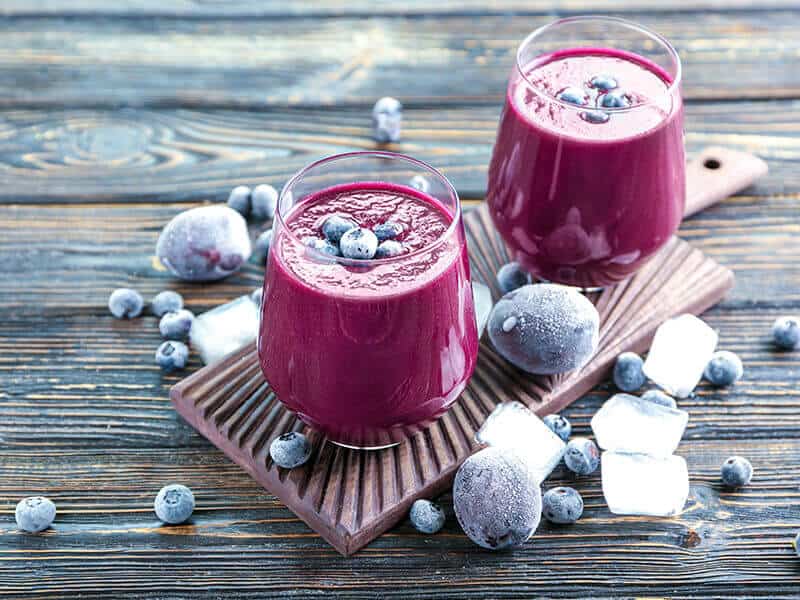 There are some delicious ways to serve acai. Discover this section to get more tips in consuming your new-buy acai.
Acai smoothie is the most favored treat: When acai is pureed into smoothie, they are absolutely the most satisfying and refreshing delicacy. The creamy texture will trap you for a life long.
Acai bowl is rich and healthy: you will want to have them every week. It is a concoction of fruit, grains, oatmeal and other healthy ingredients. You can expect a hearty but refreshing treat on a beautiful relaxing weekend.
Make your acai into juices: Acai juice is an incredibly healthy beverage. Like the fresh form, it is also high in nutrients, especially antioxidants.
Eating fresh acai directly: There is nothing strange about enjoying acai right after you buy it. This fruit has been considered a staple food of Amazon citizens for a long time.
3 Refreshing Recipes With Acai You Should Not Miss
I bet finding savory recipes for acai will sometimes be challenging, especially for those who try acai for the first time. This section is a bonus for you. Take note 3 recipes below for having the best treats of acai.
1. Acai Berry Smoothie Bowls
Add this acai smoothie bowl recipe to your list. It will be a perfect breakfast for an energetic day. With the variety of ingredients, you can be sure of their deliciousness. Moreover, they are also extremely suitable to add to a diet or vegetarian menu.
A delicious acai berry smoothie bowl is totally in your league! Watch this video to know more:
2. Acai Layered Chia Pudding
Another healthy breakfast with acai: Acai layered chia pudding. With some simple ingredients, you will easily have a delicious and nutritious dish. Both chia seeds and acai are healthy foods. They are safe and completely gluten-free!
3. Acai Bowl Popsicles
No one can resist the sweet invitation from these eye-catching purple acai bowl popsicles. They are like an upgraded version of acai smoothie bowls, which are then shaped into ice cream bars. You definitely need to save this recipe. Your kids will love it. I guarantee!
FAQs
I think you may have some questions relating to acai that need to be answered. Quickly check out these frequently asked questions below to get your problem solved!
Have You Got Your Acai For Tasting?
With all of the health benefits acai offers, this fruit is definitely worth a try. This Amazon River Delta staple food is rich, flavorful, and dedicated. When you have the right recipes, it will not make you disappointed.
I have this delicious acai every month. So, I'm really glad to share with you my experiences in this food. I really hope my post today will somewhat help you figure out the taste of acai.
And if you have tried acai before, please share your thoughts with me! Sharing is caring. Maybe it can be helpful for others too!
References
Neida S, Elba S. Caracterización del acai o manaca (Euterpe olerdcea Mart.): un fruto del Amazonas [Characterization of the acai or manaca (Euterpe oleracea Mart.): a fruit of the Amazon]. Arch Latinoam Nutr. 2007 Mar;57(1):94-8. Spanish. PMID: 17824205.
Florence, T. M. (1995). The role of free radicals in disease. Australian and New Zealand journal of ophthalmology, 23(1), 3-7.
Poulose, S. M., Fisher, D. R., Bielinski, D. F., Gomes, S. M., Rimando, A. M., Schauss, A. G., & Shukitt-Hale, B. (2014). Restoration of stressor-induced calcium dysregulation and autophagy inhibition by polyphenol-rich açaí (Euterpe spp.) fruit pulp extracts in rodent brain cells in vitro. Nutrition, 30(7-8), 853-862.
Poulose, S. M., Fisher, D. R., Larson, J., Bielinski, D. F., Rimando, A. M., Carey, A. N., … & Shukitt-Hale, B. (2012). Anthocyanin-rich açai (Euterpe oleracea Mart.) fruit pulp fractions attenuate inflammatory stress signaling in mouse brain BV-2 microglial cells. Journal of Agricultural and Food Chemistry, 60(4), 1084-1093.
Udani, J. K., Singh, B. B., Singh, V. J., & Barrett, M. L. (2011). Effects of Acai (Euterpe oleracea Mart.) berry preparation on metabolic parameters in a healthy overweight population: a pilot study. Nutrition journal, 10(1), 1-7.