Finding lemongrass substitutes is challenging for many home cooks since this ingredient is more familiar in Asian cuisine than American cuisine. But if you are a passionate Asian food lover, finding lemongrass is much more crucial.
Don't worry. In my post today, I will tell you the best alternatives for this ingredient. And do you know what? There are actually more options for you to choose! You will not need to look for any further. All you need to do is scroll down and pick the most appropriate ones!
Don't wait any longer. Let's get started now!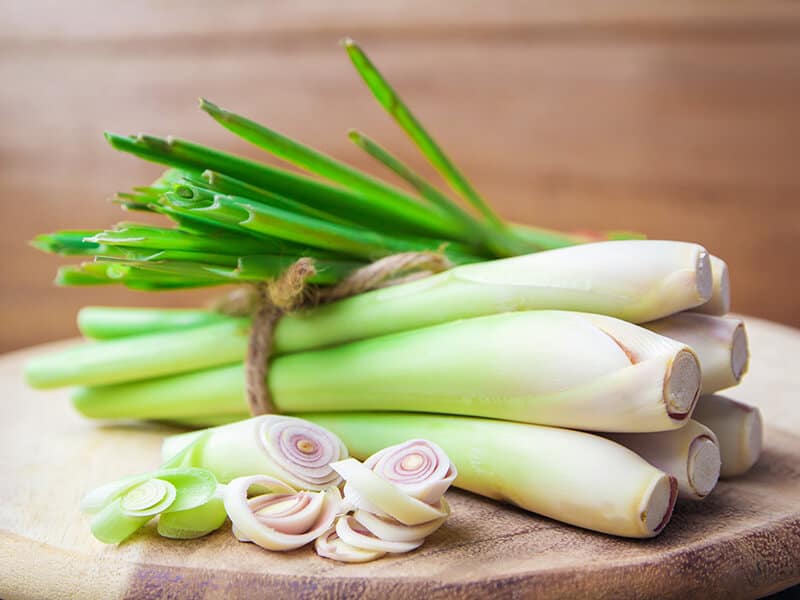 Lemongrass Substitute – Is It Hard To Find?
Most people are preconditioned to think in a box that it is hard to find a substitute for lemongrass. However, it is actually very easy to find a good replacement. These substitutes are even right in your house! All you need is to open the fridge and grab them.
Well, I don't exaggerate at all! In case you are still doubting my words, check this collection out to see my evidence. I have up to 15 recommendations for you!
10 One-Ingredient Lemongrass Substitutes
Dried Lemongrass
Lemongrass Powder
Lemon Zest
Lime Zest
Japanese Yuzu
Lemon Verbena
Kaffir Lime Leaves
Lemon Balm
Lemon Juice
Preserved Lemon
5 Multi-Ingredients Substitutes
Arugula Leaves and Lemon Zest
Ginger and Coriander
Lemon Juice, Lime Zest, and Kaffir Lime Leaf
Mint Leaves, Lime Juice, Ginger & Sugar
Kreung (Lemongrass Paste)
So, let's start right now!
Lemongrass – The World Most Healthy and Fragrant Grass!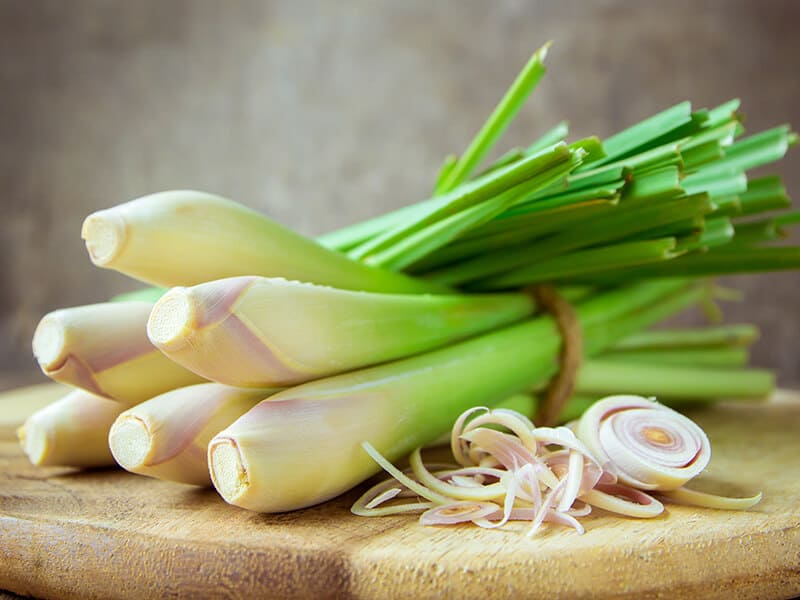 Before you do anything with your lemongrass, I think you should take note of some useful information first. They can be very helpful for you.
1. What Is Lemongrass?
Lemongrass, also known as Cymbopogon citratus, is a plant belonging to the grass family. It is found mostly in tropical regions, including Southeast Asia, African, and Australia.
Lemongrass has long, slender gray-green foliage with extremely sharp edges. The bottom part is a greenish-white bulb with a pinkish tinge sometimes. And it can reach up to 2-4 feet high. On the other hand, all parts of lemongrass can be used.
This plant plays a significant role in Asian cuisine and culture, especially in India, Vietnam, Thailand, Cambodia, and the Philippines. They are so popular that you can always find them in any vegetable counter when you visit any outside market there.
2. What Does Lemongrass Taste Like?
In terms of texture, when touching the bulbs, lemongrass is firm, woody, and not fragile like onions.
As its name suggests, lemongrass has a citrusy flavor like lemon. But its authentic flavor profile is much more complex. More exactly, it is a balanced combination of the scent from lemon, green onion, mint, and a little smell of ginger.
Sometimes, you also may find lemongrass has a hint of herbal as well.
Although its flavor seems really strong and abundant since there are so many notes involved, lemongrass is actually a delightful ingredient that can perfectly push up your food flavor without overwhelming them.
3. Beyond The Culinary World: Popular Uses Of Lemongrass
Excluding cooking, you will be surprised that lemongrass is also used in many fields. Curious, right? Then take a quick look to figure it out!
It's Used As A Cooking Ingredient
As mentioned above, lemongrass is a precious treasure of Asian cuisine. It is used to add in various kinds of dishes, from appetizers to main courses and even desserts and drinks too. In particular, lemongrass can make its way to soups, salads, seafood, meat dishes, etc.
In Thailand, lemongrass is added to curries to push up the flavor without overpowering the main ingredients. On the other hand, Vietnamese use this grass in stir-frying, stews, and sauces.
Not only that, this exotic, dedicated, and flavorful plant is now starting to be favored in America and other Western countries. It is one of the most indispensable condiments in a lot of Asian-styled-inspired recipes.
This is all you need to know before using lemongrass.
Other Surprising Uses Of Lemongrass
Geraniol and citronellol – two antiseptics found in lemongrass oil make this plant an important ingredient in the production of insect sprays. Not only the oil extract but fresh lemongrass is also planted around the house to repel mosquitoes.
Additionally, it is a fact that lemongrass oil extract is used to make soaps and candles due to its mood-calming scent. In the Caribbean, lemongrass tea is treated as an effective medicine to strengthen the immune system. And in India, lemongrass is used as perfume.
Decent Ratios Between Lemongrass And Its 15 Substitutes
Before going to the detailed descriptions, you may want to know the general overview of all the lemongrass replacements. This table below will be helpful for you.
| | |
| --- | --- |
| Substitutes | Ratios (Lemongrass/Substitutes) |
| Dried Lemongrass | 1 chopped stalk of lemongrass = 1 teaspoon of chopped dried lemongrass |
| Lemongrass Powder | 1 chopped stalk of lemongrass = 1 teaspoon of lemongrass powder |
| Lemon Zest | 1 stalk of lemongrass = ½ teaspoon of lemon zest |
| Lime Zest | 1 stalk of lemongrass = ½ teaspoon of lime zest |
| Japanese Yuzu | 1 stalk of lemongrass = 2 Japanese yuzu zest (or juice) |
| Lemon Verbena | 1 stalk of lemongrass = 2 leaves of lemon verbena |
| Kaffir Lime Leaves | 1 stalk of lemongrass = 1 kaffir lime leaf |
| Lemon Balm | 1 stalk of lemongrass = 4 lemon balm leaves |
| Lemon Juice | 1 tablespoon of lemongrass = ½ teaspoon of lemon juice |
| Preserved Lemon | 1 stalk of lemongrass = ½ teaspoon of preserved lemon |
| Arugula Leaves and Lemon Zest | 1 stalk of lemongrass = 1 Arugula leaf + 1 teaspoon of lemon zest |
| Ginger and Coriander | 1 stalk of lemongrass = 2 teaspoons of fresh ginger + 2 teaspoons of coriander stalks |
| Lemon Juice, Lime Zest, and Kaffir Lime Leaf | 1 stalk of lemongrass = 1 tablespoon of lime zest + 1 kaffir lime leaf + 2 tablespoons of lemon juice |
| Mint Leaves, Lime Juice, Ginger and Sugar | 1 stalk of lemongrass = 2 teaspoons of lime juice + 6-8 mint leaves + ¼ teaspoon ginger + ¼ teaspoon of sugar |
| Kreung (Lemongrass Paste) | 1 tablespoon of lemongrass = 1 tablespoon of Kreung |
15 Best Lemongrass Substitutes That Work Well In Your Dishes
I'm sure you will be surprised to know that there are plenty of options for lemongrass substitutes in the world. You can try both 1-ingredient replacements and multi-ingredient replacements to have exactly what taste you want your dishes to be.
Read the section below for a better decision!
Simple Preparation With 10 One-Ingredient Lemongrass Substitutes
You are calling for the simple and easy-to-prepare lemongrass alternatives? Then check out this list. I have up to 10 recommendations that can help to save your dishes in just a moment!
1. Dried Lemongrass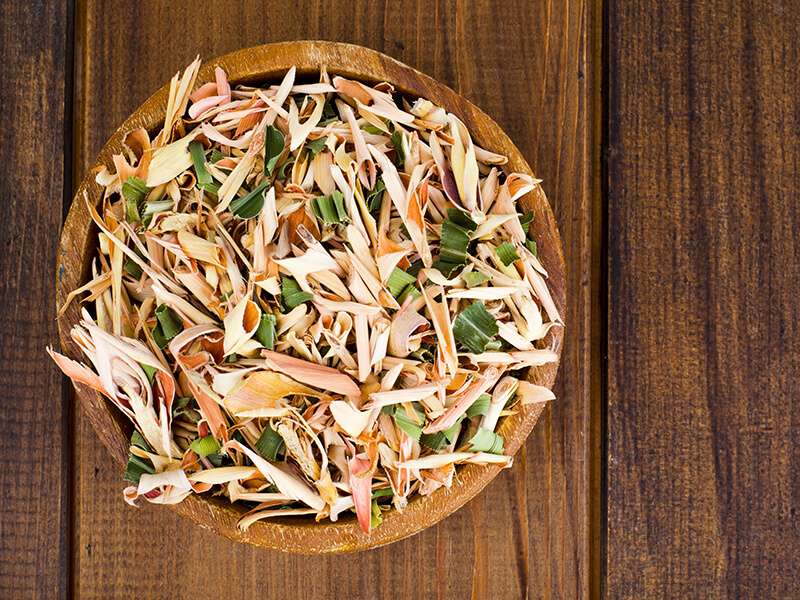 Dried lemongrass should always be your priority. Since dried lemongrass is actually another version with no water content inside, it almost helps you to duplicate the taste of the fresh lemongrass.
But there is one thing you should notice: While fresh lemongrass has lighter citrus and herbal flavor, the dried version will have a higher volume of these two flavors. Therefore, you should be careful as it can overpower your dishes.
For the perfect balanced taste of lemongrass, you can use 1 teaspoon of chopped dried lemongrass to replace 1 chopped stalk of fresh lemongrass. Remember to chop your lemongrass finely so they will not get the fibrous and woody texture.
2. Lemongrass Powder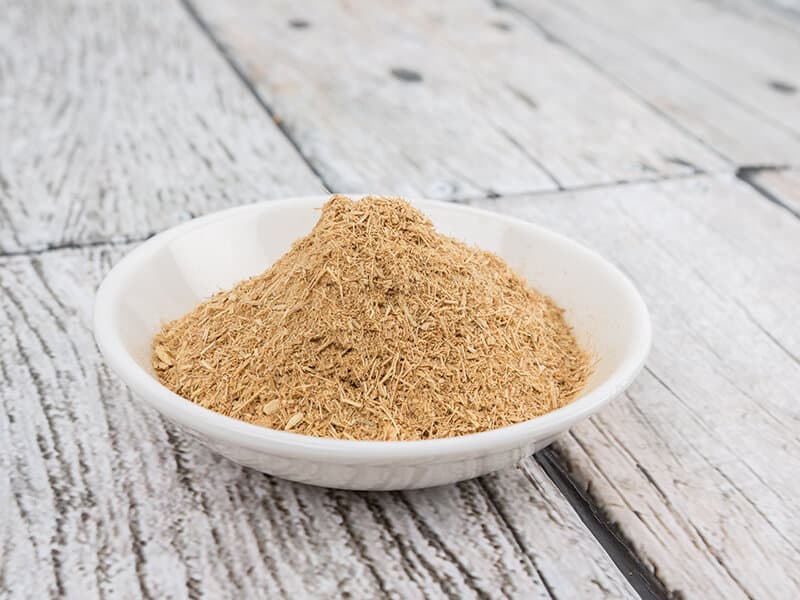 Cannot find the dried lemongrass? Look for the lemongrass powder! While they don't seem to be common, you might be lucky enough to find them. Visit Asian supermarkets or markets. These places almost have all the Asian ingredients you need.
Lemongrass powder has a powdery texture, which is great for liquid dishes like soups and curries. In addition, they also have a slightly stronger herbal and citrusy flavor than fresh lemongrass. Consider the volume carefully when seasoning.
To not overwhelm your dishes, add 1 teaspoon of lemongrass powder to alternate for every stalk of fresh lemongrass.
3. Lemon Zest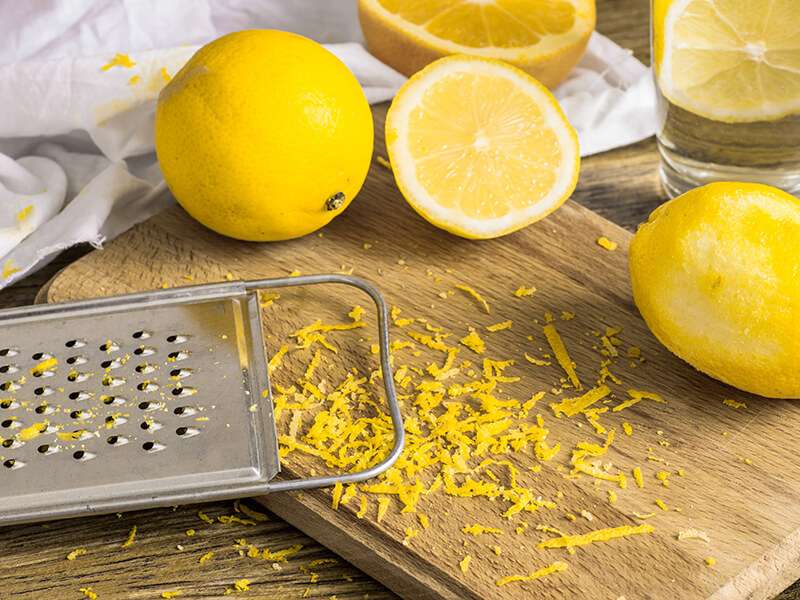 The scent of lemon resembles lemon, so there is nothing wrong with using lemon zest – the most citrusy part of the lemon – to replace your run-out lemongrass. It will bring you a tangy, refreshing taste to your dish.
Moreover, this replacement is extremely easy to find. I bet lemon is always the all-time available item in your kitchen. You don't even need to go shopping. Just open the fridge and take it out for use.
Since lemon zest has a little bit of bitterness, you should carefully consider the amount of your food. In general, to substitute for one chopped stalk of lemongrass, take ½ teaspoon of lemon zest.
4. Lime Zest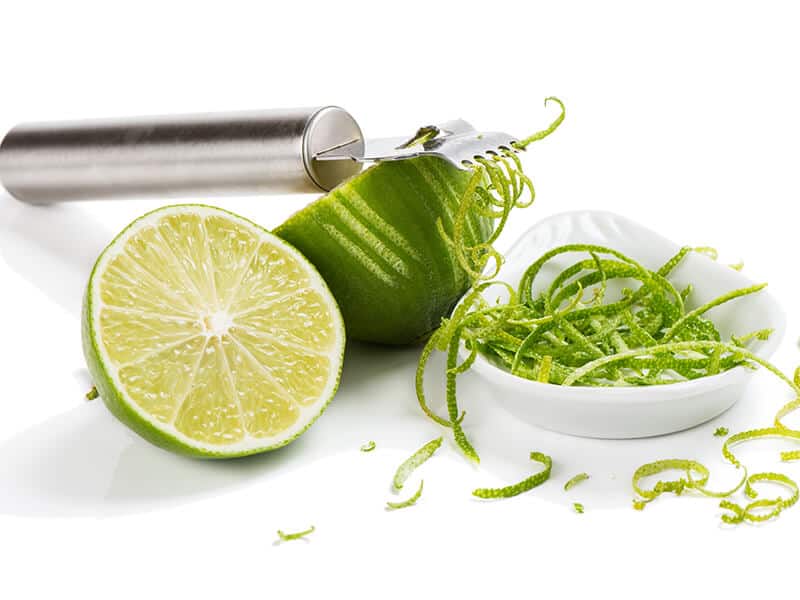 In Asian countries, lime is more favored in cooking than lemon. Normally, lime has a smaller size on average than lemon. They also offer a slightly sharper and stronger citrus flavor. However, the similar taste also makes lime a perfect alternative to lemongrass.
Just like lemon, it is not too difficult to find lime in the big supermarkets. This type of ingredient is now very popular in Western cuisine as well.
Due to the smaller size, you can use the same ratio of lime as lemon even though it has a more intense flavor. In particular, substitute ½ teaspoon of lime zest to each stalk of finely chopped lemongrass.
5. Japanese Yuzu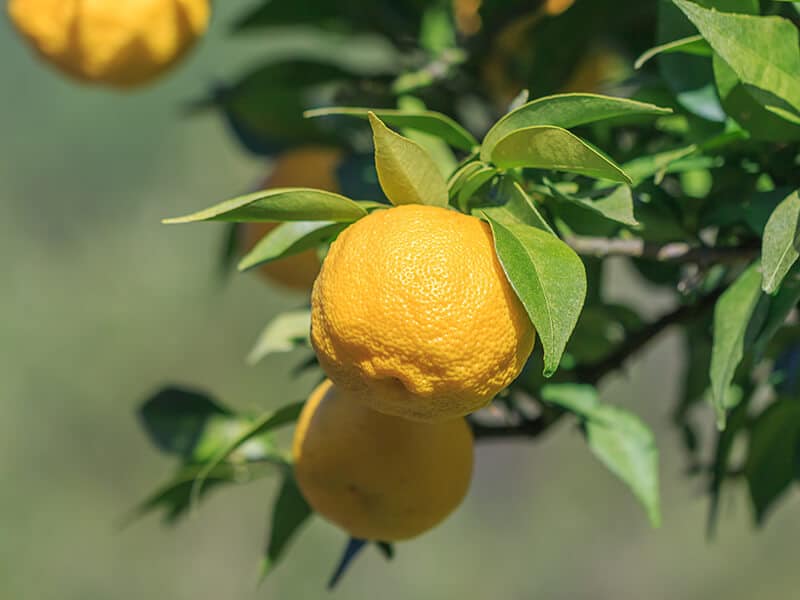 If you are looking for the best lemongrass alternative for your favorite curry, Japanese yuzu is the way to go! Due to belonging to the citrus species, Japanese yuzu will give you the subtle taste of citrus as lemongrass. It also is not pungent like lime and lemon.
You can use it under both the juice from or the zest form. However, remember that yuzu zest will have a stronger citrus flavor than the juice with a hint of floral scent. Plus, if you use the juice, squeeze more since Japanese yuzu is not too juicy compared to other citrus species.
For the most lemongrass-like flavor, use 2 Japanese yuzu zest (or juice) to substitute for 1 chopped stalk of lemongrass.
6. Lemon Verbena
Lemon verbena is a member of the large Verbenaceae family, commonly found in Latin American countries. It is not only used as a cooking ingredient but also as a medicine. As its name suggests, this herb can give off the citrus flavor to your dish.
Lemon verbena is an ideal alternative for lemongrass in fish and poultry dishes, salad dressings, vegetable sauces, and even beverages too.
On the other hand, this replacement will have a more robust taste than lemongrass, so you may need to decrease the concentration when using it. If you want a mild and pleasant smell of food, use 2 leaves of lemon verbena per 1 stalk of lemongrass.
Plus, you can expect a citrusy flavor without bitterness like lemon or lime. And remember to remove lemon verbena before serving if you don't want a sour mouthful.
7. Kaffir Lime Leaves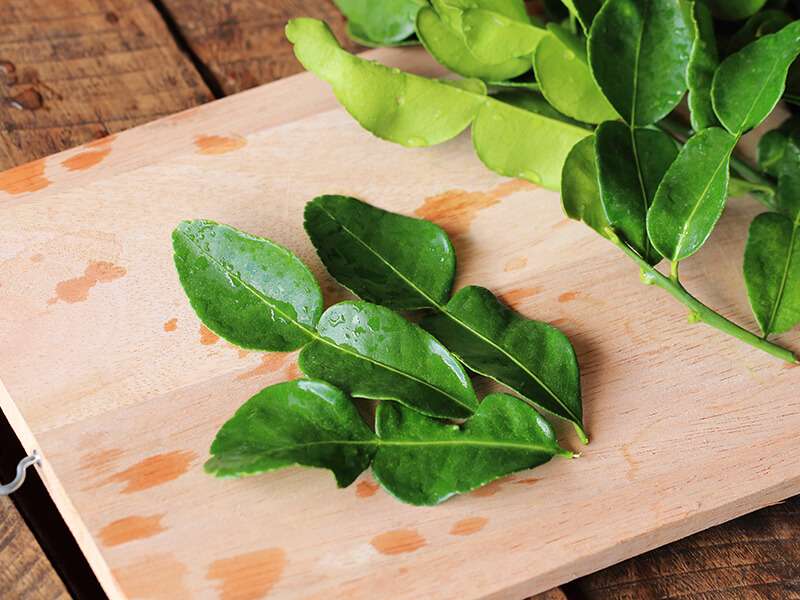 Lime zest may be too strong for some of you. Therefore, let's use kaffir lime leaves in your recipes. Like lemongrass, kaffir lime leaves are regularly used in Asian cuisine, especially Thailand, since this is kaffir lime homeland.
Look for them at the Asian markets in the city. Choose shiny and dark green leaves, as these are older leaves. They will give you a rich citrus flavor like lemongrass. Replace 1 kaffir lime leaf with 1 stalk of lemongrass.
Keep in mind that liquid-based dishes are the best suitable recipes for this replacement.
Note: Don't put them in the blender; it is better to cut them into thin ribbons for better taste.
8. Lemon Balm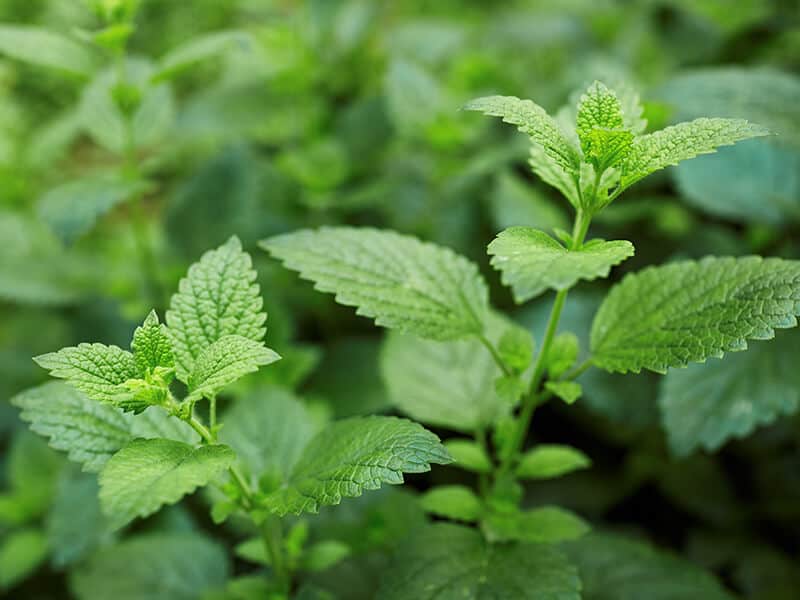 Lemon balm is a native plant mainly growing in south-central Europe, Central Asia, and the Mediterranean basin. It is used in cooking and is a good ingredient in treating cramps, digestive problems, and headaches.
Not only can lemon balm add the citrus flavor to your dish, but bring up a minty note also. Notably, the lemon balm works incredibly well in desserts such as British lemon curd tarts. Adding them at the end of the cooking process will retain the freshest flavor.
In terms of the ratio, the best formula will be 4:1 (4 lemon balm leaves vs. 1 chopped stalk of lemongrass.)
9. Lemon Juice
When I'm just too lazy to shave the lemon zest, I often cut a lemon in half lengthwise and squeeze out the juice. Whether lemon zest or lemon juice can be a great substitute for lemongrass, it is always the fastest and most convenient option.
However, if you choose to use lemon juice instead of lemon zest, you have to adjust the volume meticulously to avoid overwhelming your food with a sour flavor. It will not be pleasant to eat an overly sour dish.
Keep in mind that lemon juice goes well with sauces or salad that call for lemongrass. Use ½ teaspoon of lemon juice for every 1 tablespoon of chopped lemongrass.
10. Preserved Lemon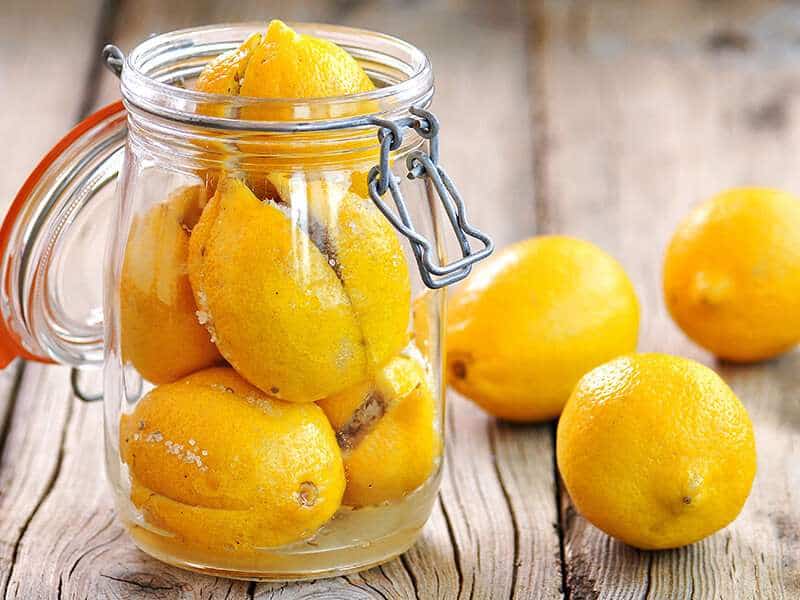 When I first saw my friend using preserved lemon to replace lemongrass in her recipe, I was shocked! I used to have bad prejudices about this kind of ingredient as a lemongrass substitute, but that quickly disappeared until I tasted my friend's dish.
Preserved lemon adds citrus flavor to your dish but on a very light and mild note. As long as you use the appropriate portion, you will have a mouth-watering recipe just like you do with lemongrass.
All you need to do is notice the salty level. As preserved lemon holds a high salt content, you will need to adjust the condiments when seasoning. ½ teaspoon of preserved lemon will be equal to 1 stalk of chopped lemongrass.
Note: Preserved lemon is best used in seafood recipes like fish, shrimp, and prawns.
Homemade preserved lemon can be stored for months! Watch this video to know more:
5 Multi-Ingredients Lemongrass Substitutes: More Flavors For Your Dishes
This is a special bonus for those who want a complicated flavorful taste but have a lemongrass tone too. Here I will introduce 5 options for you to choose.
11. Arugula and Lemon Zest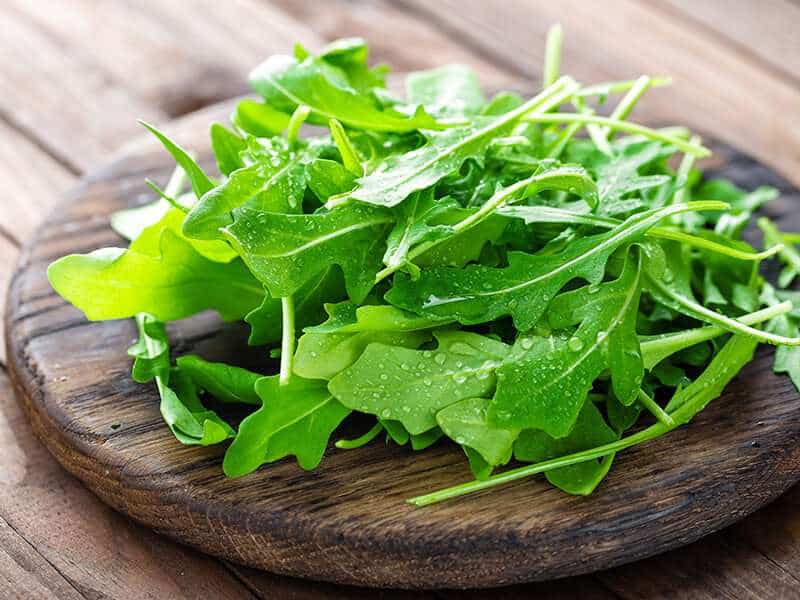 Arugula, also called rocket or roquette, is a leafy vegetable. They have a slightly sour, bitter, and quite strong taste. In other words, arugula has a different flavor profile compared to lemongrass.
But it is not a bad choice to replace lemongrass since there is the additional flavor of lime zest. This companion can help to make all of your liquid-based dishes more flavorful, in a distinctive but outstanding way. Hence, give this formula a try!
In case you're still hesitant about the pungent smell of arugula, choose the young leaves. Young leaves will have a tenderer texture with a milder and sweeter flavor. About the ratio, 1 stalk of lemongrass will be equivalent to 1 arugula leaf and 1 teaspoon of lemon zest.
12. Ginger and Coriander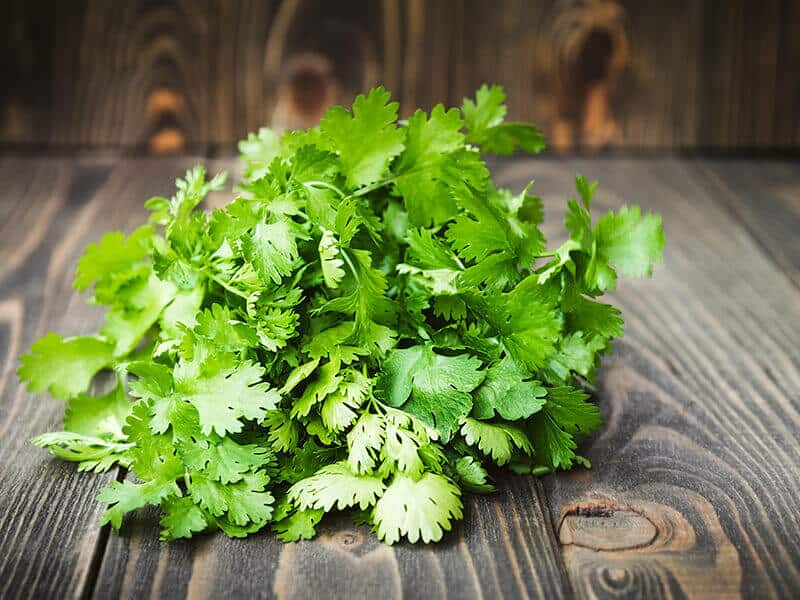 Combining fresh ginger and fresh coriander is a good way to replace your lemongrass. These are two worldwide popular spices, so you can grab them at any outdoor market or supermarket in the city.
This combination might be a bad choice for coriander haters, but it is the should-be-on-list item for coriander lovers. The strong but aromatic taste of coriander mixed with the herbal taste of ginger will be an almost perfect copy of lemongrass to add in soups and broths.
Use the stalks of coriander instead of the leaves; they will have a milder taste. 2 teaspoons of ginger and 2 teaspoons of coriander stalks will be a proper ratio portion for 1 stalk lemongrass. And don't need to remove them before serving as they can be eaten.
Note: Don't forget to choose gingers with smooth and unblemished skin and cilantro with bright green stalks for better taste.
13. Lemon Juice, Lime Zest, and Kaffir Lime Leaf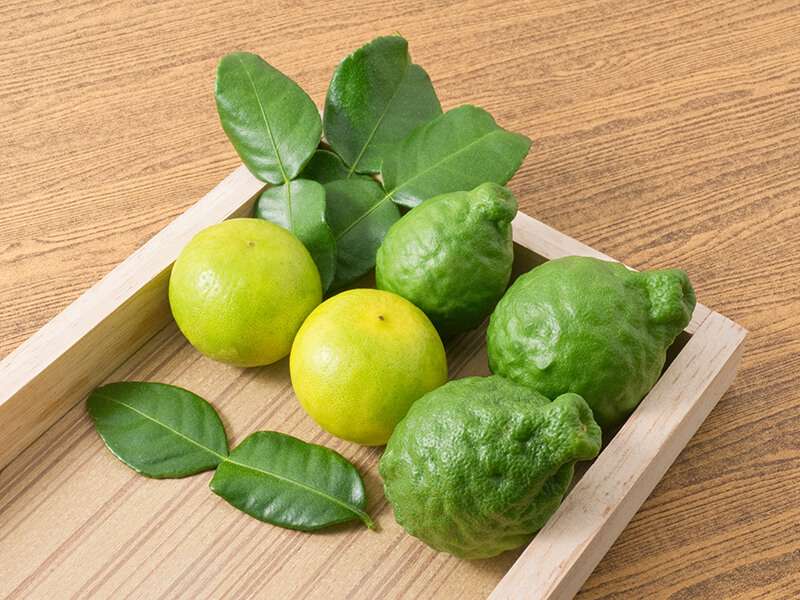 The superior combo of three ingredients, including lemon juice, lime zest, and kaffir lime leaf is literally a flavor explosion. It helps to mimic the taste of lemongrass as exactly as it can be.
Don't forget to chop the kaffir lime leaves into thin ribbons like when you use them independently. Then, squeeze the lemon juice, shave the lemon zest and mix them well. You can use this mixture in sauces, broth, or liquid-based dishes.
For the most lemongrass-like flavor, go for 1 tablespoon of lime zest, 1 Kaffir lime leaf, and 2 tablespoons of lemon juice for 1 stalk of lemongrass.
14. Mint Leaves, Lime Juice, Ginger, and Sugar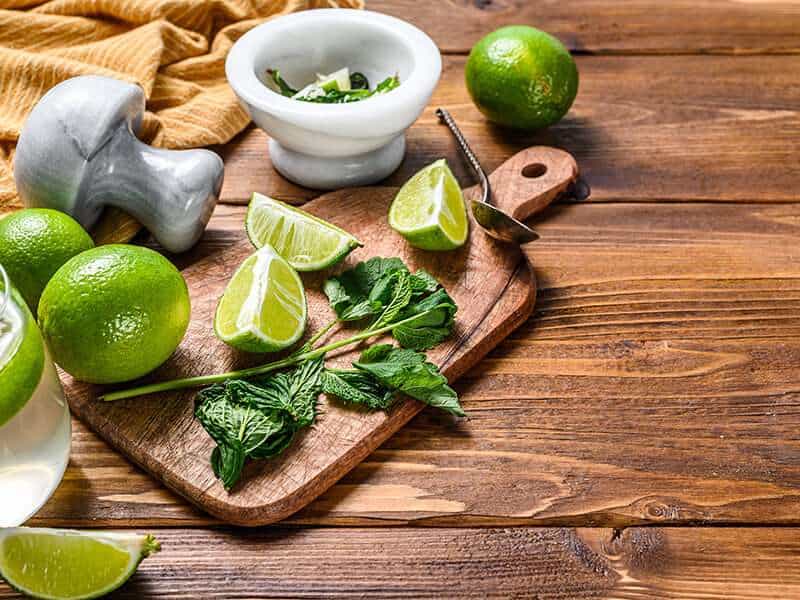 Want to add a mint flavor to your recipe as an alternative to lemongrass? No problem. This combination should be on your list! Mint leaves, lime juice, ginger, and sugar – all of them are just so refreshing. This package is especially suitable for the tom yum recipe.
With about 6-8 mint leaves, 2 teaspoons of lime juice, ¼ teaspoon chopped ginger, and ¼ teaspoon of sugar, you will have a magical alternative for 1 stalk of lemongrass.
A little herbal aroma, with citrus flavor and a spicy hint of ginger, this combination will give your dish an almost alike taste like lemongrass.
15. Kreung (Lemongrass Paste)
Another great substitute for lemongrass is Kreung, or also called lemongrass paste. Kreung is a Combodia product that is an essential condiment in sauces, curry paste, and salads. It is a mixture of crushed lemongrass, shallots, and galangal.
Kreung is a famous Cambodian spice. They are also produced for export around the world. So don't need to worry. You will easily find it in an Asian supermarket near your house.
Krung is very easy to use. You just need to use 1 tablespoon of Kreung to alternate for 1 tablespoon of chopped fresh lemongrass.
Make the homemade version of Kreung yourself if you can't find the canned one!
Health Benefits – Does Lemongrass Good For You?
Lemongrass is considered one of the healthiest plants in the world. And yes, it deserves all the reputations. Here are four notable health benefits it can offer you.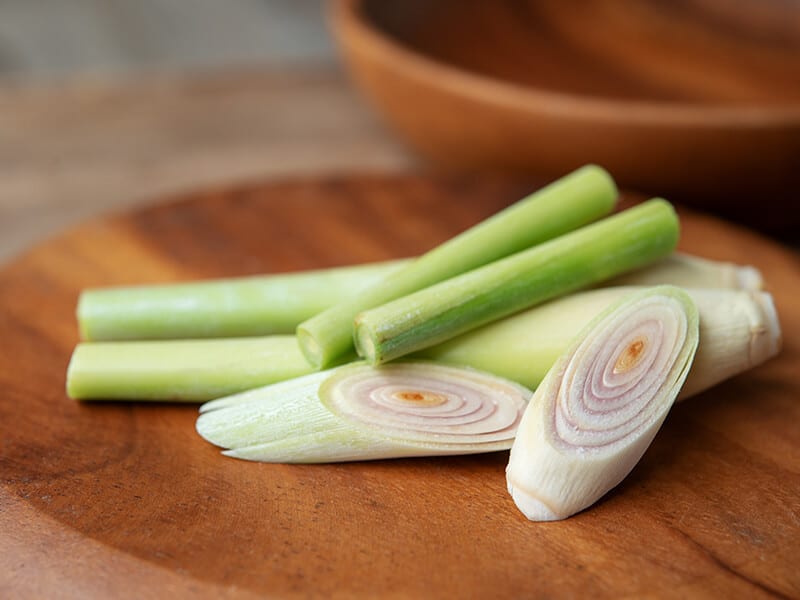 1. Help To Decrease The Cholesterol Level
According to an animal study published in the Food and Chemical Toxicology journal, anti-hyperlipidemic and anti-hypercholesterolemic properties in lemongrass oil can be helpful in fighting against the sudden change in blood cholesterol level. (1)
2. Treatment For Gastrointestinal Diseases
In 2012, research was conducted to investigate the effects of lemongrass oil on gastroprotection. The results indicated that lemongrass helps to improve stomach ulcers, ulcerative colitis, reduces inflammation, and treats digestive disorders. (2)
In addition, it is also beneficial for the digestive system, such as curing constipation.
3. Protect Your Body From Infection
Lemongrass's antimicrobial and antifungal properties make it effective as a "panacea" in treating infections. Especially dermatological infections such as ringworm, Athlete's Foot, and yeast infections. (3)
By preventing the spread and growth of pathogens, it makes the treatment process faster.
4. Indispensable Part In Aromatherapy
Lemongrass is one of the main key ingredients used in aromatherapy. Good compounds found in lemongrass such as neroli, citronellol, geraniol, methyl heptenone, and myrcene help reduce stress and anxiety. (4)
Moreover, they also regulate blood circulation and tighten the subcutaneous tissues.
5. Other Significant Health Benefits
In addition to the above effects, many other studies have also found other potential health benefits that lemongrass can offer to the human body, including detoxifying your body, relieving insomnia, and using as a treatment for respiratory disorders. (4)
Lemongrass oil is a refreshing and healthy ingredient that you should have at home. Watch this video to know more:
FAQs
Don't skip out on this part, because you may find some crucial information that should not be noted. Scroll down for a better understanding.
Choose The Best Substitutes For Your Recipes!
So, do you believe it's really not that hard to find a substitute for lemongrass? Although this plant is hard to find, you totally can replace it with some other ideal ingredients according to my recommendations in this post today.
Nothing can duplicate the original flavor of lemongrass, but my suggested substitutes can try their best to bring you the closest taste. Keep in mind that every replacement will have its own strengths. Some of them may not work well in stews, but in salads and vice versa.
I really do hope that my post here can be helpful for you guys. If you have found out the right replacements for your recipes from this list, don't forget to leave a comment below to let me know. I would love to hear about that!
References
Costa, C. A., Bidinotto, L. T., Takahira, R. K., Salvadori, D. M., Barbisan, L. F., & Costa, M. (2011). Cholesterol reduction and lack of genotoxic or toxic effects in mice after repeated 21-day oral intake of lemongrass (Cymbopogon citratus) essential oil. Food and Chemical Toxicology, 49(9), 2268-2272.
Fernandes, C. N., De Souza, H. F., De Oliveria, G., Costa, J. G. M., Kerntopf, M. R., & Campos, A. R. (2012). Investigation of the mechanisms underlying the gastroprotective effect of Cymbopogon citratus essential oil. Journal of Young Pharmacists, 4(1), 28-32.
Silva, C. D. B. D., Guterres, S. S., Weisheimer, V., & Schapoval, E. E. (2008). Antifungal activity of the lemongrass oil and citral against Candida spp. Brazilian Journal of Infectious Diseases, 12(1), 63-66.