What does tarragon taste like? All kinds of herbs in this world have their own characteristic taste. And tarragon is not an exception. I'm sure all French cuisine lovers are no strangers to this herb. However, if you're still new to tarragon, dig into this post to have a clearer insight.
But wait! It is a fact that tarragon is divided into several kinds based on their origin country. In this post, not only will I discuss the taste of the most popular tarragon – French tarragon, but also talk about the flavor of both Mexican and Russian tarragon too!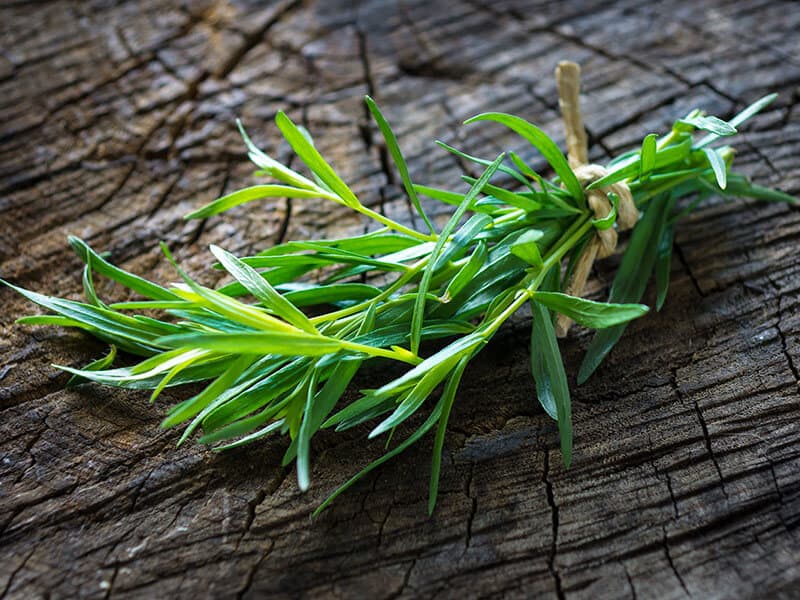 What Does Tarragon Taste Like?
Well, it is a flavor symphony. Tarragon flavor is a combination of sweetness and bitterness blended with some subtle notes of licorice, anise, vanilla, and pepper.
If you're careful enough, you can notice a fresh minty scent with a dedicated hint of eucalyptus, which sets tarragon apart from other herbs. On the other hand, the diversity in tarragon varieties also significantly affects their taste.
Want to know more about the specific flavors of each type, right? Look down to figure out more detailed information!
Tarragon – The World Healthy Beloved Herb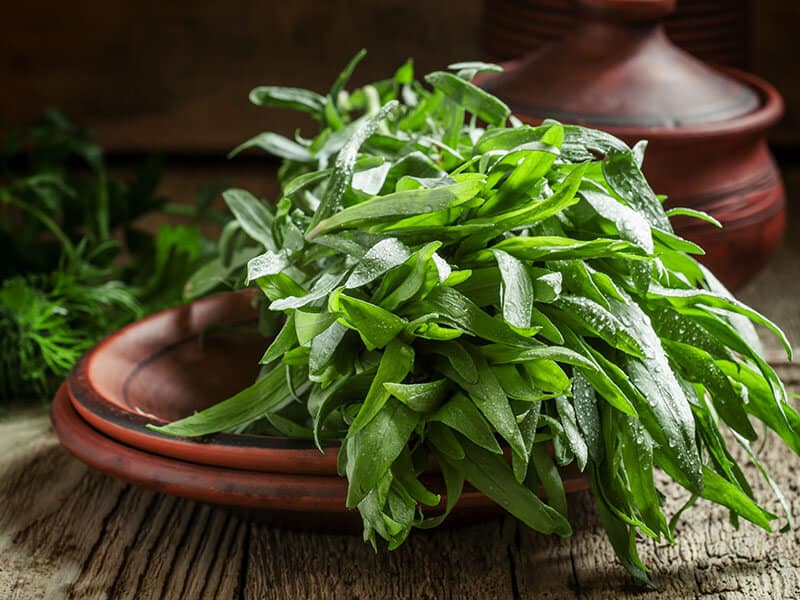 Before you go shopping to get this herb, it is necessary to know some general information about it. Tarragon is quite popular now, but not everyone is familiar with it.
1. What Is Tarragon?
Tarragon (or estragon) is categorized into the Artemisia genus, which belongs to the Compositae (sunflower) family. It is believed to have originated from Mongolia and Siberia. Then it was brought to Europe after the Mongol invasion.
The name "tarragon," in Latin, is "dracunculus," meaning "a little dragon." It is a herbaceous plant, averaging 4-5 feet tall. Its leaves are thin, glossy green, slender, and lance-shaped. This plant is currently found worldwide from Asia to Europe and also parts of North America.
It is considered one of four basic cooking herbs in French cuisine, including tarragon, chervil, parsley, and chives. French love tarragon and nicknames it as "the king of herbs" because of the delicate flavor it imparts.
It is interesting that, unlike other cooking herbs, in medieval times, tarragon was not used in the culinary world. Instead, it is only referred to in ancient texts as a pharmaceutical.
This is what you might need to know more about French Tarragon.
2. Cooking Applications: What Is Tarragon Used For?
Tarragon is an aromatic herb that not only plays an important role in French cuisine but also is welcomed in many other parts of the world. Both the dried and fresh forms are highly appreciated. This herb especially goes with fish, chicken, and egg dishes.
Furthermore, tarragon is also added into sauces, soups to push the flavor and grounded into butter or cheeses for a fragrant salad dressing. It is a part of potica – a Slovenian dessert cake, or sabzi khordan – a traditional Persian platter with many herbs and veggies.
Finely chopped tarragon also can join your recipes of quiches, omelets, or frittatas. Also, you might not know that this herb is used to make Tarkhuna – a drink consumed widely in Eastern European nations.
Make this irresistible recipe with tarragon! You can see this video to know more:
What Does Tarragon – "The King Of Herbs" Taste Like?
In this section, I will give you the most specific description of all tarragon varieties' flavor profiles. They may taste alike at the first taste, but there are still notable differences that set them apart from each other.
| Varieties Of Tarragon | Appearance | Taste |
| --- | --- | --- |
| French Tarragon | Greener leaves with the height of 24 inches maximum | Sweetness win over bitterness with some notes of licorice, anise, pepper and eucalyptus (citrus flavor sometimes is included) |
| Russian Tarragon | Lighter color leaves with the height of 35 inches maximum | Bitter and stronger taste but lighter in flavor and smell - Tend to lose the flavor time over time |
| Mexican Tarragon | Lighter color leaves with the signature bright yellow-gold flower | Well-balanced between sweetness and bitterness - Closer to the French tarragon flavor with a clearer anise note. |
1. French Tarragon – Dedicated And Elegant Reminiscence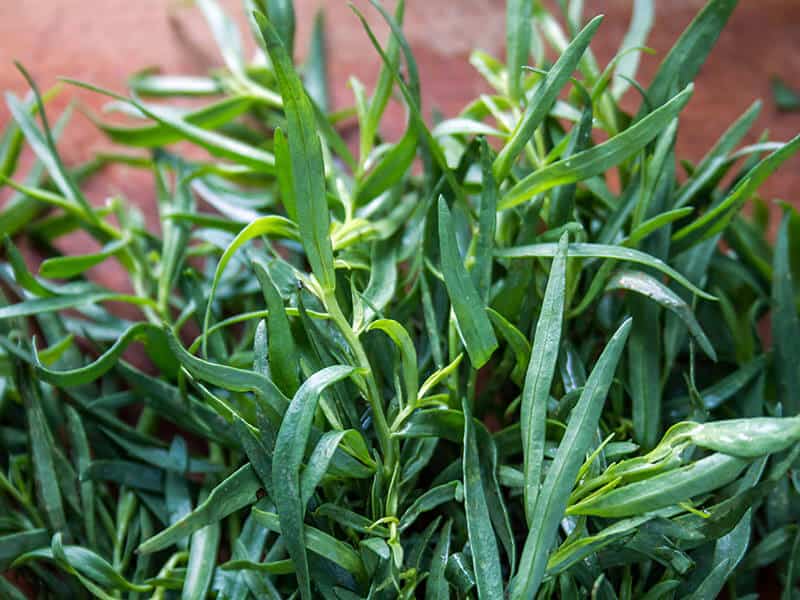 French tarragon is the most common variety of tarragon which is mostly used in cooking. On the outside look, it has greener leaves but much shorter than other ones (only can reach to 24 inches). French tarragon is usually cultivated in temperate regions.
French tarragon flowers are pale and light green, which cannot be used for cultivation due to non-seed production.
In general, if I have to explain the taste of tarragon in some words, I will describe it as bitter and sweet. However, in the French tarragon taste, the sweetness will prevail over the bitterness, making it more sought-after than Mexican or Russian cuisine.
The balance between a hint of licorice and a note of anise in French tarragon is almost perfect. It is not too pungent and subtle enough to slip through your nose without overwhelming your taste buds.
Moreover, French tarragon is said to have a little taste of citrus, pepper and a kick of eucalyptus scent as well.
2. Russian Tarragon – Never A Forbidden Child
In terms of appearance, Russian tarragon looks more or less the same as French tarragon, but it is usually taller (up to 35-inch), has smaller and lighter color leaves. It is an easy-to-grow variety since it can deal with arid climates very well.
Therefore, Russian tarragon is the most less time-consuming cultivated variety, resulting in a more affordable price.
The Russian tarragon is believed to have a stronger taste than the French one. But in terms of the smell, it is much lighter. In the flavor profile of Russian tarragon, the bitterness wins over the sweetness and takes its throne.
Like French tarragon, Russian tarragon also gives off a very light anise and licorice aroma due to the presence of methyl chavicol. But unfortunately, the taste of Russian tarragon will pass with its age. In particular, the older the tarragon is, the more flavor it loses.
That's the reason why you rarely see them appear in the cooking world.
3. Mexican Tarragon – Different But Well-Cooperated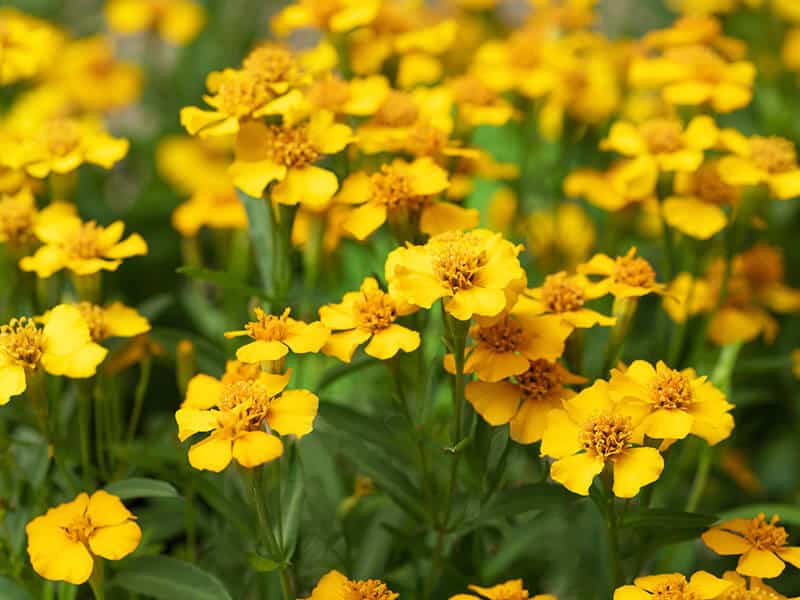 This tarragon has other names, called Spanish tarragon or Texas. Mexican tarragon comes from a different family (Tagetes lucida). It is actually a type of marigold since the plant produces yellow-gold flowers.
Despite that, Mexican tarragon is used popularly in cooking like French Tarragon because of the similarity in flavor.
While French tarragon is sweeter and Russian tarragon is bitter, Mexican tarragon tastes somewhat neutral. Surprisingly, despite belonging to different families, Mexican tarragon is still closer in flavor to French tarragon than the Russian one.
Sometimes, Mexican tarragon also reminds you of Italian basil. And you can find that the anise aroma in Mexican tarragon will be more robust. In case of running out of French tarragon, Mexican tarragon is the best substitute you can find.
Fresh Tarragon Vs. Dried Tarragon: How To Tell The Differences
In general, fresh tarragon gives off a clearer sweet taste of anise with a full and more rounded flavor. Meanwhile, dried tarragon flavor seems to be more intense, but the bitterness can be quite overpowering, especially when you add too much to your dishes.
As a result, when using, the ratio will not be the same. You need to use only 1/2 teaspoon of dried tarragon to replace 1 tablespoon of fresh one.
Note: The fresh tarragon is not available year-round while dried tarragon can be found at any time within a year.
Health Benefits: Gifts For Your Healthy Body
Tarragon is one of the healthiest herbs on the planet. It offers various benefits to your body more than what you expected. Here are what you can gain beyond its cooking uses.
1. Low In Calories But Filled With Nutrients
On average, 1 teaspoon of dried tarragon only has 5 kcal but can provide you 0.1 mg of manganese (7% of RDI), 0.6 mg of iron (3% of RDI), and 54 mg of potassium (2% of RDI), which are beneficial for your metabolism, brain, cells and nerve function. (1),(2)
2. Sleep Quality Improving
As a descendant of the genus Artemisia, tarragon is good at improving insufficient sleep – one of the causes leading to heart diseases and type 2 diabetes.
Particularly, a study in mice published in The American journal of Chinese medicine showed that tarragon could help to improve sleep quality. (3)
3. Relieve Pains Caused By Osteoarthritis
In ancient folk medicine, tarragon was used as a treatment for pain caused by osteoarthritis.
A study conducted to investigate a dietary supplement called Arthrem with tarragon extract inside found that osteoarthritis patients who took 150 mg of Arthrem every day do feel better. Besides, the study indicates that decent dosage determines the effectiveness too.(4)
4. Other Health Benefits Of Tarragon
Excluding these prominent benefits above, tarragon also helps to regulate your blood sugar, increase appetite, prevent foodborne illness, and decrease inflammation. It is also especially suitable to add to your diet because of the low calories and small carbohydrate content.(2)
Choosing And Storing: Keep Your Tarragon Last Long
In case some of you are just new to this herb, I have some choosing notes for you. And for longer use, don't forget to check out these storing tricks I gave in the section below as well.
Choosing Tarragon Is Easy!
Whether you are buying dried or fresh tarragon, it is necessary to know how to choose the best ones for having the best experience. Reach out to this storing part first before moving to the storing sections
1. Bright Green Leaves Is Always The Best
When you are going to buy some fresh tarragon, the first thing you always need to notice is the freshness of your tarragon. Your tarragon must look like it is just cut off from the farm. The branches should be strong, and the leaves should not wilt and fall off when touching.
Most importantly, the tarragon you choose should have a refreshing and appetizing green color with an intense and aromatic smell. So, step away if it looks yellow and black, or has a bad smell.
2. Pay Attention To The Kinds
Fresh tarragon often has very distinctive trails, which makes them easier to distinguish. However, if you buy the dried version, you need to check the label to know what kind it is. Every variety of fresh tarragon is significantly different from each other. So do the dried ones.
Depending on the kinds, you also will get the different tastes of dried tarragon. Choose carefully to get the desired flavor. For example, dried French tarragon tends to have a stronger taste of anise while dried Russian tarragon almost has no anise/licorice smell.
Storing Tarragon: Need More Care But Simple!
And now, here are some tricks to store tarragon. Don't need to worry; tarragon is an easy-going herb. It is very simple to keep them fresh for a few days after purchasing.
1. Counter: Storing Your Tarragon With Water
If you are planning to use tarragon within 5 – 7 days, don't need to keep them in the fridge. All you need to do is prepare a water jar and put it as if you are arranging your flowers. Then, put the jar on your counter or any well-ventilated and cool place.
Stay away from high-temperature places, such as near the stove, as it can take your tarragon water content away.
2. Fridge: Your Paper Towel Can Be Helpful
Many people just simply let their tarragon be exposed in the fridge without any cover. However, not only will you not be able to keep tarragons longer, but you can also speed up their spoiling time. It is better to cover all of the herbs and veggies up to avoid wilting.
Rinse your fresh tarragon with water and pat dry them. Next, scroll them in a humid paper towel. Put them into a plastic bag and end up in your fridge. By this way, you can keep it fresh for up to 2 weeks.
3. Freezer: Best Option For Long-Term Storage
Like many other vegetables and herbs, you can store your fresh tarragon in the freezer for up to 6 months. Rinse it clearly and divide it into small amounts for one-time use. After that, put it in an airtight container (or plastic film) and let it sit in your freezer.
Use it directly if you want to add them to hot soups or any liquid-based dishes.
4. What About Your Dried Tarragon?
With dried tarragon, it is even more simple and easy. You only need to choose a cool, dark place and store your tarragon there. Remember to put them in an airtight container. It is a powerful "citadel" that can help you prevent invaders called moisture and bugs.
Note: Use your dried tarragon within 1 year of storing.
Cooking With Tarragon: 4 Need-To-Notice Tricks
Tarragon is a special herb that needs to be treated carefully. Keep in mind 4 useful tricks in the following to let your tarragon taste it best!
Start With Small Amount First: Since tarragon is a fragrant and aromatic herb with a sharp taste, you should start with a small amount for trial then increase the volume as you want. In this way, you will not be overwhelmed when enjoying your dishes.
Don't Add Your Tarragon Soon: Tarragon is fragile in texture. It softens very quickly after being added to any hot recipe. Therefore, you should add it at the end of cooking to make sure the flavor still stays the same.
Note: However, it's not the case with dried tarragon. Add it at the beginning of your cooking process.
Use A Smaller Amount With Dried Tarragon: Once you have to use dried tarragon to replace the fresh one, don't take too much. Dried tarragon is much more intense compared to fresh tarragon. With every tablespoon of fresh tarragon, use only 1 teaspoon of dried one.
Avoid Strong-Tasting Herbs: Remember – Your tarragon is the king. So, don't add it with the other herbs that also give off a strong taste. You can turn your dish into a disaster if you combine too many kinds of herbs with tarragon.
Take A Note: Best Dishes With Tarragon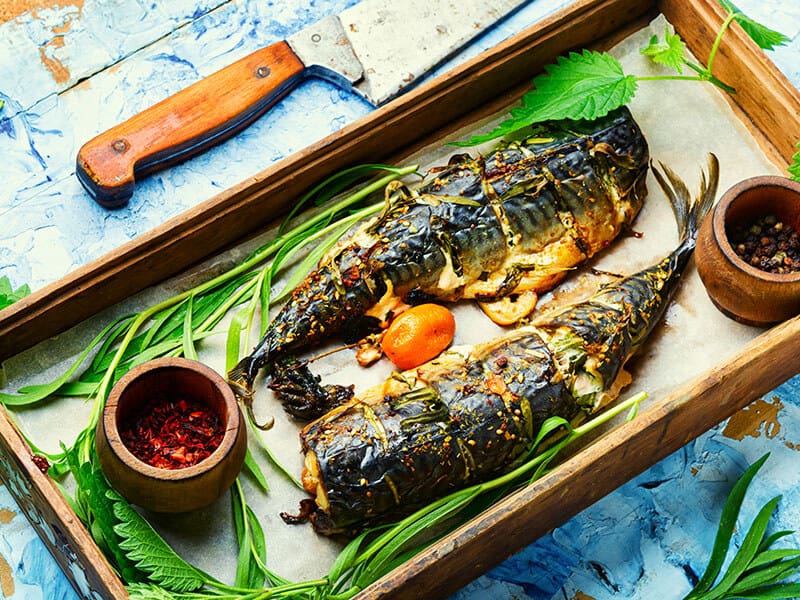 These are some of my favorite treats with Tarragon. I think you may need them too. Let's save them in any places you can easily reach out.
Chicken and Salmon: This is one of my favorite treats with tarragon. I often puree my tarragon finely and turn it into tarragon butter. My mouth-watering grilled chicken and salmon cannot be completed without the dedicated and satisfying taste of creamy tarragon butter.
Eggs: Tarragon is undoubtedly the ideal companion of your cute little eggs – From sprinkling chopped tarragon to the top of omelets or blending it into your scrambled eggs to adding it to your deviled ones. Almost all egg recipes can pair well with this fragrant herb.
Sauces: Allow the refreshing and aromatic flavor of tarragon to join the flavor symphony in your spices, such as bearnaise or hollandaise sauces. It will be your wisest decision.
Vegetable salads: I love the way tarragon makes its way to various veggie salads. Whether they are vinegar-dressing or cream cheese-dressing salads, there is no missing note here.
Discover more useful cooking tips with tarragon!You can see this video to know more:
FAQs
I'm sure many of you still have some other questions that need to be answered. Skim through these frequently asked questions below to get the problem solved!
Cherish Your Elegant Tarragon As It Should Be
You have been disappointed after trying something exaggerated as king? But I guarantee, for those who love to add a note of herb flavor into your food, tarragon is never the case. Once you use it in the right manner, you will never end up with a bland dish.
Tarragon is the culinary world's treasure. It deserves all of your best treats. If you are going to go for a recipe calling for this herb, make sure to add it to the decent recipes. The unique, elegant, and subtle flavor of tarragon will make you want to have it on hand year-round.
And now, I hope you can gain some helpful information about tarragon flavor from my post. Don't forget to leave a comment here if you have tried this herb. I would really love to hear from you all!
References
Spices, tarragon, dried – FoodData Central Search Results. 2021.
Autumn Enloe. 2018. 8 Surprising Benefits and Uses of Tarragon – Healthline.
dela Peña, I. J. I., Hong, E., Kim, H. J., de la Peña, J. B., Woo, T. S., Lee, Y. S., & Cheong, J. H. (2015). Artemisia capillaris Thunberg produces sedative-hypnotic effects in mice, which are probably mediated through potentiation of the GABAA receptor. The American journal of Chinese medicine, 43(04), 667-679.
Stebbings, S., Beattie, E., McNamara, D., & Hunt, S. (2016). A pilot randomized, placebo-controlled clinical trial to investigate the efficacy and safety of an extract of Artemisia annua administered over 12 weeks, for managing pain, stiffness, and functional limitation associated with osteoarthritis of the hip and knee. Clinical rheumatology, 35(7), 1829-1836.