The question "what does okra taste like" is sure to be your issue now. Once you know the okra taste, you will want to place it in your garden to be able to enjoy its distinct flavor at any time. Okra is not only a versatile and unique veggie, but it is also a good source of nutrients.
Okra might be an odd vegetable in many countries, but in certain regions like South America, the Middle East, or parts of Africa, okra is a vital ingredient to make delicious cuisines.
Okra has a slimy texture and exotic flavor that many people consider as an unattractive taste. However, others like the flavor of okra and use it in their salads, soups, and curries. Continue reading this post to have a good grasp of okra taste and other related issues.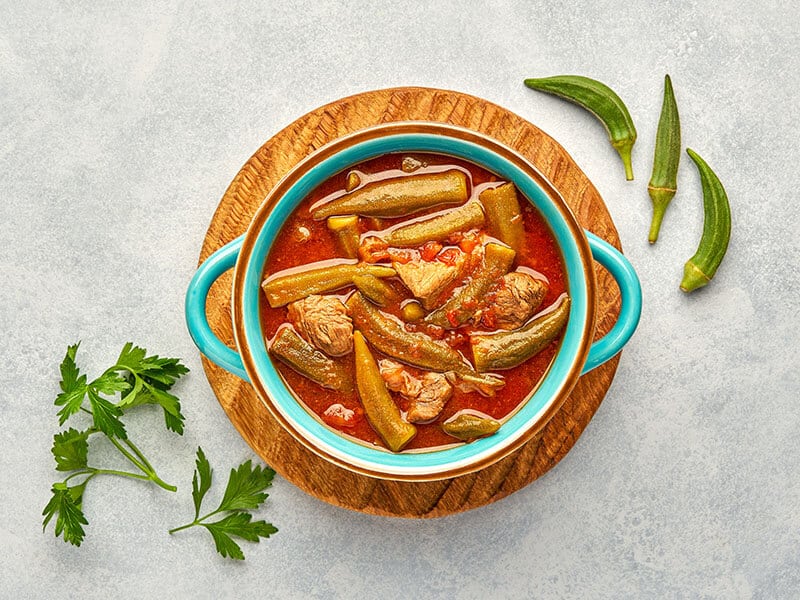 What Does Okra Taste Like?
Okra has an earthy and mellow flavor with a hint of sweet and grassy taste from the little seed pod. The taste of okra can be seen as the mix of green beans and eggplant taste. However, the noticeable thing in okra is not the taste but its extremely slimy texture.
The taste of cooked okra is similar to raw okra, but the texture can turn from crispness to softness when fried or boiled. The flavor of okra can be deepened or enhanced through cooking.
Therefore, the taste of okra can change a little bit in certain types of okra, varying from raw okra, fried okra, okra in gumbo, and pickled okra. Read on to explore specifically what okra tastes like and tasty ways to eat it.
Striking Facts About Okra That You Might Not Know
Okra, also known as ladies' fingers or ochro in many English-speaking countries, is classified as a fruit, but it is typically utilized like a veggie in cooking. Okra has an exclusive appearance with tiny white seeds inside covered by a fuzz like a peach.(1)
Okra is grown best in some countries like India, Mexico, Egypt, and Pakistan, with hot and humid climates. This healthy vegetable has become an ingredient staple in many Southern cuisines and is versatilely cooked in the culinary world with quick preparation.
The green seed pods can be sliced or cooked whole by various cooking methods, like a deep-fried snack, boiled, pickled, or gumbo. However, unless you like the sliminess of okra, you should choose suitable ways to cook it, such as grilling, frying, or roasting.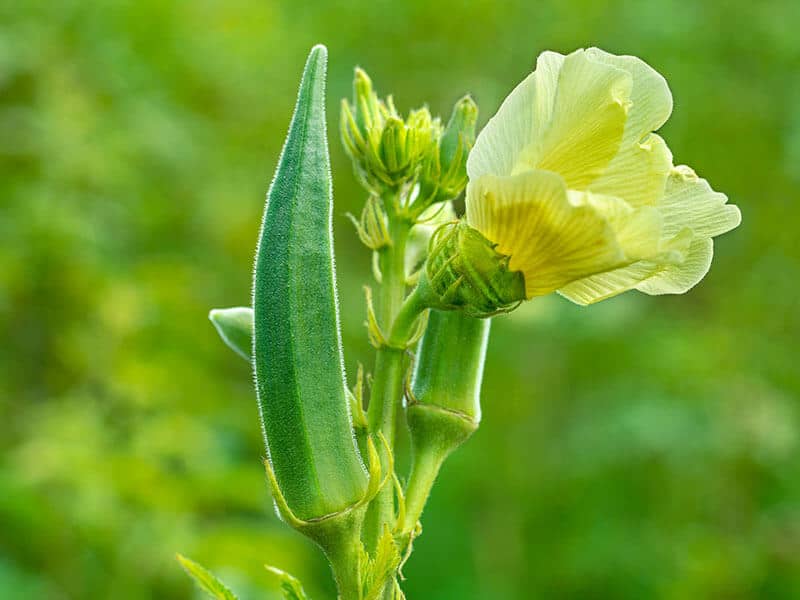 Amazing Nutrients In Okra And Its Fabulous Health Benefits
Okra is an excellent source of essential vitamins and minerals, including vitamin B, C, calcium, and other nutrients. Okra is one of the incredible vegetables low in calories and rich in fiber content. Therefore, okra brings to your body thousands of surprising benefits below.
Improving Your Overall Health
Okra is high in antioxidants that can prevent inflammation and enhance your overall health. Okra also helps to reduce the level of cholesterol, and then it can lower the risk of heart disease.
Reducing Cancer Risks
Most notably, okra consists of a protein known as lectin, which plays a substantial role in preventing and treating cancer. Especially, okra also satisfies folate needs for pregnant women to reduce the risk of neural tube defects.(2)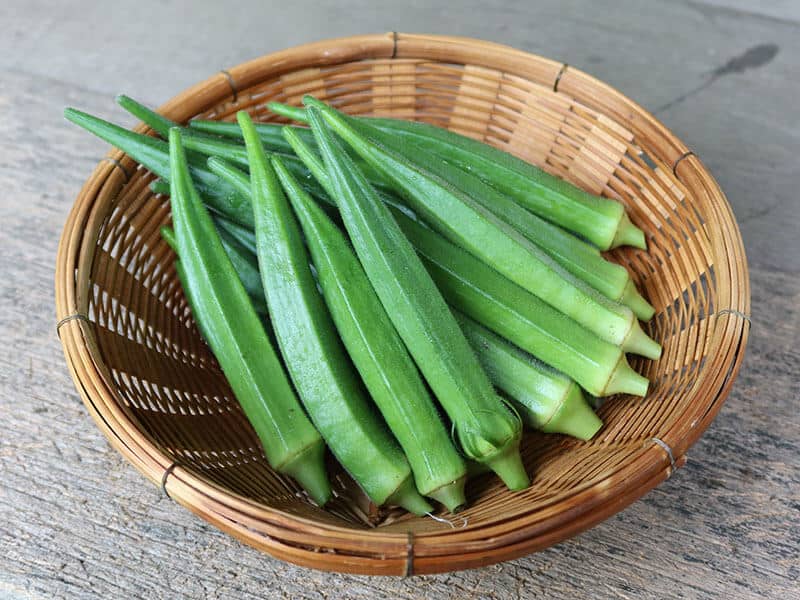 Weight Loss Support
Most parts of okra are valuable for medicinal purposes. For example, powdered seeds, okra peels, and okra water are famous forms of okra utilized in medicine. Besides, okra will help you lose weight effectively since it can make you feel full quickly and curb hunger.
Enhancing Sleep Quality
Surprisingly, okra also helps you improve your sleep quality thanks to its natural sedative effect, so you can fall asleep more quickly and sleep longer. These ladies' fingers are the perfect ingredient to use in your diet meal for a healthier lifestyle.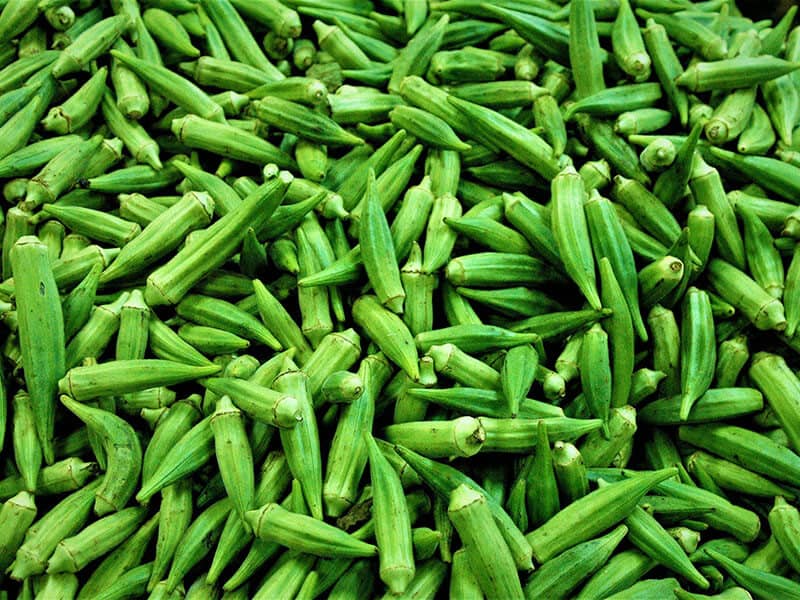 Inconceivable Taste Of Okra That Will Impress Everyone
Okra is a unique plant regarding its flavor and texture. Okra tastes mild and grassy, and its taste can be compared with eggplants or green beans. Okra taste might be dull to you if you love flavorful fruits or vegetables.
Although okra may look like bell peppers, okra is not spicy but slightly nutty when you bite the seeds. But you can make it spicy by mixing it with other dressings or condiments to have the flavors you want. Okra will have the best flavor once it is harvested at the right time.
When you want to eat raw okra, choose fresh baby okra since raw baby okra tastes so good, even fresher than loofah and cucumber. Baby okra tastes slightly sweet with soft, juicy meat and crispy, crunchy okra pods.
The good news is that the taste of okra can be enhanced by cooking. Okra works well with other ingredients or spices, so okra soups or other okra dishes are incredibly delicious. Right now I will help you to describe the wonderful taste of some remarkable okra dishes.
The taste of raw okra is insanely good and is certified by many people. You can see this video to know more:
Fried Okra: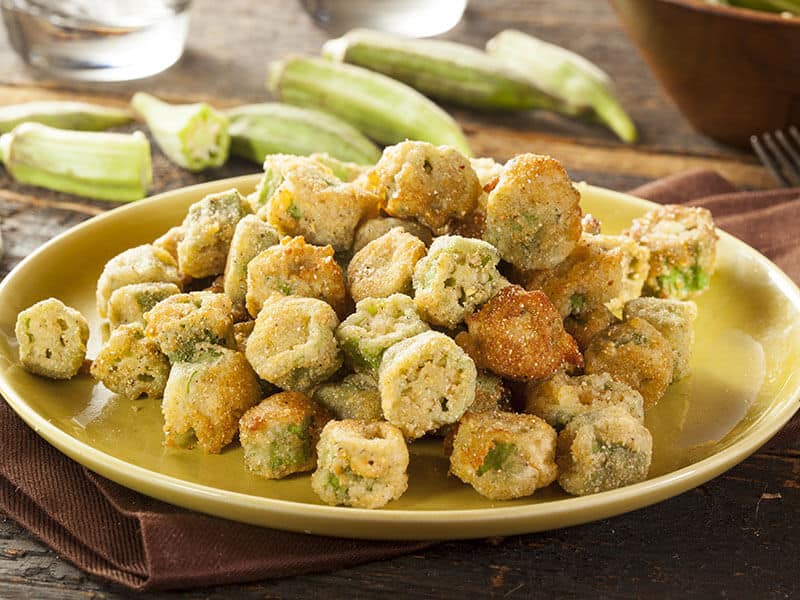 Fried okra has a crunchy and crispy texture thanks to the coat of flour and cornmeal. The silky texture of okra can be reduced if fried. Okra still maintains a sweet and grassy taste when fried, but its natural flavor will be milder and suit with a crisp batter.
Okra Gumbo: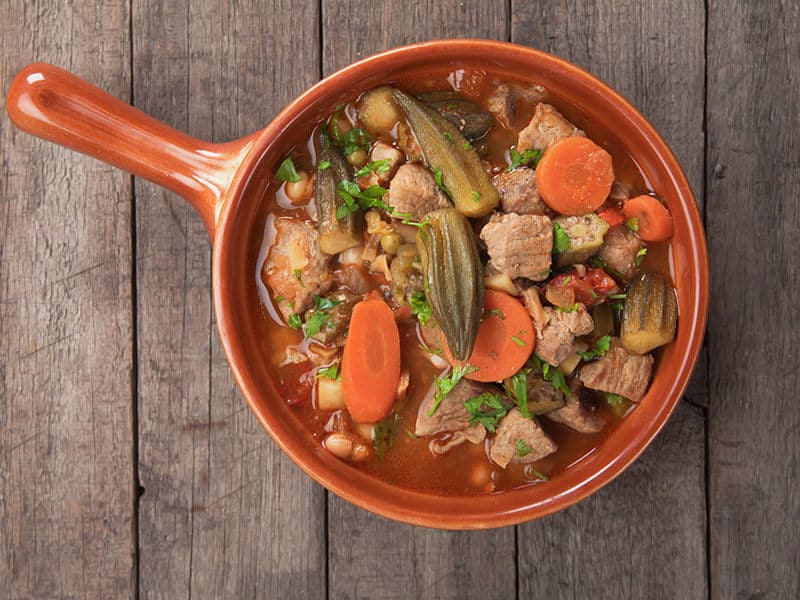 Okra in gumbo is so tasty, thanks to the great combination with other seasonings and ingredients. The natural taste of okra is brought to a new height when cooked in gumbo. You will find okra tastes awesome when utilized in gumbo.
Pickled Okra: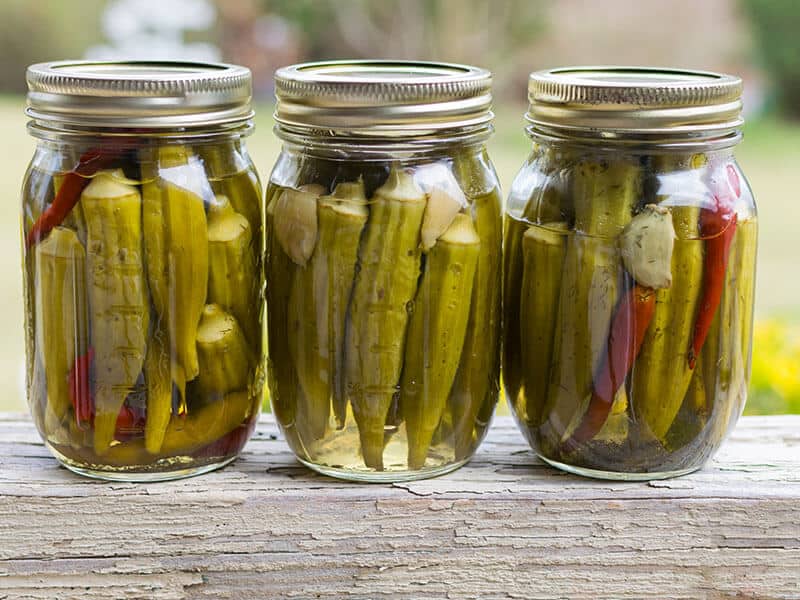 Pickled okra is a great way to enjoy okra for the whole year. The taste of pickled okra is so good, and many people love it. You can add hot peppers to your jar of pickled okra to make it spicy. Pickled okra tastes crunchy, tart with no slime, and might be spicy if added peppers.
The Unbelievable And Distinct Texture Of Okra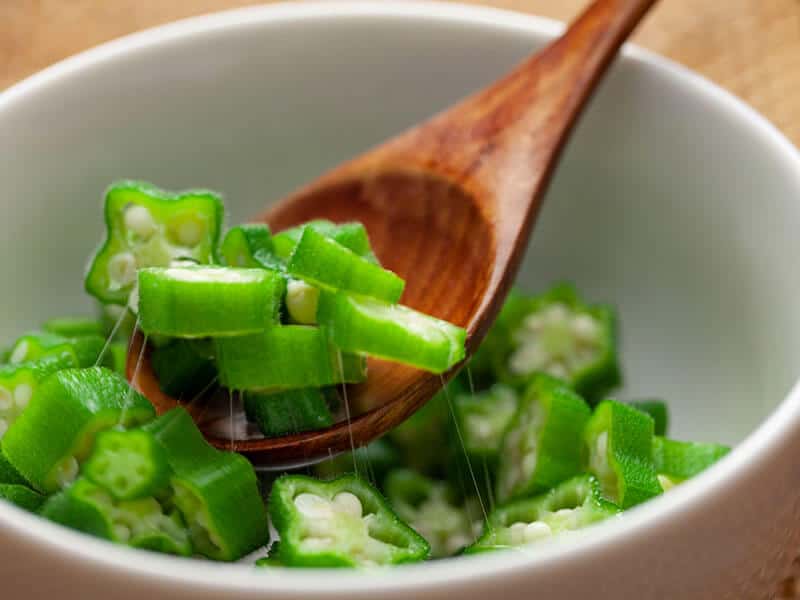 Okra has a unique texture that distinguishes it from other fruits and vegetables. Okra is crunchy or tender based on the cooking method, but generally, they have a slimy texture, so they are known as "mucilaginous".
The slime in okra consists of soluble fiber that can clean out your digestive system.(3) Some people seem to love this texture, but most people do not like it and want to reduce the slippery nature of the pods when cooking.
The slime is an indispensable part of cooking ladies' fingers. The slime is incredibly good regarding nutritional values and culinary aspects.
Helpful Ways To Diminish The Sliminess Of Okra
A great way to reduce the slime of okra is to make gumbo. After a long time of cooking, the slime will release and thicken your dish like cornstarch. Other ways to reduce the slime are done in the preparation step before cooking. Let's check it out.
Tip 1: Okra should be doused in vinegar for at least 30 minutes before cooking to reduce the sliminess, but you should clean it again with water and dry it before cooking. Feel free to cut your okra into the shape that you will use in your recipe.
Tip 2: Another tip is to avoid cutting okra into small cubes since okra will release more slime. The less you cut okra, the less slime it will release. After cutting your okra into large pieces, let the liquid dry before cooking.
Tip 3: Soak your okra in salt for about 30 minutes. Salt can draw the moisture out of your okra and help to wash the okra carefully. Before letting your okra sit in salt, cut them into the size that your recipe requires.
Tip 4: You can use a toothpick to poke some holes in the top of the okra to allow the fiber and liquid to release. Although this trick seems less effective than other techniques, it should also be considered since it is faster to diminish the slime.
Tip 5: You can slice the okra pods along the length and rinse them before cooking. In this way, the slime can be reduced significantly.
Tip 6: You can flash freeze your okra pods and cut them while they are still frozen. Frozen ladies' fingers will release less slime than fresh ones.
In addition to preparation tips to reduce the sliminess of okra, you should apply cooking methods without a lot of moisture, like pan-frying or grilling. Boiling or simmering will make your okra release more slime.
You can also quickly boil your okra to prevent the slime because the longer you boil, the slimier it is. Besides, cooking okra with a vegetable containing natural acid like tomatoes also helps it minimize mucilage.
Last but not least, don't forget to dry your okra before cutting and cook your okra at the beginning of the cooking process. Then, make the rest of the dish and add the okra lastly to finish the dish. This way can help you prevent slimy okra.
This instruction to cook okra without sliminess may help you a lot.
How To Choose High-Quality Okra?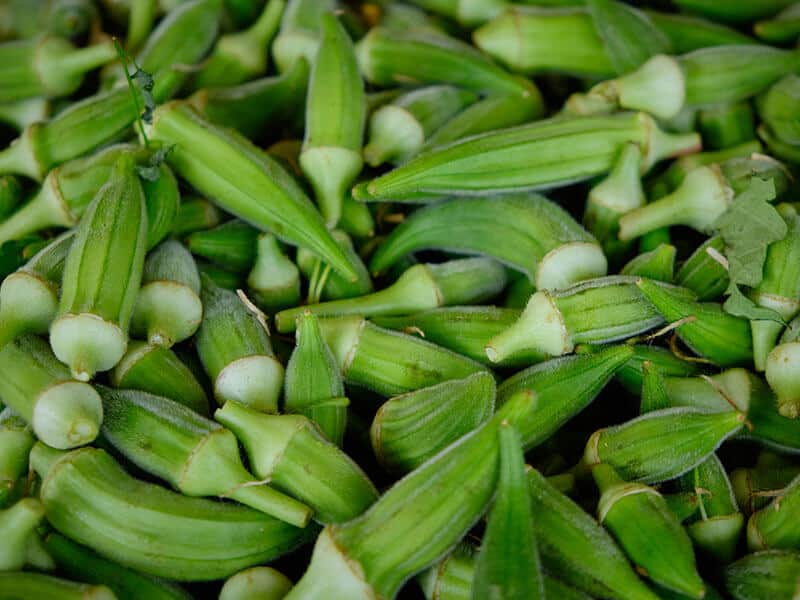 There are some simple signs for you to choose the best ladies' fingers. You should choose fresh okra that doesn't have any brown spots on the outside. The best okra is small and crisp with bright green and firm okra pods without any blemishes or shriveled.
If you don't plan to use okra in soups, you should not choose too big okra pods since they are old, hard, woody, and unsuitable for eating raw. The stems and pods of okra should be green to be considered fresh.
When you pick okra at markets, you should not purchase soft, dull, and blemished okra pods, and be careful with those longer than 4 inches. Moreover, okra pods with a sticky texture shouldn't be chosen since they are so ripe.
Storage Methods Of Okra That You Might Find Useful
Okra is a perishable vegetable, so it should be kept in the refrigerator or freezer to extend its shelf life. You should eat okra as quickly as possible, but if you want to keep it for more than one day, here is everything you need to know about storing okra.
In The Refrigerator:
Okra should stay fresh for two to four days in the fridge. Before refrigerating, you should place okra in a paper bag or wrap it with a paper towel and put in a perforated plastic bag. These okra pods should be kept in the coolest part of the fridge to have the optimal result.
The important thing is to keep okra dry during refrigerating since moisture can make your okra slimy. When you plan to eat okra, take it out of the fridge and let it sit at room temperature first to minimize the release of moisture while cooking.
In The Freezer:
If you want to store your okra for a long time, freezing is the only choice. After buying okra from the supermarket or harvesting okra from the garden, rinse thoroughly. Then, cut off the stems and make sure the seed cell is not exposed.
The next step is to blanch them for three to four minutes. Place them in cold water, and then drain the water. You can freeze the whole okra or chopped okra for your preference. Transfer your okra to a freezer bag. Seal and put it in the freezer for up to a year.
How To Tell If Okra Has Gone Bad?
Okra can go bad quickly if you don't store it properly. Now I will tell you some obvious signs to recognize bad okra pods. The signs of bad okra might vary from unharvested okra to how it is stored.
Unharvested Okra:
For unharvested okra, you can realize bad okra when it turns brown and hard. This sign indicates your okra is ripe and cannot be eaten. The pods of ripe okra are very hard and small seeds inside turn from white into black.
Okra At Room Temperature:
For fresh okra stored in your pantry for more than one day, you might find that they will become soft and slimy. This means your okra has gone bad and you should discard them for your safety.
Refrigerated Okra:
Okra kept in the refrigerator should be fresh for a few days. But if you store your okra pods in the fridge for a long time, they may also become soft and slimy, even mold will grow on them. This can happen if the moisture gets in your okra during refrigerating.
Frozen Okra:
Unfortunately, I have to say that frozen okra can suffer from freezer burn if you let it sit in the freezer for too long. When you notice this sign, you had better get rid of these okra pods since they may lose their nutrients and are not safe to eat anymore.
Some Fantastic Ways To Prepare Okra You Should Explore
Okra is so versatile in making tons of delicious dishes. In addition to gumbo – a famous use of okra, there are some creative ideas for you to try okra in different ways.
Making Pickled Okra
Pickling okra is a tasty way to enjoy okra. Pickled okra is made based on conventional pickling methods, but you can add savory spices to make it flavorful. This method can be made with apple cider vinegar to have a unique taste.
Pickled okra should be added garlic, peppercorns, paprika, and chili flakes to kick the spicy flavor. You can add any ingredient to have the tastes you want. Pickled okra can be a delicious crunchy snack or a garnish in cocktails.
Easy-to-follow tutorial on how to make pickled okra makes everything easier and faster.
Stir-Frying Or Deep Frying The Okra
If you want to enjoy the crispness of okra, stir-frying and deep-frying are the best options. But remember to use the above tips to make sure your okra doesn't release too much slime.
In deep frying, the batter will help your okra have an extra crunchy texture, but frying okra on its own is also great and has a similar result.
Roasting Okra
Another great way to eat okra is by roasting it. Like other roasted veggies, roasted okra is so delicious, crunchy, and crispy that you cannot resist. With just a few simple steps, you can make roasted okra quickly.
Remember to soak okra in the vinegar for 30 minutes before roasting to minimize the sliminess and make your roasted okra crunchier. Then, mix your okra with smoked paprika, pepper, flour, olive oil, garlic powder, and any ingredient you prefer. Bake and enjoy!
Roasting okra is so simple to make and is one of the best choices to enjoy okra. You can see this video to know more:
Fabulous Okra Recipes You Need To Try At Least Once
Here are some remarkable and delectable okra recipes I picked for you. These recipes are so simple to make, but the result will surprise you and impress your family. Maybe they will change your negative mind about okra.
Shrimp and okra gumbo is loaded with shrimp stock or chicken stock, chopped okra, and other spices. This tasty dish will satisfy your weekend with an intense and complex flavor. Okra is a necessary ingredient and a natural thickener to make your gumbo thicken.
You might think that okra in gumbo will be slimy, but surprisingly, okra is soft, creamy, and almost loses the mucilage once cooked in gumbo. It would be best to serve gumbo with rice or bread to make it more fulfilling.
Indian stir-fried okra can make you go "wow" with the excellent mix of crispy okra, sweet onions, and aromatic tomatoes. Bhindi masala is best once served with warm rotis. This vegan and gluten-free dish is prevalent in India and has become an Indian beloved dish.
Making bhindi masala is so simple with just a few basic ingredients in your pantry, but the result is impressive. Okra in this recipe should be stir-fried first, and then add the rest of the ingredients later to diminish okra's slime.
Try making bhindi masala for your beloved family following these simple steps.
Stewed okra and tomatoes are scrumptious and are made with bacon, canned or fresh tomatoes, sliced okra, and flavored with onion, garlic, or celery. This wonderful vegetable dish is an excellent side dish to make a perfect meal and a healthy way to enjoy okra.
This stewed okra and tomatoes is a great summer dish that you can serve with rice to fulfill your meal. Depending on your desire, you can make vegan okra and tomatoes or make this dish healthier by removing the bacon and using olive oil for cooking the onion.
What Vegetables Can Substitute Okra?
The taste of okra resembles the taste of some vegetables like eggplants and green beans that I told you about above. Therefore, you can use these vegetables to swap for okra if you don't have okra on your hand and your recipe calls for this ingredient.
Your substitution has to be suitable with the functions of okra in that recipe. For instance, if you want to replace okra in gumbo, you should add a thickening agent besides swapping a vegetable for okra, such as cornstarch or potato flour.
Some suggestions to substitute for okra in soups or fried dishes are zucchini, cactus, green beans, eggplant, and other summer squash. Don't forget that these vegetables cannot thicken your soups, so you need to add a thickening agent in some recipes.
Zucchini
Zucchini is an excellent option you should consider when you are finding a good substitute for okra. Zucchini has a mild and light flavor similar to okra, and luckily, the texture of zucchini is also soft like okra once cooked.
It is an ideal choice to replace okra with zucchini as you want to swap okra as a side dish. Zucchini can be enjoyed on its own and made into delicious side dishes similar to okra.
Green Beans
Unlike okra, green beans can be found easily in all seasons. Green beans can be a tasty side dish on their own or used versatilely in your recipes. Green beans are also loaded with tons of nutrients like okra, such as antioxidants, folate, fiber, and vitamins.
There are lots of cooking methods you can make with green beans, including blanching, steaming, or stir-frying. But the best method to substitute okra is pickling them. Pickled green beans are a great alternative for pickled okra since they have the same crunchiness.
Eggplant
Eggplant is much bigger and heavier than okra. They have a purple-black color and are also nutritious and healthy with a low content in cholesterol, calories, and sodium.
Eggplant can be swapped for okra in soups and stews. Once cooked, this healthy vegetable has a soft texture similar to okra.
FAQs
The information above is everything about okra. I believe that they will help you with your problems. But if you are confused about some issues related to okra, trust me, you might find the answer in the frequently asked questions below.
Why Should You Choose Okra To Add In Your Daily Recipes?
Okra is a healthy vegetable with a mild and grassy taste, but it will be more flavorful once cooked with other ingredients. The mucilage of okra is entirely good for your body with lots of nutrients and health benefits.
However, unless you like the okra slime in your dishes, you can follow the above tips and tricks to minimize the slime I showed you in the previous parts. There are many okra recipes from different cultures for you to experience since it is so versatile in cooking.
Okra is an excellent and interesting ingredient to add to your everyday meals for lots of reasons regarding its nutrients and unique taste. The next time you want to add more vegetables to your diet, let's try eating okra, and you will not regret it.
I hope this post will help you with your queries related to okra. Should you have any questions about okra, please let me know through the comments. And don't forget to share with your friends who are still confused about the taste of okra.
References
En.wikipedia.org. 2021. Okra – Wikipedia.
Centers for Disease Control and Prevention. 2021. Recommendations: Women and Folic Acid.
Necheles, H., Sapoznik, H. I., Arens, R., & Meyer, J. (1934). The influence of mucilaginous substances on the emptying of the stomach. The American Journal of Digestive Diseases, 1(9), 684-688.