Coriander substitutes will help you maintain the flavors like the original taste when you use coriander. Coriander is used commonly in Asia and from the Middle East to Latin America. If you are a big fan of these cuisines, you surely are not strange with this spice.
Knowing more knowledge will help you increase versatility in your cooking method and more flexibility to create new dishes. Therefore, don't miss this helpful article, and you certainly will not disappoint with these substitutes.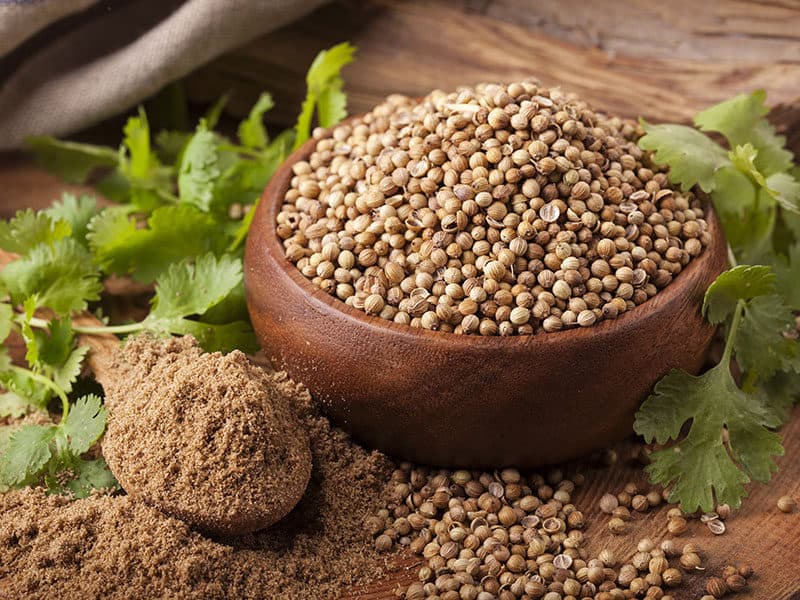 List Of Coriander Substitutes
Here are 19 spices you can use for coriander substitutes. They are simple to buy or mix, and several ones are always available in your kitchen. Let's take a glance at them to have a general view of them.
Coriander Seeds Substitutes
Cumin
Caraway seeds
Fennel seeds
Whole cloves
Garam Masala
Curry powder
Dried oregano
Herb Mixture: 1:1 Cumin And Dried Oregano
Herb Mixture: Garam Masala And Curry Powder
Coriander Leaves Substitutes
Parsley
Chervil
Basil
Fresh Oregano
Dill
Tarragon
Celery leaf
Mint
Culantro
Herb Mixture: Chives, Rosemary, Tarragon
How Much About Coriander Do You Know?
Coriander is a member of the Apiaceae family and is one of the most popular ingredients in any kitchen. Coriander is a plant that is found in almost all dishes from India, Latin, Asia, and even Europe. You can use any part of coriander, from leaves to fruits and even roots. (1)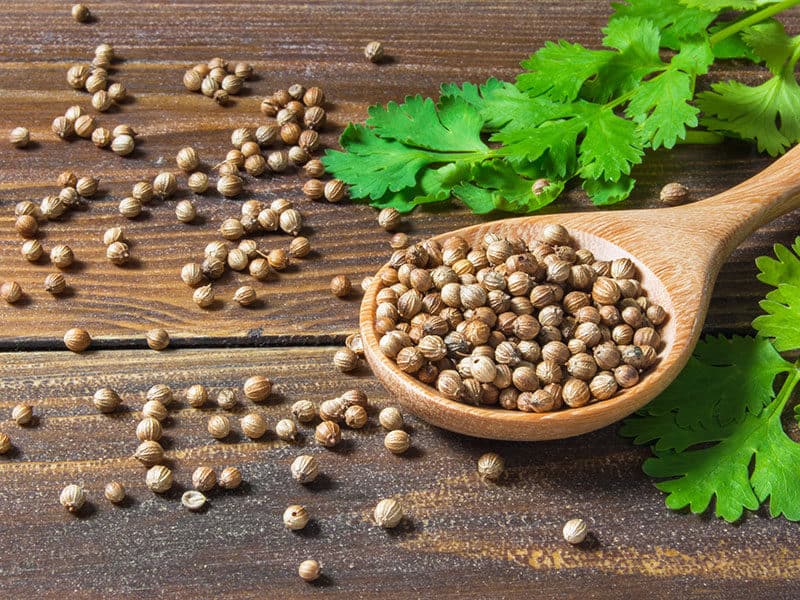 When you cook Thai curries, adding coriander roots to create an exclusive flavor for your dishes. Besides appearing in foods, you can realize coriander in medicines thanks to its benefits. If you live in tropical or subtropical climates, you easily cultivate coriander.
Reading here, you may realize what I described are similar to cilantro, and when you search for coriander and cilantro, you will find the relationship between them. If you are curious about them, please keep reading the next section.
Coriander And Cilantro: Are They Really Different?
The simple answer is no. Coriander and cilantro are from the same plant, but each of them refers to different parts of this plant. In North America, people use coriander words for seeds and cilantro for leaves.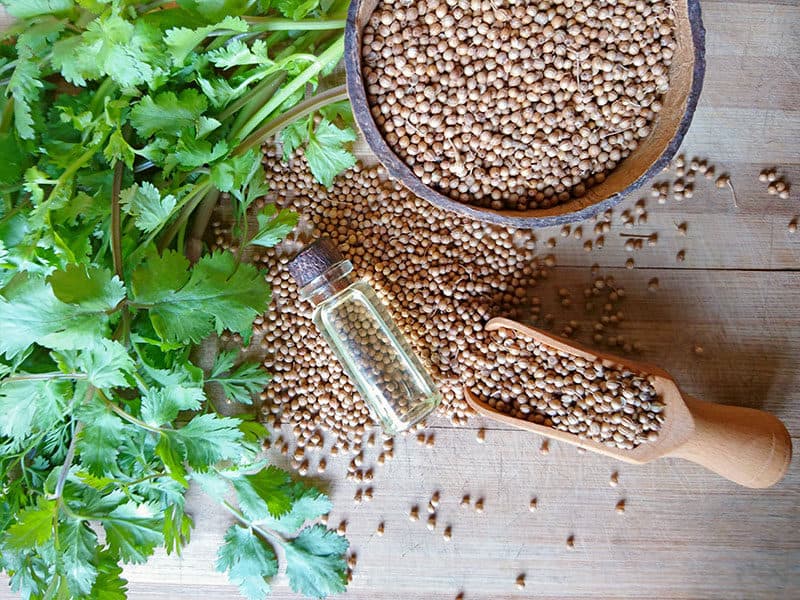 However, international people refer to coriander leaves and the seeds they call coriander seeds. In my post, to help you differentiate obviously, I will choose the American definition.
Although they are the same plant, you cannot use coriander and coriander seeds interchangeably because of their different flavor. Therefore, coriander or cilantro substitutes cannot be similar.
Cilantro is leaves of this plant that are bright green, delicate in flavor, and is pretty similar to flat-leaf parsley. You can call cilantro by these names: Chinese parsley or Mexican parsley.
If you like to eat cilantro, you will find it refreshing, fragrant, and citrusy flavor; otherwise, you can find it like metal or soap flavor. The flavor of coriander is warmer with a nutty and spicy taste; you will be strongly impressive its aroma.
In addition, the nutrients in each are also different, which means cilantro is rich in vitamins while coriander consists of various minerals. You can combine coriander or cilantro in multiple dishes. Let's see how many coriander substitutes you can use.
What Beneficial Health You Will Get When Intaking Coriander?
When you consume anything, you need to know about its benefits although it is a spice/ Thus, keep reading these ideas since you can learn new information about coriander. You are surely surprised at its advantages. (2)
Lower Sugar In Your Blood
Oil is extracted from coriander or coriander seeds consists of a substance that can stimulate enzyme activity. This activity plays a significant role in helping you reduce sugar in your blood. If you control blood sugar well, you can avoid the risk of catching type 2 diabetes.
Help You Fight Inflammatory
Consuming coriander will support your immune system and help you confront inflammation and cancer since it is rich in antioxidants. These substances will help you decrease the growth speed of breast, colon cancer cells, and others.
Support Your Heart Health
Don't forget to protect your heart health by adding coriander to your diet. The substance in coriander can act as a diuretic that can decrease blood pressure and increase good cholesterol. When the blood pressure is monitored tightly, the risk of heart diseases can be prevented.
Improve Your Brain Health
Inflammation can be one of the reasons that cause brain ailments, and coriander contains an anti-inflammatory substance. Eating coriander is an easy way to reduce your anxiety and improve memory in Alzheimer's people. However, this research has been conducted in animals and has taken more time to determine this benefit in humans.
Used As A Treatment For Digestive Problems
In traditional Iranian medicine, the doctors add an extract from coriander to treat digestive problems such as bloating, abdominal pain and can encourage your appetite feelings.
Help You Confront Infections
The antimicrobial compounds in coriander can help you deal with bacteria in infections and foodborne illnesses. Infections can threaten your health, and you shouldn't underestimate this issue.
Maintain Your Smooth Skin
As I mentioned, antioxidants are key to maintain your healthy skin and prevent it from aging; thus, don't forget to supplement the foods rich in these substances in your meals. Fortunately, coriander contains them, and it is also simple to buy and cook.
The antioxidants can act as a defense to protect your skin from cellular damage and ultraviolet B radiation. You can consume juice from coriander leaves to improve your skin situations such as acne, oiliness, dryness, or pigmentation.
Simple To Combine
It cannot deny that you can simply combine coriander in your dishes since its versatilities allow you to cook in various cuisine. You can cook your meals in various styles and richen your menu.
You can search furtherly about its uses as well as what dishes you should add coriander.
How Many Dried Coriander Substitutes Should You Know?
Let's discover dried coriander substitutes you can use to supplement your dishes. When you run out of coriander seeds, don't forget to read my post and determine the most suitable substitute for your recipe.
Coriander Seeds Substitutes
Coriander seeds have a stronger flavor than coriander leaves, and let's see what you can use to replace coriander in urgent cases.
Cumin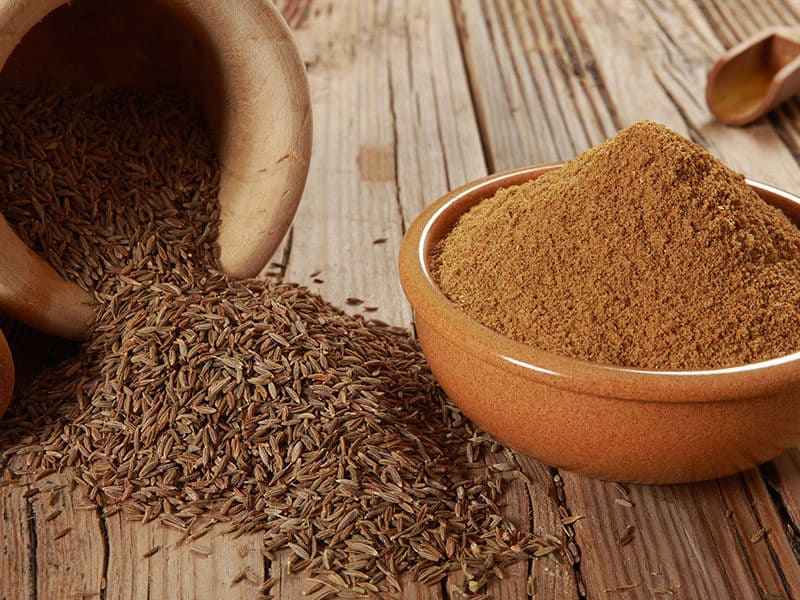 Cumin is dried seeds, and you are compulsory to use your hands when harvesting cumin seeds. You can purchase cumin in both 2 types: ground powder and whole seeds. The cumin seeds have boat-shaped and various colors.
The brownish-yellow cumin seeds are the most common seeds, and the following seeds are black, green, and white. You need to wait for a while to add whole seeds to your dishes since they need heat and time to release their flavor while ground cumin doesn't need it.
You shouldn't use fresh cumin for cooking since it cannot create earthy, warm flavor, notes of sweetness and bitterness, as well as exclusive aroma like when you roast these seeds.
Whole seeds are usually added to Indian dishes, while ground cumin is an indispensable ingredient in Middle Eastern and Mexican cuisine. You can explore more information about cumin as well as health benefits when consuming to use it properly.
You can use ¾ part of cumin seeds to replace for 1 part of coriander in your recipes as the flavor of cumin is quite stronger than coriander, don't add it too much when cooking.
Caraway Seeds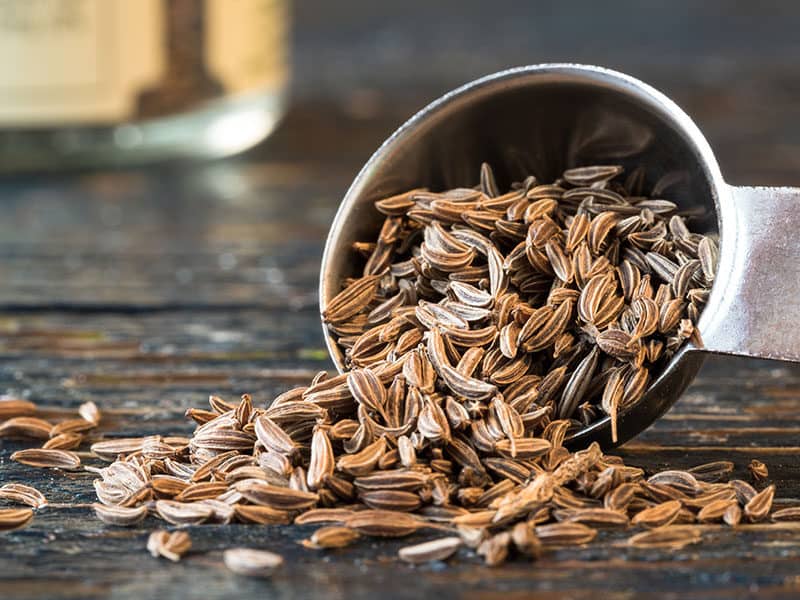 Caraway seeds are one of the most suitable coriander substitutes as they are a member of the Apiaceae family. Caraway seeds are harvested from caraway plants and called with different names: Persian cumin or Meridian Fennel.
Before using them, you need to dry caraway seeds to release their full flavor when cooked. Unlike whole cumin seeds and ground ones that are used in an equal amount and bring the same flavor for your dishes, whole caraway seeds and their powder is a different story.
1 part of whole seeds will be equal with ¾ part of caraway powder, while you can replace coriander seeds with caraway seeds at a 1:1 ratio. You will find them earthy and peppery when tasting, as well as feel the aroma of anise, licorice, and citrus.
Besides being added to baking dishes, you can realize their flavor and aroma in soups, curries, vegetables, sausages, and liqueurs. You can buy fresh caraway seeds and toast them on medium-high heat for 2-3 minutes before shutting off the stove and supplement a unique taste for your dishes.
Fennel Seeds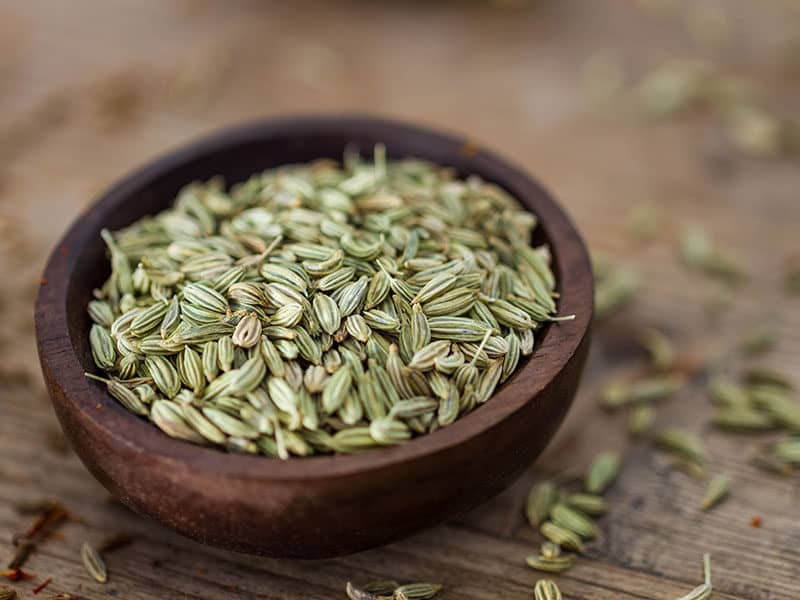 Fennel seeds are another kind of dried seeds that come from the same plant. They also have boat-shaped, but they have green color; that's why many people call them large cumin or sweet cumin.
The flavor of fennel seeds can help you reminisce about a combination of licorice and anise. Like other spices, they also have a sweet and warm aroma. You can easily buy this spice since it is cultivated all year round.
If your recipe requires 1 tablespoon of coriander seeds, you can use the same amount of fennel seeds for this dish. Fennel seeds are a perfect companion for various foods, including meat, vegetables, bread, chutneys, and fish.
In addition, when your breath has unpleasant smells, you can chew a pinch of raw fennel seeds to eliminate them, and they can help you improve your digestive problems.
Whole Cloves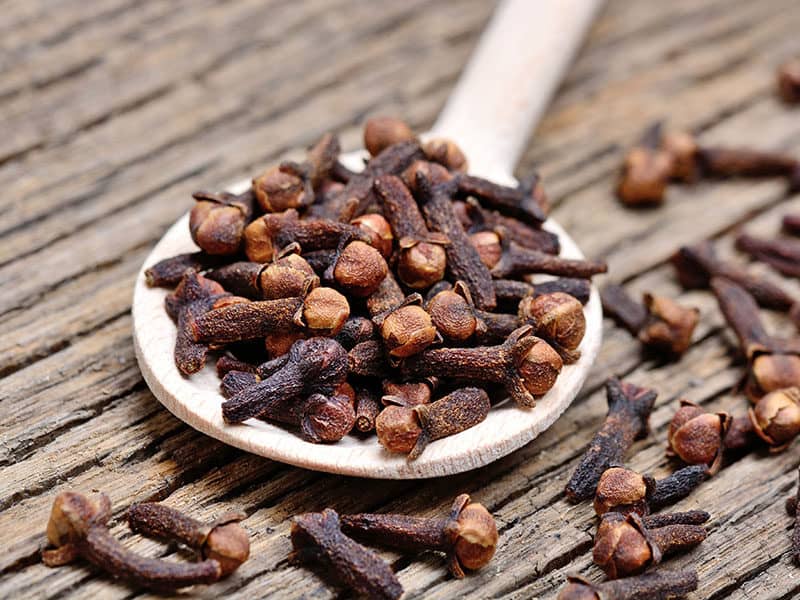 Cloves are grown popularly in tropical and hot countries. Whole cloves are dried spice and picked from the flower buds of an evergreen plant. You need to harvest them when the flower buds are immature and dry them later.
These seeds are quite small and have reddish-brown color that helps you simply realize them in among spices. The ground cloves will have a stronger taste than the whole seeds; thus, you should use ¾ part of powder in dishes that call for 1 part of whole cloves.
When you taste cloves, the sweet and a litter bit bitter flavor with excellent aroma will wake up your senses. Because of its intense flavor, you should add cloves gradually until you are satisfied with the taste of the dishes.
You will realize this taste in pumpkin pies on winter days with a mixture of cloves, nutmeg, and cinnamon that make cloves become a signature spice in desserts and drink for cold days. If you want a warm, pungent flavor for your main dishes, don't forget to add whole cloves to sauces, rice, and meat.
Garam Masala
Garam Masala is a blend of various ingredients, including cinnamon, peppercorns, cumin seeds, cardamom pods, and coriander seeds. Its color is quite similar to curry powder; thus, you can be confused when buying it.
"Garam Masala" means warm flavor in Hindi. You can taste all flavors in this mixture that are sweet, spicy heat, tangy, earthy, and fragrant. The strength of garam masala can vary depending on the region.
If you eat it in Northern India, you will find it mild and aromatic. You will find it hot when you go farther to Southern India. Garam masala can be used to add yellow color in various dishes such as chana masala, Indian butter chicken, and chicken tikka masala.
Curry Powder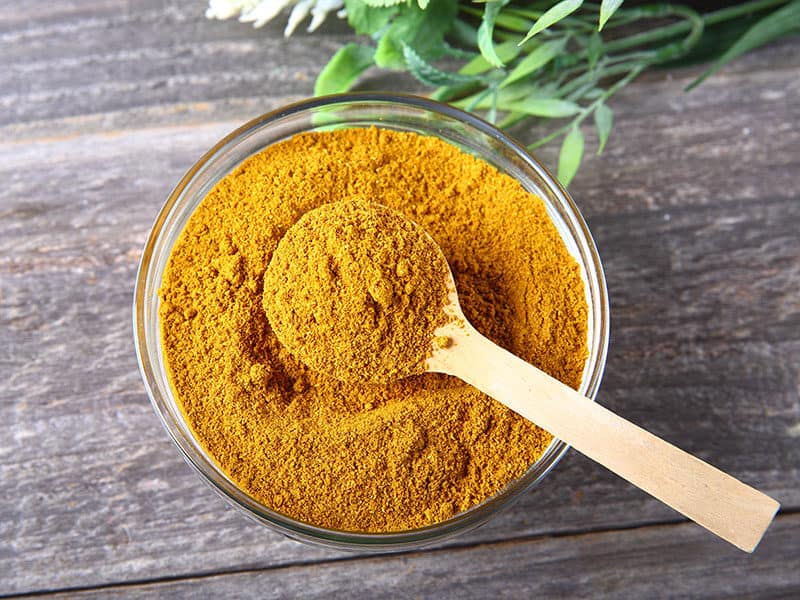 Curry powder is a yellow mixture and is made by the British. The main ingredient in curry powder and creates a yellow-hue of this powder is turmeric. Besides, people combine turmeric with other spices to make a strong taste containing ginger, garlic, cinnamon, mustard seeds, fennel seeds, and black pepper.
The flavor of curry powder is quite mild; thus, adding a yellow tint to dishes is the key role of this powder. You just can taste a little bit of sweet and savory flavor. However, you can mix curry powder on your own to implement desired spicy taste.
Adding pepper and ginger is for a mild taste, while chile peppers are for hotter. The dishes with curry powder will have warm and bright color. You can supplement curry powder with soups, sauces, stews, and marinade sauces for veggies and meat.
Dried Oregano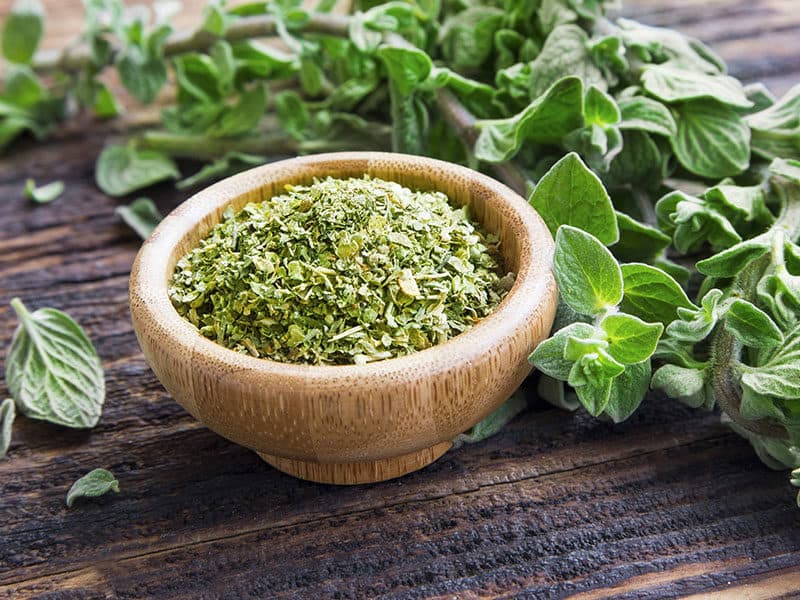 Dried oregano is a common form of oregano as it is easy to store and can be used for a long time. It is used in Mexican and Mediterranean cuisine to provide you camphor hint and earthy as well mint flavor. You also can find it slightly bitter.
Both oregano leaves and flowers are edible and suitable for paleo and vegan diets. There are various types of oregano, consisting of Origanum vulgare, Mexican oregano, and Spanish oregano.
Dried oregano has a milder taste than fresh one; thus, it is added in these first steps while cooking. Soups and stews are 2 common dishes added to dried oregano. One useful tip for you is to grind dried oregano to release its full flavor.
Herb Mixture: 1:1 Cumin And Dried Oregano
Mixing spices is an economical and flavorful way to create a mixture substitute for coriander. The mixture I want to bring to you is cumin and dried oregano with a 1:1 ratio. Both cumin and dried oregano have a warm and aromatic flavor like coriander seeds.
Since they are a quite strong flavor; thus, you should add a little by little to your dishes to avoid the overpowering taste. This mixture will be compatible with fish and meats since it can help you eliminate the unpleasant smell from them.
Herb Mixture: Garam Masala And Curry Powder
Both garam masala and curry powder can be added to Indian dishes. Curry powder will make your dishes have eye-catching color; however, if you pour too much curry powder into foods, that will affect the flavor.
The best way is to supplement another spice that has the same color but a more powerful flavor. Garam masala is an excellent choice. Adding garam masala will keep the perfect color for your dishes and can upgrade the taste of dishes.
You need to add this mixture reasonably to avoid altering the flavor as their original tastes are created from various spices.
Cilantro / Coriander Leaves Substitutes
Cilantro or coriander leaves have an entirely different flavor compared to coriander seeds; thus, you should find other substitutes for them. Let's read what you can find for fresh coriander alternatives.
Parsley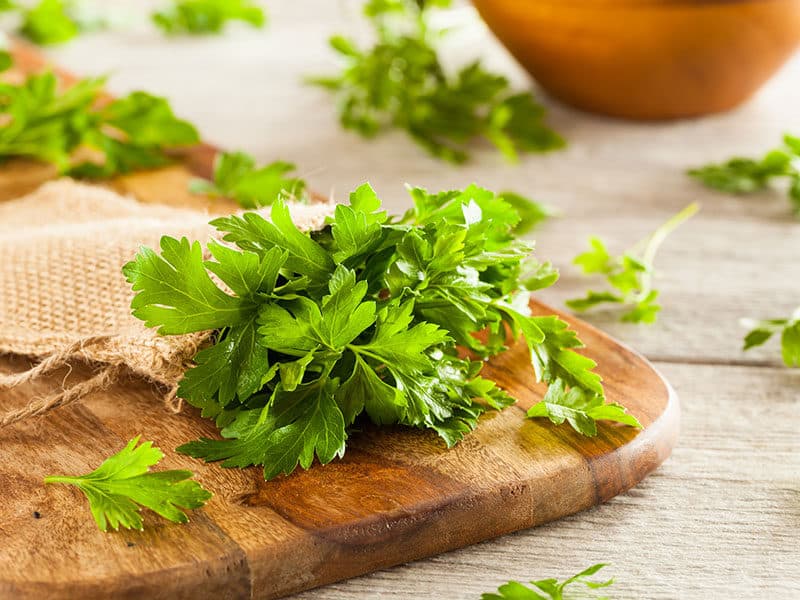 Parsley is also a member of the Apiaceae family; thus, it can be used to replace coriander leaves. There are 4 kinds of parsley for you to choose from. The most popular type is flat-leaf that have a green color and a little bit bitter when tasting.
When you see it, you can be confused between it and cilantro. Curly leaf has a milder taste with bright green, and the leaves are ruffled. Hamburg parsley comes from German and is used to decorate instead of cooking.
The last one is Japanese parsley that is pretty bitter compared to the 3 other parsley, and you can eat it without combining it with any ingredient. The general taste of parsley is quite similar to lemon zest with a citrus hint.
Thanks to its eye-catching green color, you can add it in the final step when cooking. You just need to chop it, and it will release its full tastes. In addition, chopped parsley will be great for French bouquet garni and chimichurri.
Chervil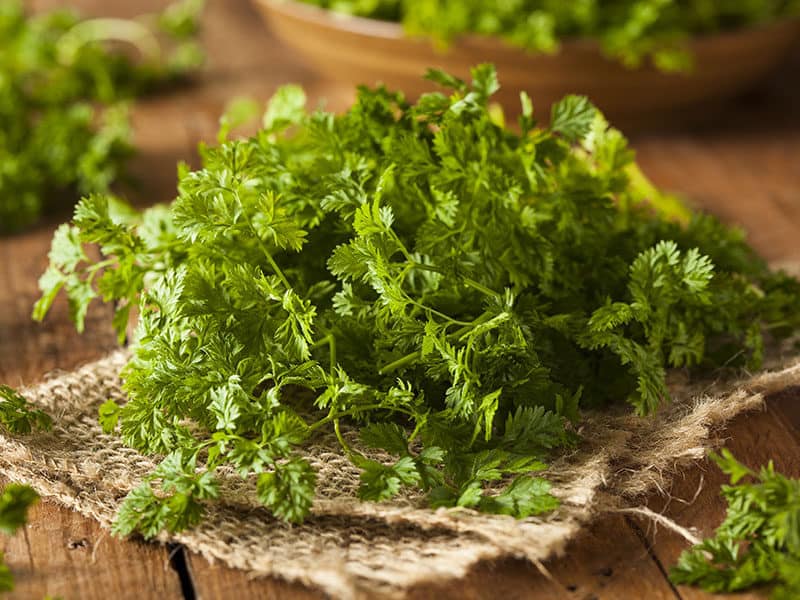 Chervil has a close relationship with parsley; therefore, it is not strange to alter coriander in many foods. You can imagine chervil leaves are a tiny version of carrot greens with curly and delicate looking.
You can grow chervil by yourself on your windowsill. Its taste is a combination of parsley and tarragon, but it is mild. You will find some hints of anise and licorice when tasting it. You can eat chervil raw by adding to salad or cooked chervil in soups without worrying about it can overwhelm other spice.
You should add in the last step to hold its aroma and flavor for longer. Have you ever tried omelets with chervil? If you haven't yet, you should enjoy it immediately.
Basil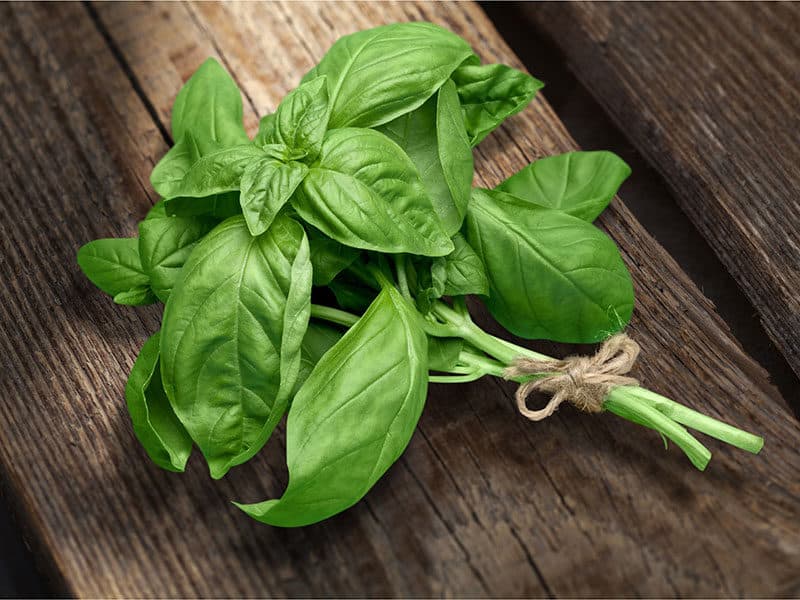 If you are a big fan of Italian dishes, you will be familiar with basil. In addition, basil is also a key ingredient in pesto sauce. Although there are more than 60 varieties of basil, I will mention the most common one that is sweet basil.
The sweet basil has green leaves connecting with purple stems. The leaves are slightly thin and can release a little bit of oil when you squeeze them. The fresh basil has a peppery flavor with mint and anise hints.
You can use whole leaves for garnishing and chopped leaves to add more flavor to dishes. Basil is usually mixed with tomatoes since the oil in basil will relieve the acidity in tomatoes.
When you make pesto, ensure you discard all basil stems as they will make your sauce brown and dark. Remember to add basil in the final step to prolong its flavor and keep it green.
Fresh Oregano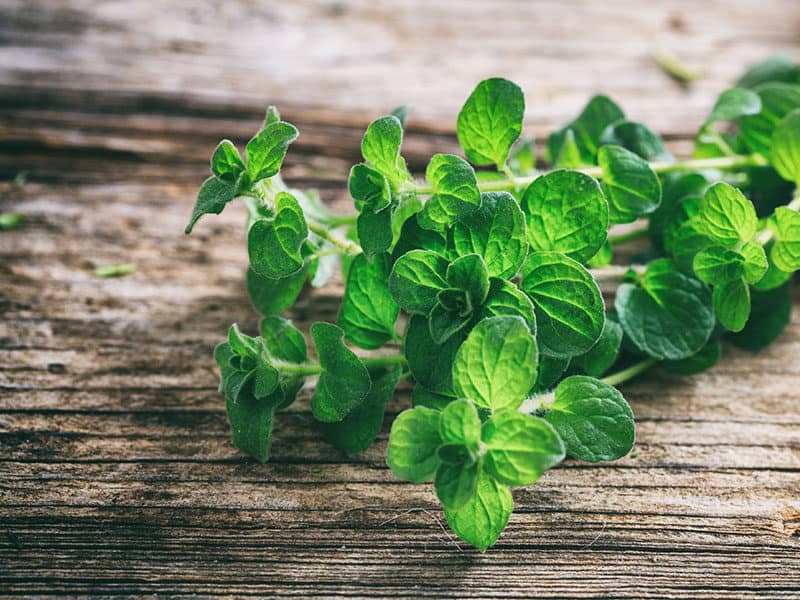 Fresh oregano has green leaves and purple or pink flowers. Oregano refers to as the "pizza herb" since it is often sprinkled on pizzas. Fresh oregano has a stronger flavor than dried one, but you need to remove leaves from stems before adding it to pizzas.
This oregano is more bitter than dried; thus, you should add it gradually to your dishes to ensure not to alter their flavor. You can use fresh oregano when cooking soups and stocks. If you cook these dishes, you can keep their stems and tie them up when dropping them in the pot.
It is easy to cultivate oregano in your garden; you can try to grow it and have healthy and flavorful meals with homemade spice.
Dill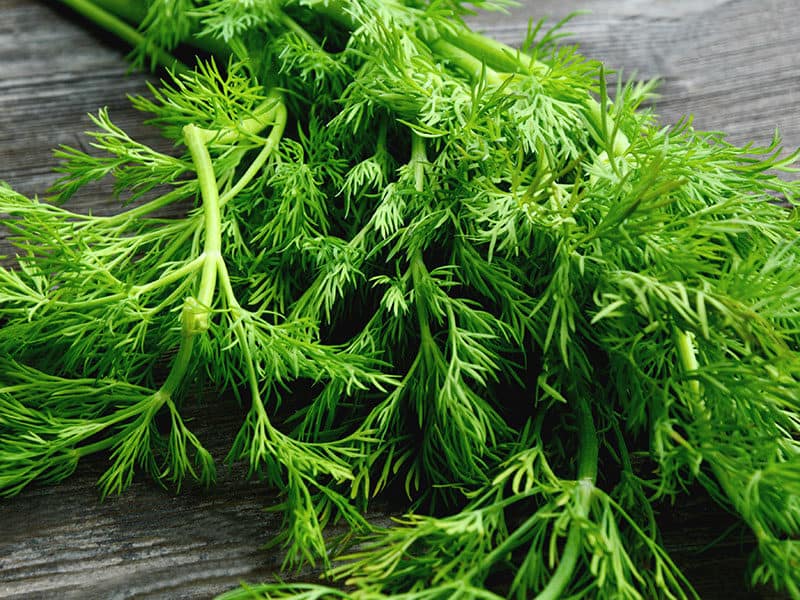 Dill is cultivated from dill seeds and available all year round. The dill leaves are quite similar to fennel leaves and have blue-green with yellow flowers. When it has oval fruits, these fruits will replant themselves and develop prosperity.
The cold climate is suitable to grow dill since the dill will start flowering when the weather becomes hot. The taste of dill has some hints of anise and licorice. When the flowers bloom, you should avoid using dill as its taste is more bitter and less aromatic.
A pinch of chopped dill can make your dishes more impressive, and dill leaves are excellent to garnish on the top of the foods. Don't add dill to your dishes until you have already cooked dishes to maintain their flavor and aroma.
Tarragon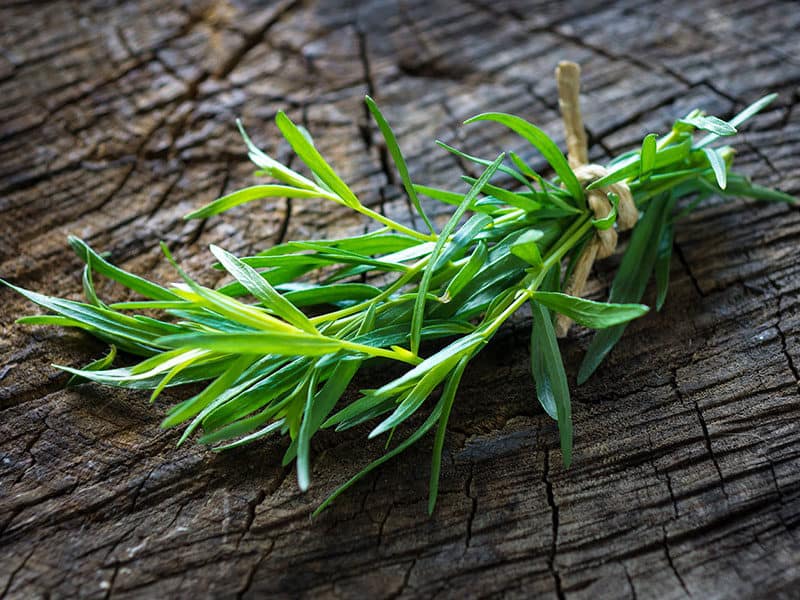 Tarragon has various kinds, but the most common one is French tarragon. This tarragon has glossy leaves with an exclusive aroma. Tarragon leaves are quite thin and long with pointed ends, while its stems are tough. Besides authentic tarragon, you can reference perfect tarragon substitutes to rich your knowledge and increase the versatility of your recipes.
Fresh tarragon has subtle characteristics and a strong licorice taste. You can find it good or bad depending on your favor, but generally, it is a mixture of sweet, bitter with notes of mint, vanilla, and pepper.
Tarragon consists of various minerals such as potassium, iron, and manganese as well as it is low in calories. Owning dried tarragon is easy, but fresh tarragon is not; thus, when you catch fresh on in groceries, don't hesitate to pick it up and store it properly for your next uses.
You can take leaves from the tarragon plant and add them to salad dressing, sauce, chicken, and tomato salads. Besides, if you have not tried to make tarragon vinegar, you can start now since this vinegar is versatile to use and can extend the life expectancy of tarragon.
Celery Leaf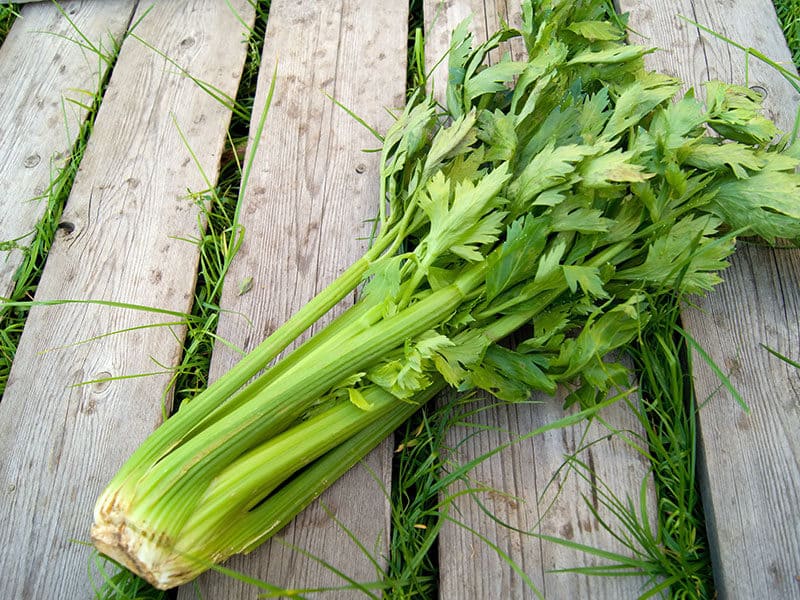 You usually discard celery leaves and just keep celery to cook; it is wasteful since you will get more benefits when consuming celery leaves. These leaves look like a big version of coriander leaves with thin skin and green color.
The outer celery leaves are dark green and intense flavor. You can find them fibrous and a little bit tougher than inside leaves. These leaves have light green and mild flavor as well as more tender compared to anise and fennel.
Celery leaves are grassy and a little bit bitter when you taste them. You can process dishes with celery leaves all year round, but the best time is summer as celery will be grown prosperously and plentiful for you to choose from. Besides salads and main dishes, you can use them to create soda and cocktails.
Mint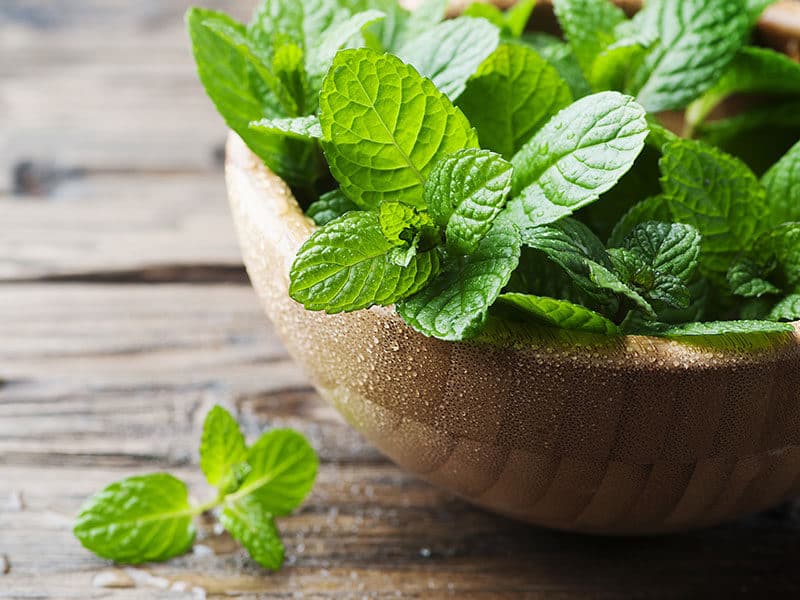 You surely have seen mint leaves on the top of your cocktails at least several times but do you know that mint is added to dishes and one of coriander leaves substitutes? Moreover, the essential oil extracted from mint is used to supplement scent for your rooms.
Mint can be used as an herb and is popular thanks to its easy-to-grow feature. You can reference 3 kinds of mint, including peppermint, curly mint, and spearmint. Spearmint and curly mint are used for beverage and cooking, while peppermint is used for cooking since its flavor is quite intense.
You should choose fresh mint to taste as the dried one has lost much flavor while dehydrating process. Mint is quite sweet, and make your tongue cool after tasting it. Fresh mint is one of the ingredients of chiffonade and other hot and cold beverages.
Mint can be used to treat several symptoms such as an upset stomach and nervousness. Essential mint oil is added to toothpaste and helps you have a cool and pleasant breath.
Culantro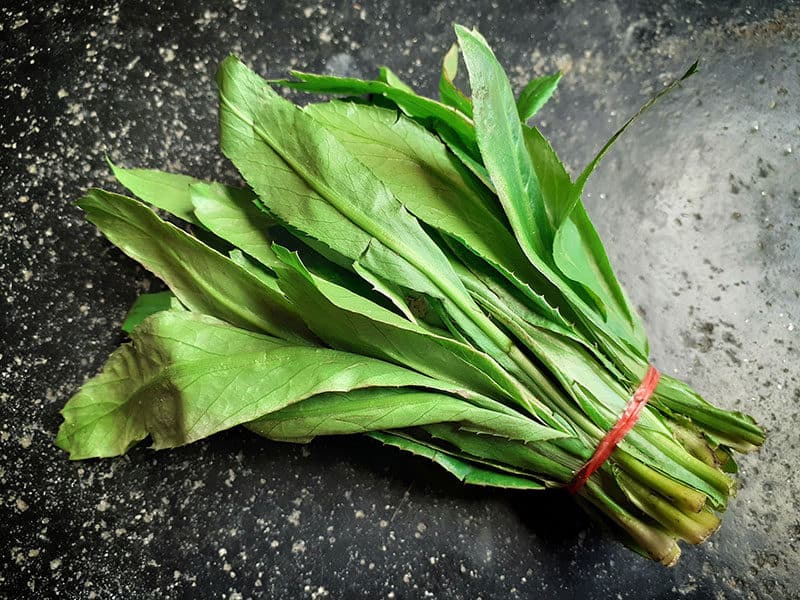 Culantro is a perfect substitute for coriander leaves since their flavor and aroma are the same. Culantro has leaves that grow around a central rosette. It can be used for 2 purposes: medicines and cuisine.
Culantro has long and serrated leaves, and it is a biennial plant. The flavor of culantro is stronger than cilantro or coriander leaves; thus, you will find it bitter, soapy, and pungent odor compared to cilantro.
Culantro is a signature plant when you eat Vietnamese beef noodle soup. You can use culantro for cooking various dishes from different countries, such as Caribbean sofrito with culantro, Pho, and Cuban braised chicken stew.
Herb Mixture: Chives, Rosemary, Tarragon
In case you don't have these separate spices on hand, you should mix different ingredients to create a similar taste compared to coriander. You need to chop chives, rosemary, and tarragon the mix together.
All ingredients have a warm flavor and attractive aroma. You can choose to use this combination since you don't like to eat coriander leaves. You need to gradually add this mixture to ensure your dishes' flavor is kept the same as the original taste.
How To Store Coriander Substitutes?
Dried coriander substitutes and fresh ones require a different way to store. If you preserve them properly, you can get their full flavors when adding them to your dishes. I will bring you storing information for both 2 forms of substitutes.
The coriander seeds substitutes are mostly dried seeds or ground, while coriander leaves substitutes are fresh leaves. Let's see how I maintain their flavor and maintain them in good condition.
Coriander Seeds Substitutes
Dried spices are quick to add flavor to your dishes; however, your spices will lose their flavors if you don't store them properly. When you keep them well, their flavors will retain longer.
What You Need:
Airtight containers
Label and maker
How To Store:
Step 1: You need to wash airtight containers completely before using them. Afterward, you should place them outside to evaporate excessive water or place them in dehydrator machines.
Step 2: Pour each spice in these containers and write the day you keep spices on the label, then keep them in cool and dark areas.
Useful Tips For You:
Remember to close the lids tightly to prevent the air and moisture from penetrating into spices to avoid oxidation.
You shouldn't allow these jars to expose to direct light since it will fade your spices' color.
You should use glass jars to store dried substitutes since they are thick and retain more flavor than other jars.
You shouldn't store these containers in the cupboard that is installed above stoves as the heat will decrease the spices' quality.
You need to avoid placing the spices near rich-moisture areas since the humidity will shorten their life expectancy. The ideal places to keep them are high in temperature (< 70 degrees Celcius) and low in humidity.
Never place your dried substitutes in freeze since every time you need to use them, you have to defrost them, which will increase the humidity in their containers.
You should pour a reasonable amount of spices into your hand, then adding it to your pot as the steaming will penetrate into your containers when you pour spices directly into the pot.
You should use whole seeds for adding flavor to your foods that will help prolong your spices' lifespan since the oil doesn't release like you use ground form.
Don't forget to write spices' information on the label and use them up before the expired day.
To determine your spices are good or not, you need to remember their original taste and color; then smell them. If their colors become darker, but their aroma is good, you can continue using them. Otherwise, you need to throw them away and purchase a new one.
Coriander Leaves Substitutes
You usually purchase a big bunch of coriander leaves substitutes such as parsley, oregano, dill, and more; therefore, you cannot use them up at the same time, and you need to find optimal ways to store them.
You cannot place them in the fridge since the moisture and light can damage your spices. Too much moisture can make them slimy, while too litter moisture can draw out of their moisture. Moreover, the light in the fridge will make your herbs yellow, and too much oxygen will turn them brown.
I will divide fresh substitutes into 2 kinds: hard herbs and soft herbs. Soft herbs consist of tender and soft leaves and stems, while hard ones contain woody stems and hard leaves.
Store Soft Substitutes
Soft substitutes contain parsley, dill, basil, cilantro, tarragon, celery leaves, culantro, and mint.
What you need:
Bowls
Paper towels
Glass
Cool water
Plastic bag
How to store:
Step 1: Wash the spices in cool water. After your spices are washed completely, you need to dry them thoroughly.
Step 2: You should prepare a clean glass, pour cool water into it and prepare for your spices by eliminate excessive parts and tie them up. Place them into the glass. Don't forget to change clean water every several days.
Step 3: You should place a glass of basil on the countertop at room temperature since the cold temperature will turn its leaves black. You need to cover the glasses with plastic bags and place them in the fridge for other substitutes.
Useful tips for you:
You can rinse the spices under clean water and arrange them in a single layer on a paper towel and let them sit for a while. The paper towel will soak excessive water.
You should trim the ends of spices evenly to allow every stem to be overwhelmed in the water.
The plastic bags will keep the moisture of spices, avoid exposing dry environment and prevent too much oxygen from contacting spices.
Store Hard Substitutes
The hard coriander substitutes in my list are oregano, rosemary, and chives in the herb mixture.
What you need:
Cool water
Paper towel
Airtight containers or resealable bags
How to store:
Step 1: You need to wash them well to eliminate all residue on them and dry them by using a paper towel.
Step 2: You should dip paper towels in water until they are damp; then, wrap these spices in these paper towels loosely.
Step 3: Place warped substitutes in resealable bags or airtight containers and place them in the refrigerator.
Useful tips for you:
The damp paper towels will help you maintain enough moisture for these substitutes.
Using airtight containers or resealable bags will protect your spices from exposing too much oxygen.
How To Store Coriander Substitutes And How Long Can You Store Them?
Each coriander substitute will have a proper storing period. Therefore, you should know about it clearly to use them before the best day and have plans to keep them safe.
Coriander Seeds Substitutes
| | | |
| --- | --- | --- |
| Substitutes | Ground form | Whole seeds |
| Cumin | 3 months | 1 year |
| Caraway seeds | – | 3-4 years |
| Fennel seeds | – | 3-4 years |
| Whole cloves | 3-4 years | – |
| Garam Masala | 6 months | – |
| Curry powder | 3-4 years | – |
| Dried oregano | 6 months | – |
| Herb Mixture: 1:1 Cumin And Dried Oregano | 3 months | – |
| Herb Mixture: Garam Masala And Curry Powder | 6 months | – |
Coriander Leaves Substitutes
| | |
| --- | --- |
| Substitutes | Period |
| Parsley | 5 days |
| Chervil | 10-14 days |
| Basil | 1 week |
| Fresh Oregano | 1 week |
| Dill | 1 week |
| Tarragon | 10-14 days |
| Celery leaf | Several days |
| Mint | 2-3 weeks |
| Culantro | Not specified |
| Herb Mixture: Chives, Rosemary, Tarragon | Up to 2 weeks |
Side Effects Of Consuming Coriander You Should Know
When you intake coriander, your body can appear several allergic reactions, including asthma, hives, nasal or swelling inside your mouth. Actually, some people are allergic to this spice, and it is likely safe to consume.
You should be careful when applying coriander to your skin since it can cause itching and irritation. There are too many notices when using coriander; thus, you can use it on your skin at an appropriate rate.
Let's Pick Your Favorite Coriander Substitutes!
Coriander consists of exclusive flavor and aroma; thus, it becomes one of the top spices to add to various dishes. However, you may sometimes run out of coriander on hand, and you need to use coriander substitutes in this situation.
I have collected and brought you several most suitable dried and fresh spices to help you easily to choose from. At least one spice is always available in your kitchen, and you don't need to worry that your dishes will lack this unique taste.
Don't hesitate to check my list and cook dishes with them; you surely get excellent results. If you have any idea for coriander substitutes or any this cooked with them, feel free to share with people by type your words in the comment box chat below.
I am looking forward to seeing your words and try to reply to your messages as soon as possible. Don't forget to access my site to read new useful posts every day. Learning something new is never too late.
References
psu.edu. 2021. Coriander (Cilantro) | Diseases and Pests, Description, Uses, Propagation.
org. 2021. Nutrition facts for Coriander (cilantro) leaves, raw, recommended daily values, and analysis.