Since I don't like the fishy smell from seafood, I've been asking myself: What does flounder taste like? Is it like other fishes? Or is it better? And after trying it for the first time, I've fallen in love with flounder right away.
So, now you may wonder the same question as I did. That's why I've written this article so that you can have your answer right away. Aside from that, you also gain several beautiful flounder recipes to show off with your family.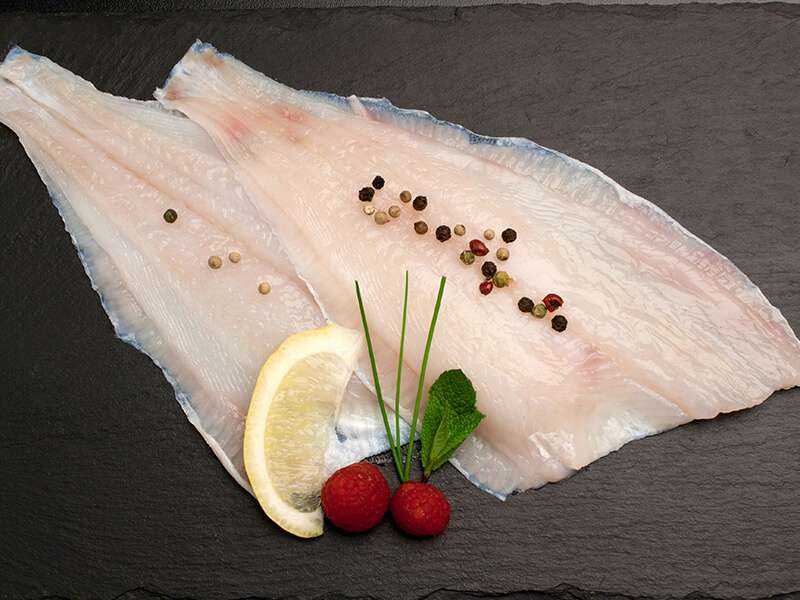 Have You Seen Flounder Before?
Flounder may scare people away due to its unattractive appearance: Super flat with eyes on one side of its head. But that look makes it easier for flounders to survive at the bottom of the ocean.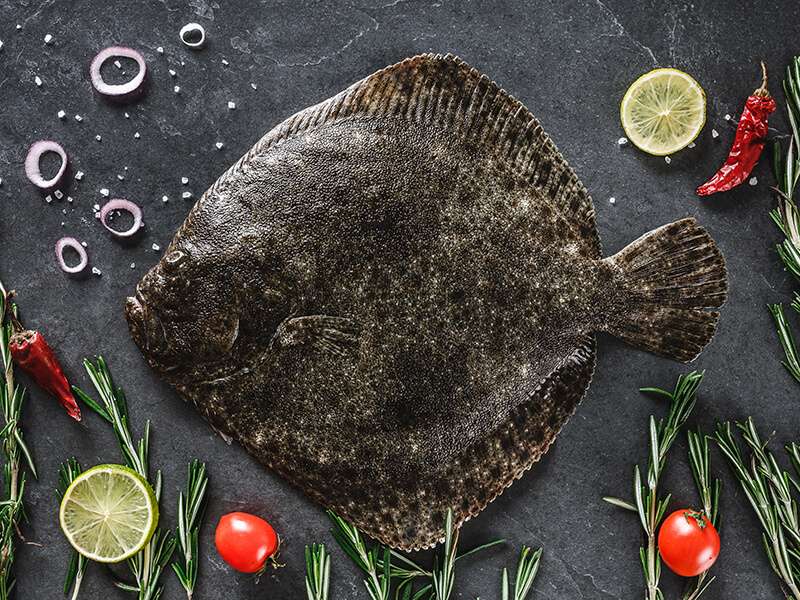 Depending on their living places, flounder divides into several types of fish: olive flounder and halibut in North Pacific or witch flounder in European Waters. (1)
Despite its somewhat distasteful look, flounder is desired by various restaurants and fish markets in the United States. Is it because of the flounder's taste? Let's find out in the next part!
Do you know that flounder is a master of disguise? Watch this video to know more:
Flounder Taste Is Impossible To Forget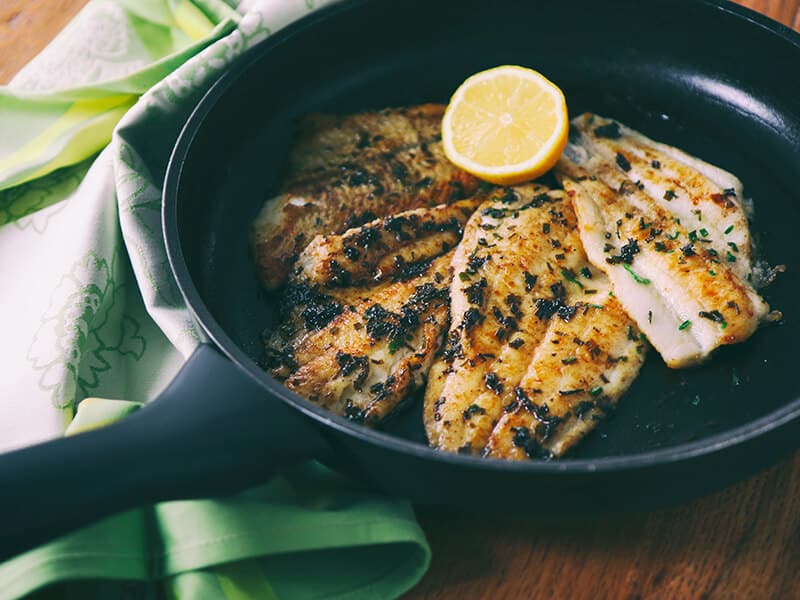 If you haven't tried any fish before, you should start with flounder first. This fish is also suitable for people disliking the fishy smell since its flesh is relatively mild with a sweet undertone.
Thanks to this feature, flounder is suitable for various cooking methods, whether fillets or whole fish. With fillets, they'll be more fitting with sauteing or deep-frying. And when you have an entire flounder in your hand, roasting and steaming should be on your cooking list.
But no matter what cooking method, you should pay attention to the flounder's texture. The flounder is a bit delicate and flaky, so it tends to fall apart easily even if you are only careless for a second.
Another minor note for you: The flavor and texture of flounder can vary based on its species. For example, Pacific Dover, a relatively low-quality flounder, is much softer than other types. In contrast, yellowtail ones will provide you with firmer flesh.
Knowing how to fillet flounder is necessary if you want to enjoy it to the fullest. Watch this video to know more:
The Best Guide For The Best Flounder
Picking fish is never an easy task. Some chefs even claim it takes roughly ten years to be an expert on one fish. But, with this instruction, you don't need to spend that much time choosing the highest-quality flounder.
Smell
For fish, the easiest way to distinguish its freshness is through smell. Especially when the flounder doesn't have much of a fishy smell, you can quickly pick it up if there is any weird aroma.
Appearance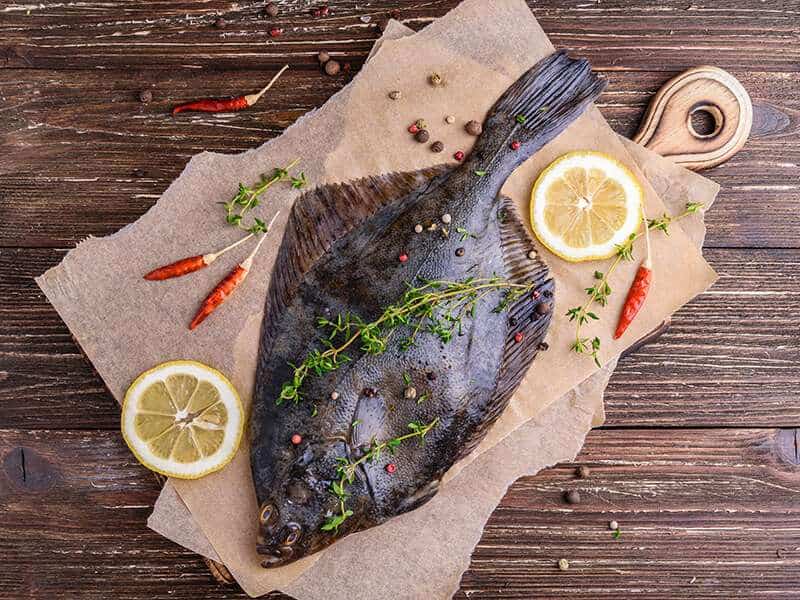 If you buy the whole fish, the first thing you should check is the flounder's eyes. They should be transparent and bright instead of dull. Aside from that, don't forget to examine the skin. If you see any discoloration on it, skip this fish immediately!
As for the fillets, if possible, let's run a finger over the center part of the tail. This way, you can check whether there's any bone left.
Package Date
This factor is crucial for frozen flounder as its fillets are pretty thin, making them easily freeze-burnt. So, if they've been packaged for a long time, their texture and flavor might have gone to waste.
These Fantastic Flounder Recipes Will Light Up Your Days!
Now, you know how flounder tastes, it's time to make it into some delicious dishes. As I've said above, flounder quickly falls apart. But with these recipes, you won't have to worry about it anymore.
You will never go wrong with a baked dish accompanied by garlic and Parmesan cheese. Just coat your flounder with breadcrumb mixture and bake it in the oven for several minutes. The result is a crunchy and flavorful flounder that everyone loves.
This garlic Parmesan flounder is perfect for a convenient dinner.
This dish looks like it just walks out of a five-star restaurant. And its name even makes it more classic. But flounder meuniere is surprisingly straightforward. You can either saute or deep-fry your fish and garnish it with a brown butter sauce.
If you're tired of all the baking and frying, you can broil your fish instead. Since the flounder is thin, it doesn't take long for the meat to turn flaky. Also, a lemon cream sauce or Parmesan cheese topping is an excellent choice for more flavors.
Combining two seafood sounds like a fabulous idea for your extravagant weekend meal. This time, I'll choose flounder and crab as their flavors complement each other well. You can add some vegetables to the filling, like bell peppers and scallions.
One bite of this crab-stuffed flounder, and you'll feel like sitting by the sea!
While piccata often refers to veal or chicken dishes, flounder is also a decent ingredient for this recipe. With flounder, you don't have to pound it flat since it's already thin enough. You can lightly coat it with flour or breadcrumbs for more crunchiness.
Flounder Vs. Halibut: An Neverending Battle
I know that halibut is a part of the flounder species. However, that doesn't mean both are the same. Here are some distinct gaps between them, so you can differentiate these two better.
| Differencens | Flounder | Halibut |
| --- | --- | --- |
| Appearance | Size: Smaller (~30 pounds max); Shape: Short and round with round, uniform fins; Tail shape: Flat or round; Eyes' Position: Either left or right | Size: Bigger (~400 pounds max); Shape: Flat and long with pointed fins; Tail shape: Forked; Eyes' Position: Often on the right side |
| Whereabouts | From the Gulf of Mexico to the Gulf of Maine/US Pacific coast; Always at the bottom of the sea | From the Western coast of Alaska to Northwestern US; Often live at the bottom of the sea; sometimes swim up to feed |
| Flavor | Delicate and flaky texture | Firm and lean texture |
| Suitable cooking methods | Baking and pan-frying | Frying and grilling |
Appearance
Obviously, when you want to compare two fishes, you should look at their appearance first. And in terms of this, flounder is amazingly different from halibut, based on these features below.
Body Size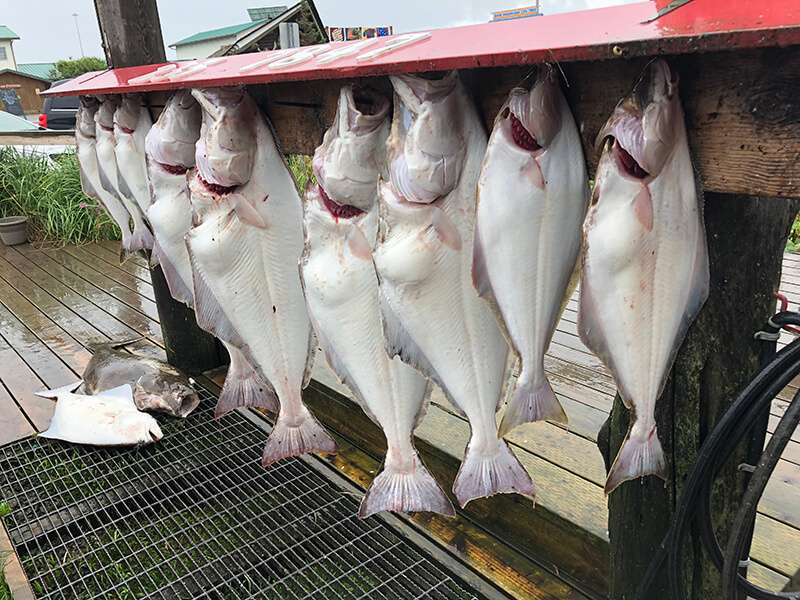 This is the easiest way to tell flounder and halibut apart as their sizes significantly differ. Simply put, halibut can be way bigger than flounder, roughly 10-20 times.
The biggest halibut (Pacific or Atlantic ones) even weighs 400 pounds, while flounder can never pass the 30-pound limit.
Body Shape
However, catching a huge halibut is not a common sight. So, when their sizes are relatively the same, how can you distinguish one from another? At those times, just take a look at their shapes.
Also known as "Door Map", halibut's shape is exactly like their nickname: flat and long. Flounder, on the other hand, is shorter and rounder.
Moreover, they have different fin shapes as well. Flounder's fins are smaller and more uniform, while halibut have pointed fins, making it look like a diamond.
Tail Shape
This one is easy to point out. Halibut's tail is somewhat forked with a point at every end of its tail. In comparison, a flounder's tail is either flat or round.
Eyes' Position
While both flounder and halibut have eyes on one side of their head, halibut's eyes are often on the right side, whereas flounder doesn't have a fixed position.
Whereabouts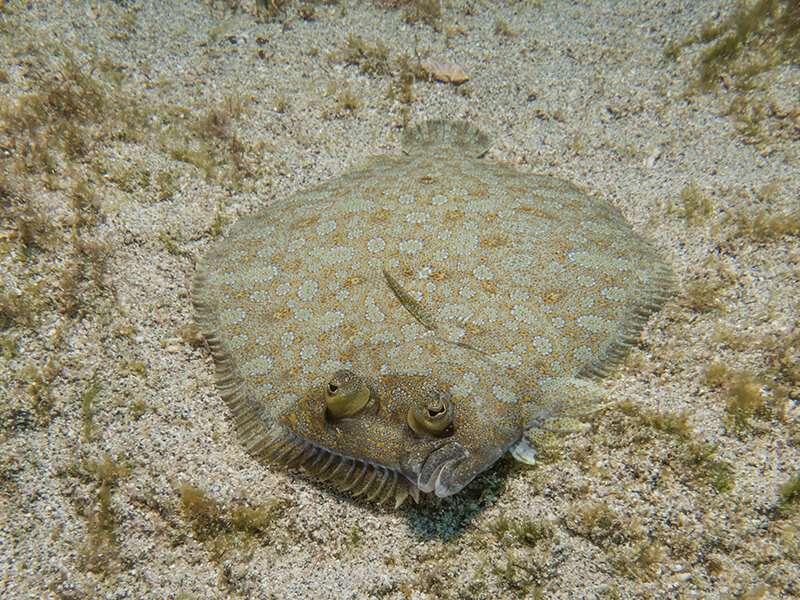 A basic knowledge known by almost any fisherman is that halibut lives further in the North than flounder. So, the Western coast of Alaska to Northwestern US is the best area for you to catch some halibuts.
On the contrary, you can find flounder everywhere between the Gulf of Mexico and the Gulf of Maine or the US Pacific coast.
Their living habits are slightly different, too. Though they both spend their time at the bottom of the ocean, the halibut sometimes swims up to feed while the flounder doesn't. (2)
Flavor
So, here comes the most vital comparison: Which fish is tastier? Well, since halibut is one of the flounder species, their flavors are pretty identical. However, halibut is firmer. It also has more meat and less fat than flounder.
At the same time, flounder is famous for its delicate and flaky texture.
Cooking Methods
Their different textures lead to other cooking methods. You can see halibut in fried and grilled dishes more, while flounder is more suitable for baking or pan-frying as its fillets are much thinner.
Just by simply grilling, your halibut already tastes wonderful. Watch this video to know more:
Bonus Information: What About Other Fishes?
While flounder is mainly compared to halibut, people also put it beside other fishes. So, let's find out what the differences between them are.
Haddock: This fish also has a mild flavor but is slightly stronger than flounder. Its meat is also firmer.
Cod: Cod is a bit easier to cook than flounder, but flounder is the superior one in terms of flavor.
Tilapia: While tilapia is a versatile fish like flounder, it lacks the sweetness that flounder provides.
Catfish: This fish and flounder share almost the same texture and flavor. However, catfish are a bit firmer, and the wild ones tend to taste somewhat muddy.
FAQs
It's time to relax with a small quiz show. However, you don't have to answer questions at all as I've already solved them for you. Just sit back and read all these common problems people have with flounder and its taste.
It's Time For You To Try Flounder
First off, thank you for reading this article to the end. With all this information, I hope you now can enjoy flounder without the slightest worry.
In case you want to catch a flounder yourself, your chance is much higher in spring as at this time, flounders leave their winter places to move to the summer homes. So, it's easier to catch sight of them.
If you find this article useful, please introduce it to your family and friends. And feel free to state all your thoughts about this topic via comment.
References
Anon, 2021. Flounder. Wikipedia.
Anon, Difference between halibut and flounder. Difference Wiki.
(BASc, J.S. et al., 2021. 4 surprising benefits of flounder fish. Organic Facts.
Consumer Reports, 2017. Which fish are safe for pregnant women? Consumer Reports.